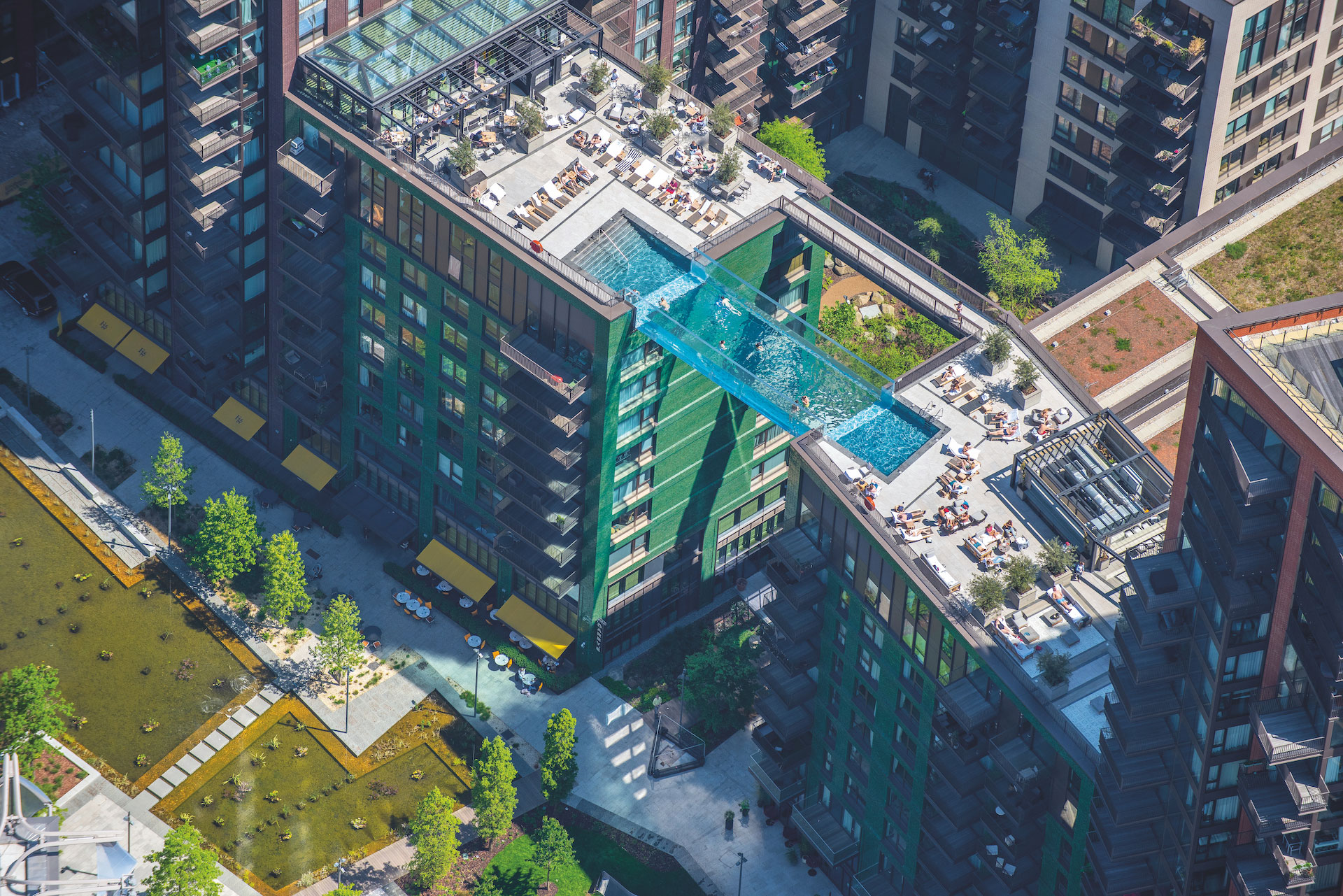 Why You Should Move To Nine Elms
Cool new neighbourhood alert
Nine Elms is a new community that is set to be one of London's most exciting districts. Lucy Cleland checks into Embassy Gardens for a 24 hour mini break.
Nine Elms Area Guide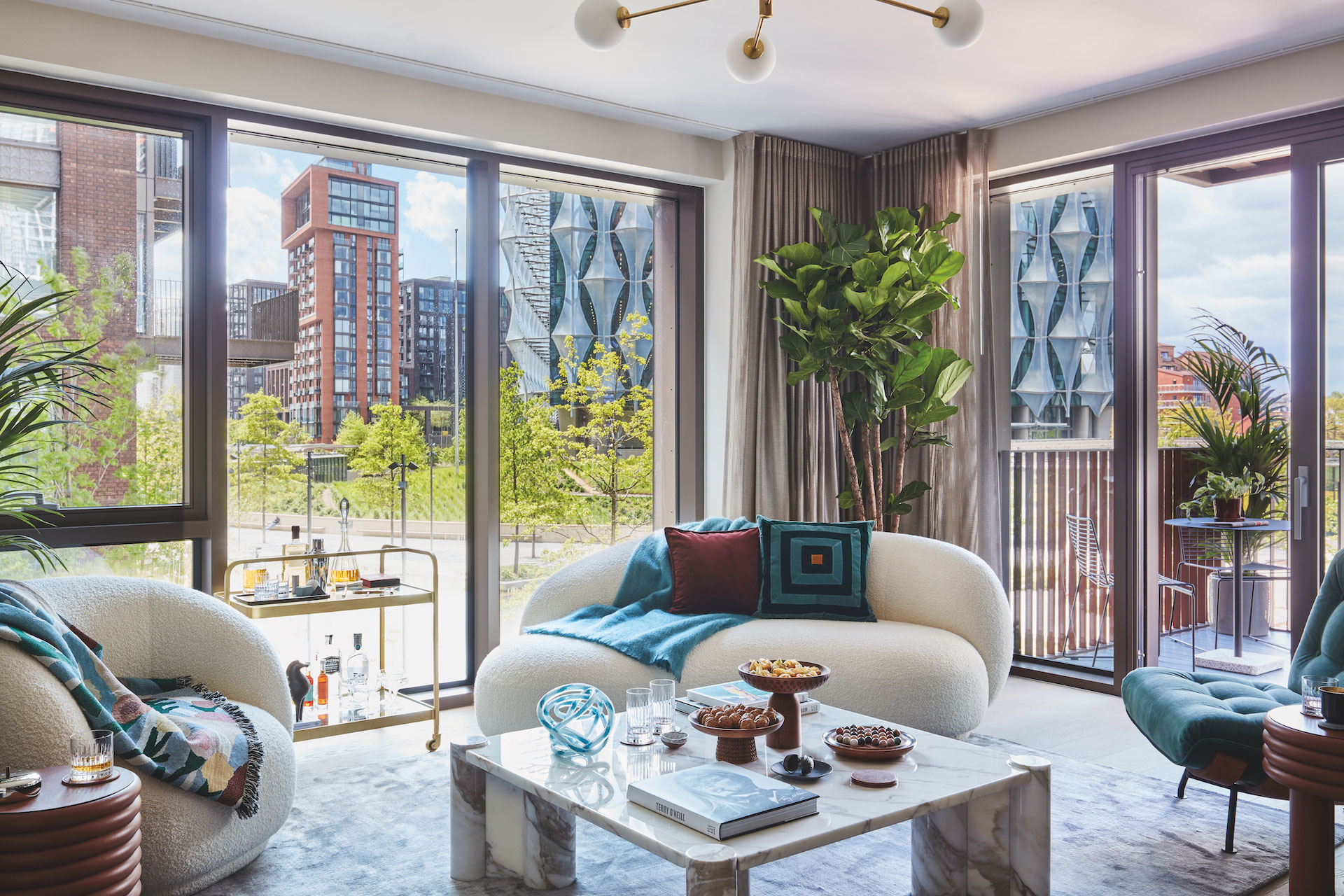 If you ever get the chance to shrug off your own life for 24 hours, and assume that of another, take it. A change is as good as a rest and all that. Especially when that change brings you to one of London's most exciting new districts, Nine Elms.
Long did we Londoners wonder what would happen to our Southbank. Unlike the gentrified north, host to the capital's most moneyed communities (Chelsea, anyone?) and iconic buildings (the Houses of Parliament, the Savoy etc), the Southbank was always the rather more impoverished cousin.
The reinvention of the area, now known as Nine Elms, and a new transport system that finally linked north and south with ease, completely changed all that. The poor cousin has rightly shaken off his shabby threads and is emerging as quite the peacock. 
When the whole development is complete (it's about three quarters of the way there), it will, so I'm told by Savills, provide 20,000 new homes and 25,000 new jobs. Snaking throughout it will be a four-hectare green space, the Linear Park, modelled on New York's High Line.
So what's it like to live here in a community that is really being curated from the ground up? This is what I am here to find out, swapping W3 for SW11 for a day.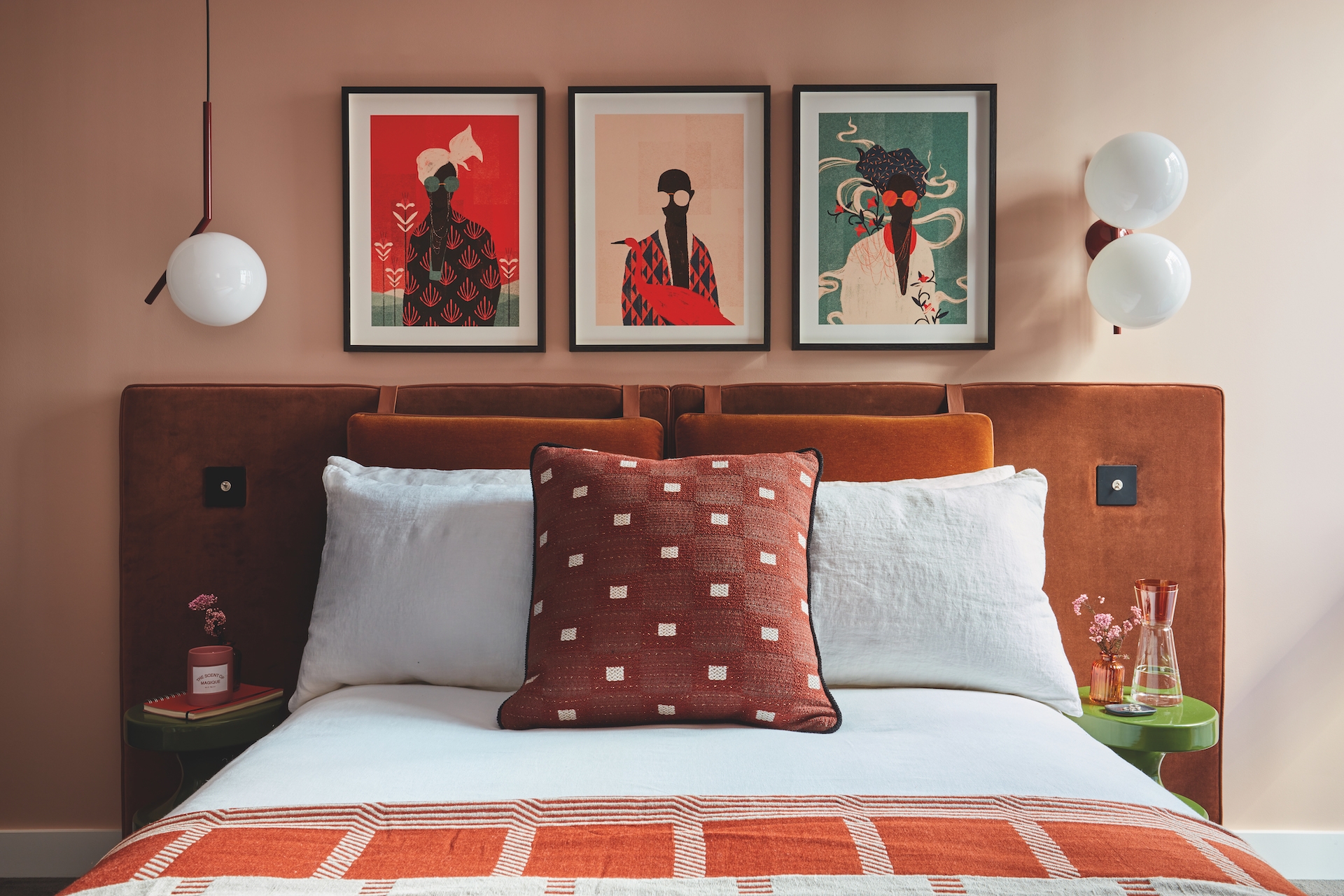 My home from home is Embassy Gardens, the flagship residential scheme from EcoWorld Ballymore designed by Sir Terry Farrell, which sits slap bang opposite the intriguing-looking new American Embassy (expect super high levels of safety). Embassy Gardens offers over 1,500 new homes (over several buildings), with 999 year leases, ten percent of which are still left to sell – hence why I'm here. The penthouses, alas, have long gone, but you can still snap up studios, and one to three bedroom apartments. 
Asking my host what kind of people are doing just that, the answer is a broad mix. Parents buying investments for their children; those from overseas wanting a convenient and safe foothold in the UK and those who want to keep a pied à terre in the capital, when perhaps moving out to the country. From my own observations, it feels like a cool community of international young people mooching around with their phones glued to their sides. They're hanging in the gorgeous, airy communal spaces; they're at laptops in the cafe by the sky pool (more of which later); they're in the sauna.
I'm staying in a two-bed, two-bath apartment on the 22nd floor. You can only imagine the views. It's super cosy but, I suspect, given the lifestyle offering on tap here, the last place you'll be spending most of your time is in your apartment.
The amenities at Embassy Gardens, I'm assured, outclass those of other developments in the area – and come as part of your service charge. You have two fully equipped gyms; a 22-seater cinema which you can book out at no charge, but not when it's residents' movie night on a Sunday (cute idea); a lounge; workspace areas; a boardroom for meetings; and a concierge on hand 24/7.
Its most famous touch though, and one that has made it world-famous, is that it boasts the world's first Sky Pool. What exactly does this mean? It means that 35m above ground level – and suspended between two buildings you'll find the largest free-standing acrylic pool structure in the world, which has the appearance of floating in mid air. I promise you, it's not. I can only imagine the insane atmosphere once the British summer gets going (there are plenty of sun beds) – I did swim (you definitely want goggles for the full effect) but it was a rather chillier March).
To entice buyers, you not only want sky pools, cinemas and the thrill of being in Zone 1; you want atmosphere; you want people; you want buzzing cafés; world-class restaurants; dentists; food stores (the Waitrose is enormous); pilates; and things to do. And this you have in spades.
I'm sitting writing this up in the humming District Cafe just by EG, having wolfed down Green Eggs (marinated kale, pesto, eggs, ago, chia seeds on sourdough) and a turmeric latte. It is full as you like. Women in leggings, like me, are sauntering in from their reformer class at Ten Pilates just across the way. Young children are tucking into bacon and eggs. It feels alive.
Yesterday, after three minutes in the cryo chamber and meditation pod at the new Remedi Wellness clinic (super swishy and high tech, there are loads of brilliant therapies on offer), the most wonderful foodie treat awaited us. Even if you don't end up buying an apartment at EG, just come over and give yourself a treat at Oxeye, the debut restaurant from Masterchef the Professionals-winning chef Sven-Hanson Britt. It is quite a revelation (see my review on page 195).
Then, of course, there's Battersea Power Station itself. I'm just off there now – for a spot of window shopping; to catch a glimpse of a Polestar (it's where the EV marque's UK flagship is); and perhaps a Sunday afternoon movie. My mini break is complete. It's been a blast.
Studios at Embassy Gardens start from £650,000, up to £1,195,000 for a three-bedroom apartment. +44 (0)20 3627 6396. embassygardens.com
Nine Elms Highlights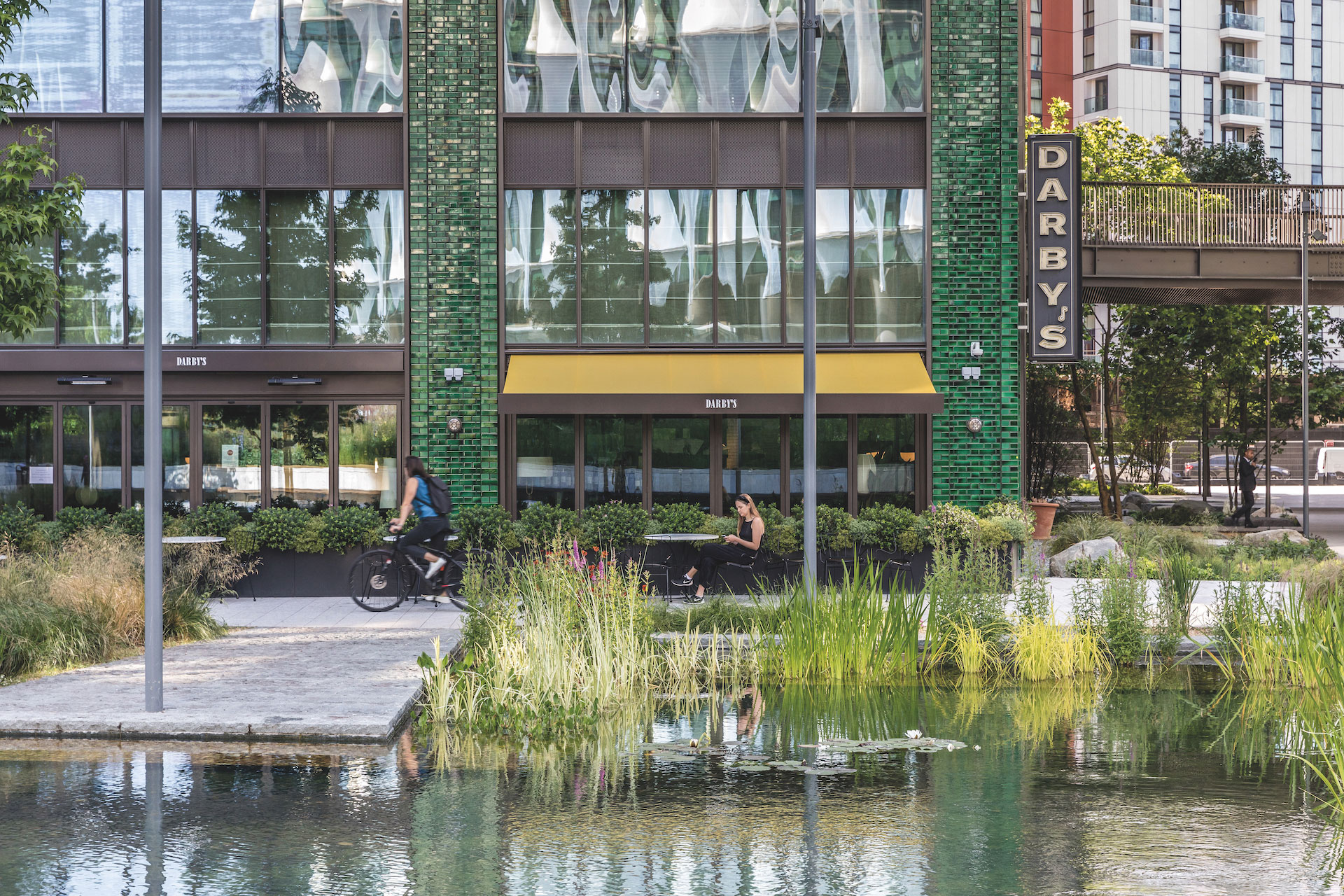 Oxeye
Chef-owner Sven Hanson Britt's debut restaurant. Quite extraordinary. oxeyerestaurant.co.uk
Remedi
Wellness sanctuary with cutting-edge therapies, such as cryotherapy. remedilondon.com
Ten Health and Fitness
Pilates, personal training, physiotherapy, massage and clinical treatments. ten.co.uk
Unit
Fitness brand whose  concept is a scientific 12-week plan – be the fittest you can be. un1t.com/london-nine-elms
District
Post workout, come for Aussie style brunches and Friday evening barbecues. district.coffee/nine-elms
Astounding Interiors
For exemplary turnkey integrated lifestyle design, this is the place to head. astoundingbattersea.co.uk
Furmily
Your pets will want for nothing – spoiling them is the ethos of this super-cool pet shop. furmily.co.uk
Darby's
One for the US Embassy workers, maybe, this is a cool NYC-inspired neighbourhood restaurant. darbys-london.com