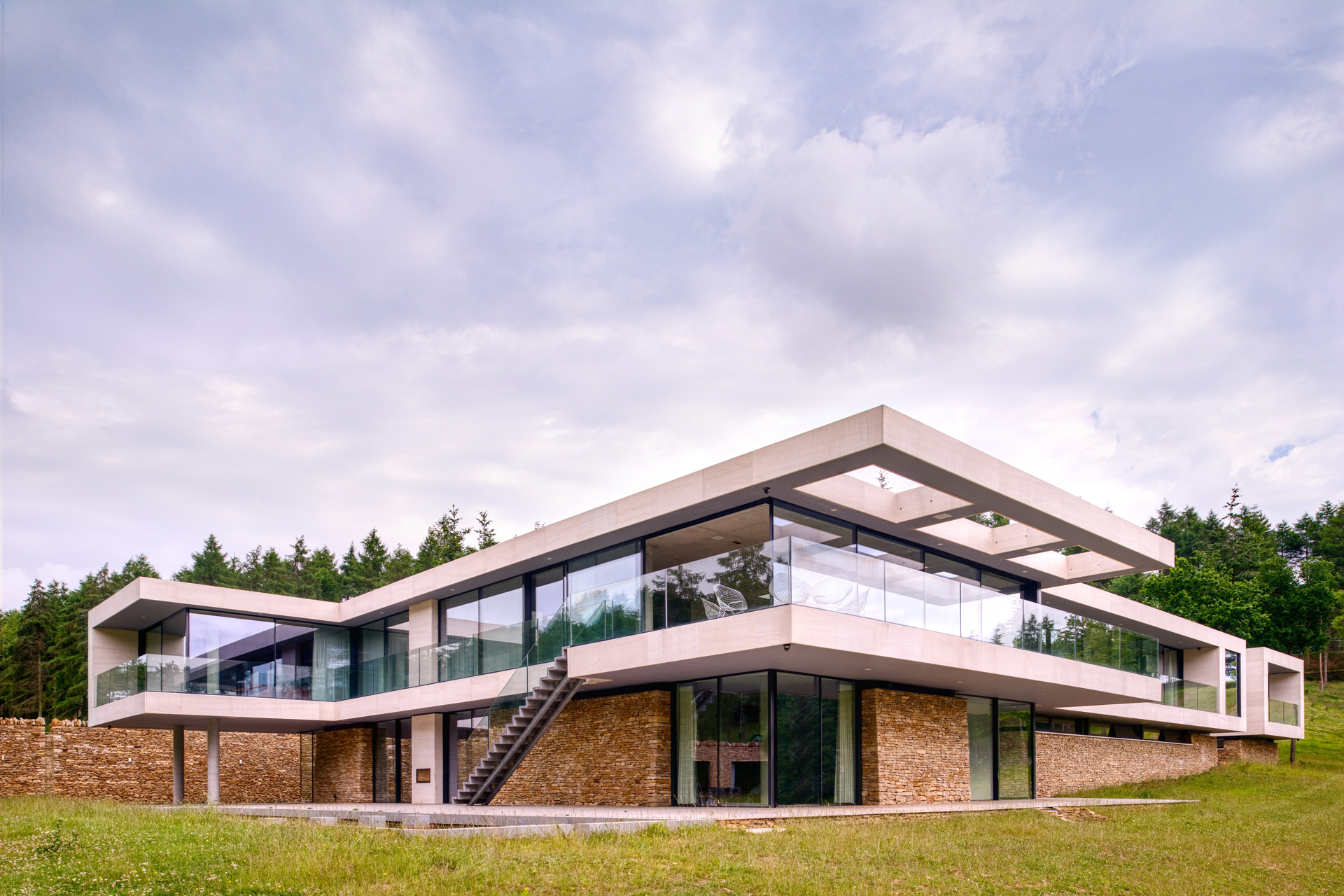 The Best Eco Homes On The Market Right Now
Make your house guests green with envy...
Solar-powered swimming pools? Air-source heat pumps? Wildflowers on the roof? You name it, these homes have got it. If you're searching for a luxurious contemporary property with an eco-friendly twist, look no further: these are best eco homes on the market.
The Best Eco-Homes on the Market Right Now
Manorwood, West Horsley, Surrey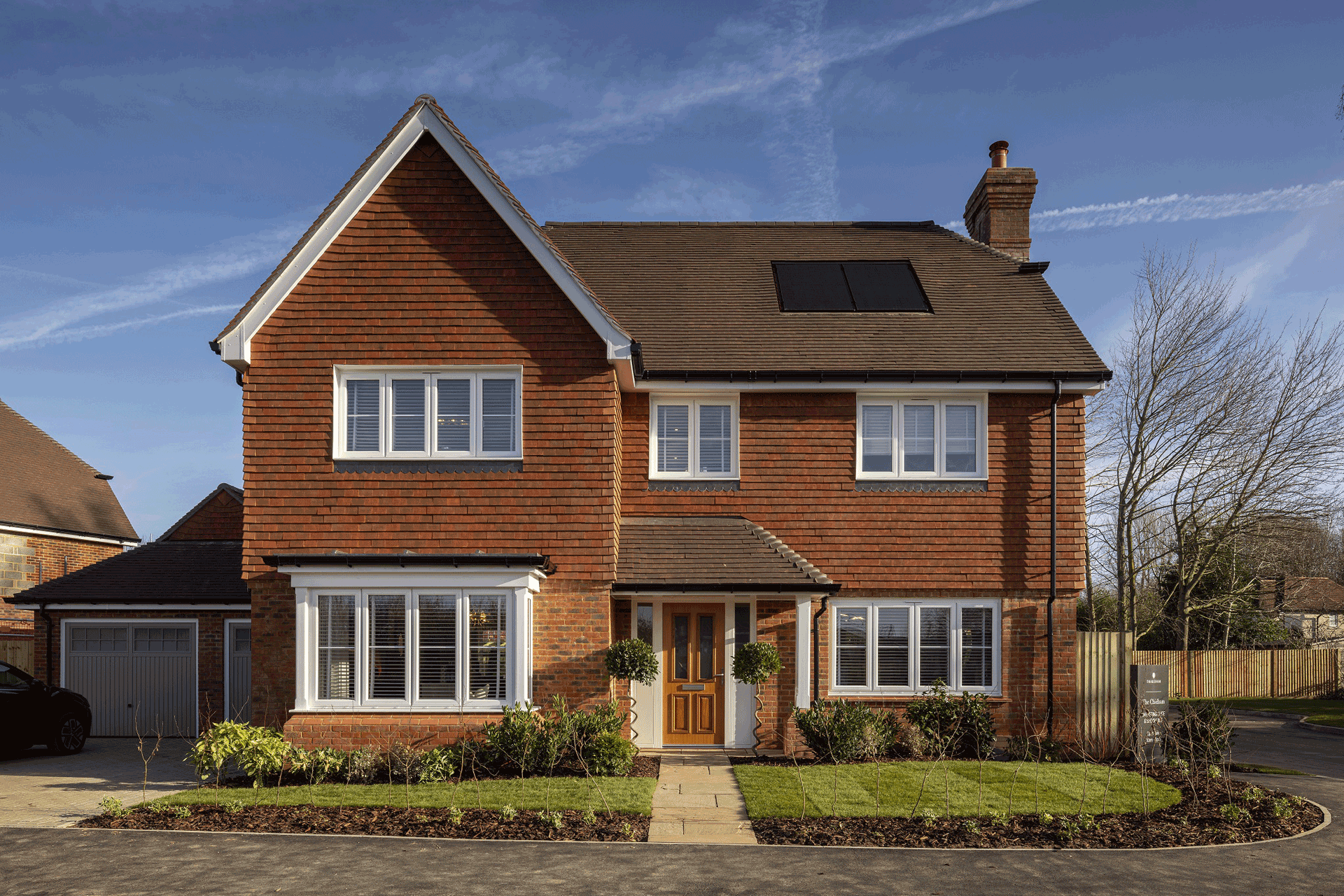 This delightful development comprises one and two-bedroom apartments as well as two, three and four-bedroom family homes – plus a selection of chalets and bungalows – all nestled within 16 acres of green space encompassing ponds and species-rich grassland. Every residence boasts at least a B rating for energy efficiency, with an array of clever features including water-saving taps, low-energy lighting, premium insulation and high-efficiency boiler systems. Prices start from £405,000 for a one-bedroom apartment and £605,000 for a two-bedroom house. For more information, visit manorwood-thakeham.com
Harcourt Gardens, Marsh Wall, Canary Wharf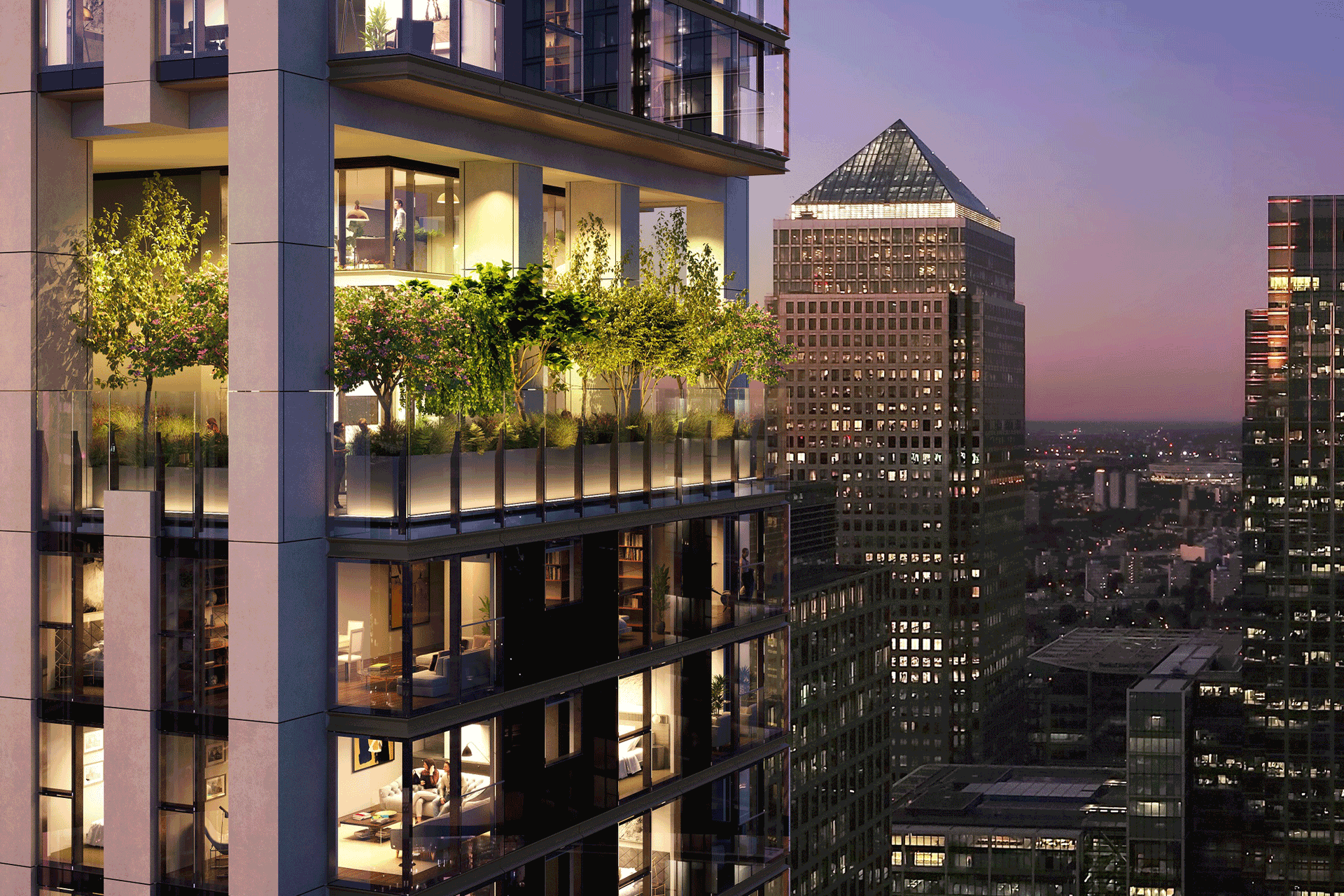 This brand new development is placing sustainability at its centre,with low-flow taps and shower heads, low-energy LED light fittings and electric car charging points. Double glazing and high levels of thermal insulation will reduce the need for regular heating, while hot water will be supplied by a Combined Heat and Power (CHP) system which uses the electricity generated from heat production to power communal areas. Eco-homes in a prime London location – what could be better? Prices from £745,000 – £3,695,000. For more information, visit residential.jll.co.uk
Gilling East, North Yorkshire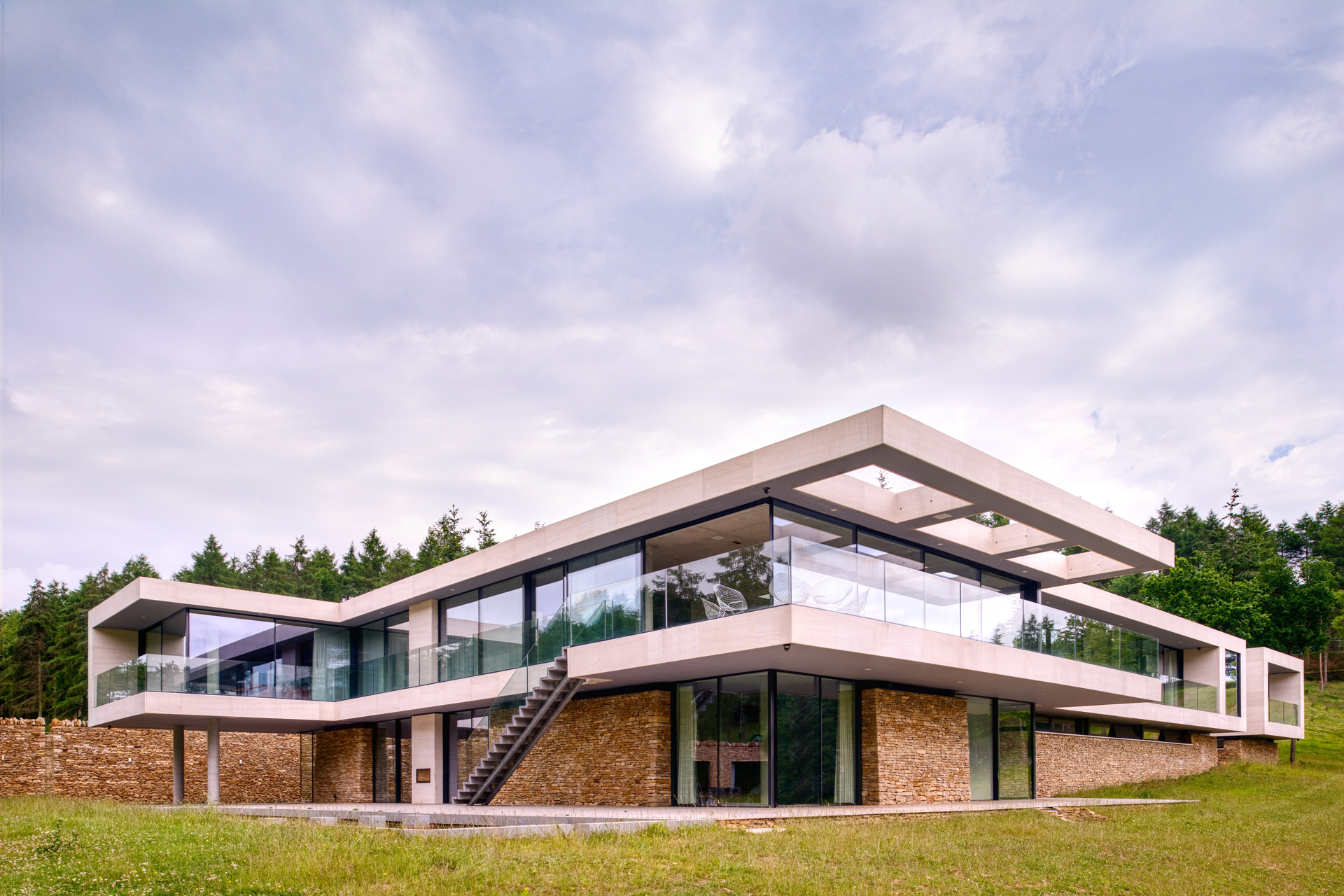 This jaw-dropping estate comprises 65 acres of land including lakes and woodland. The property boasts its own spring water supply, and heating is provided by a state-of-the-art biomass boiler which uses timber harvested from the surrounding woodland. While the main house contains six ensuite bedrooms, it also offers access to an interconnecting but self-contained three-bedroom apartment, and there is further accommodation in the form of a three-bedroom annexe with a swimming pool. This is eco-friendly living at its finest. Available through Savills at a guide price of £8 million
Woodberry Down, Finsbury Park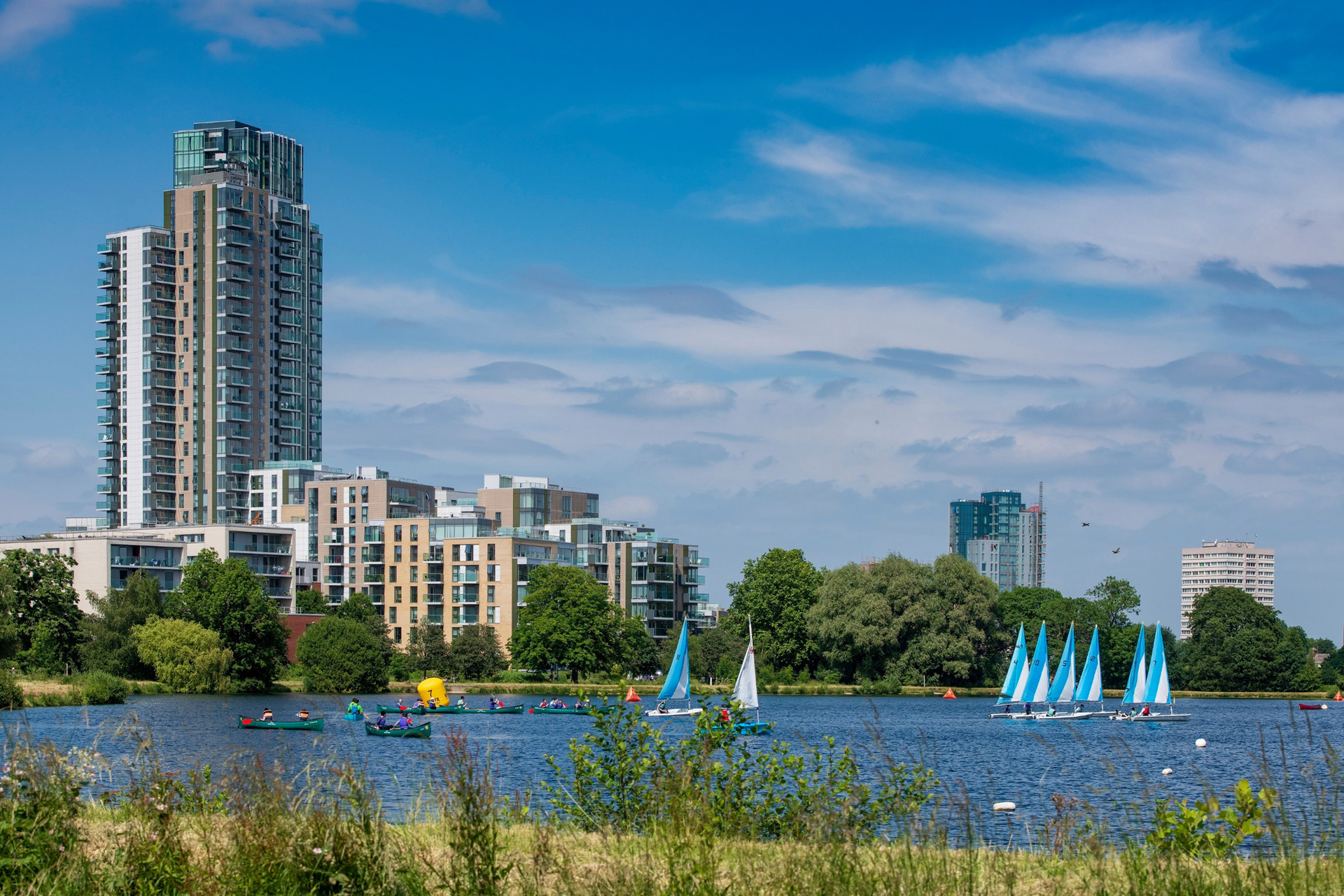 This remarkable development has sustainability at its core, with each of its 5,500 new homes benefitting from high quality thermal insulation, rainwater harvesting, solar panels and a communal heating network. 400 trees have been planted during the building process, and the star feature of the astonishing project is its green space: there are 15 acres of landscaped parkland and 42 acres of open water to explore. Stroll through the Woodberry Wetlands, a dedicated nature reserve and reservoir which is managed by the London Wildlife Trust and encompasses wildflower meadows, fruit trees and reed beds. You can also take a dip in the West Reservoir, which is open all-year round for activities such as sailing and kayaking. For more information, visit berkeleygroup.co.uk
Costock, Loughborough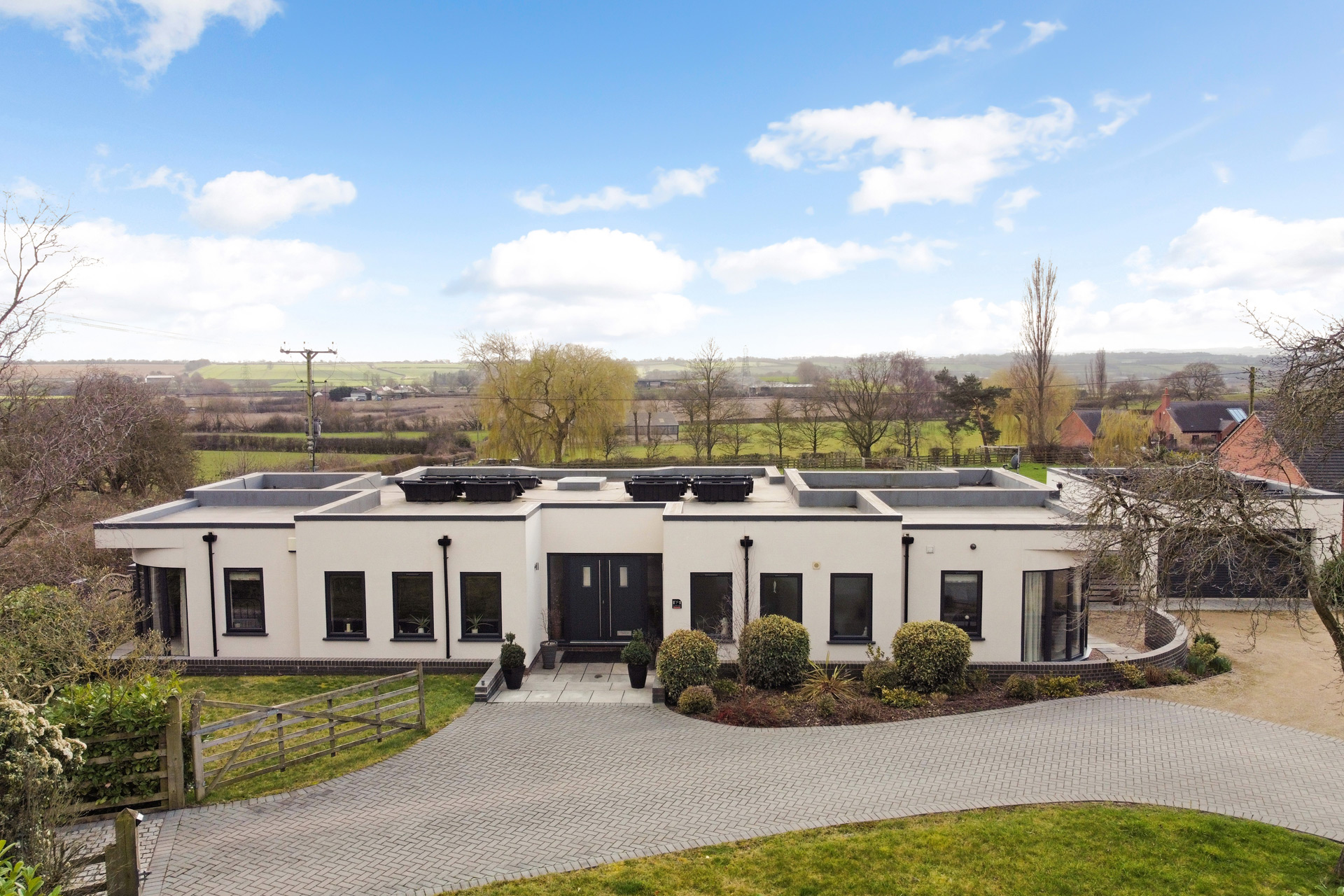 This striking, single-storey home encompasses four bedrooms, three bathrooms and an array of nifty eco-friendly features including an air source heat pump which powers the underfloor heating. You'll also spot solar panels, a rainwater harvesting system and a charging point for electric cars. Head out of the bi-fold doors in the kitchen to a delightful terrace, where you can enjoy views of the rolling countryside beyond. Available through Savills for £1.125 million
Birchmere, Wirral, Merseyside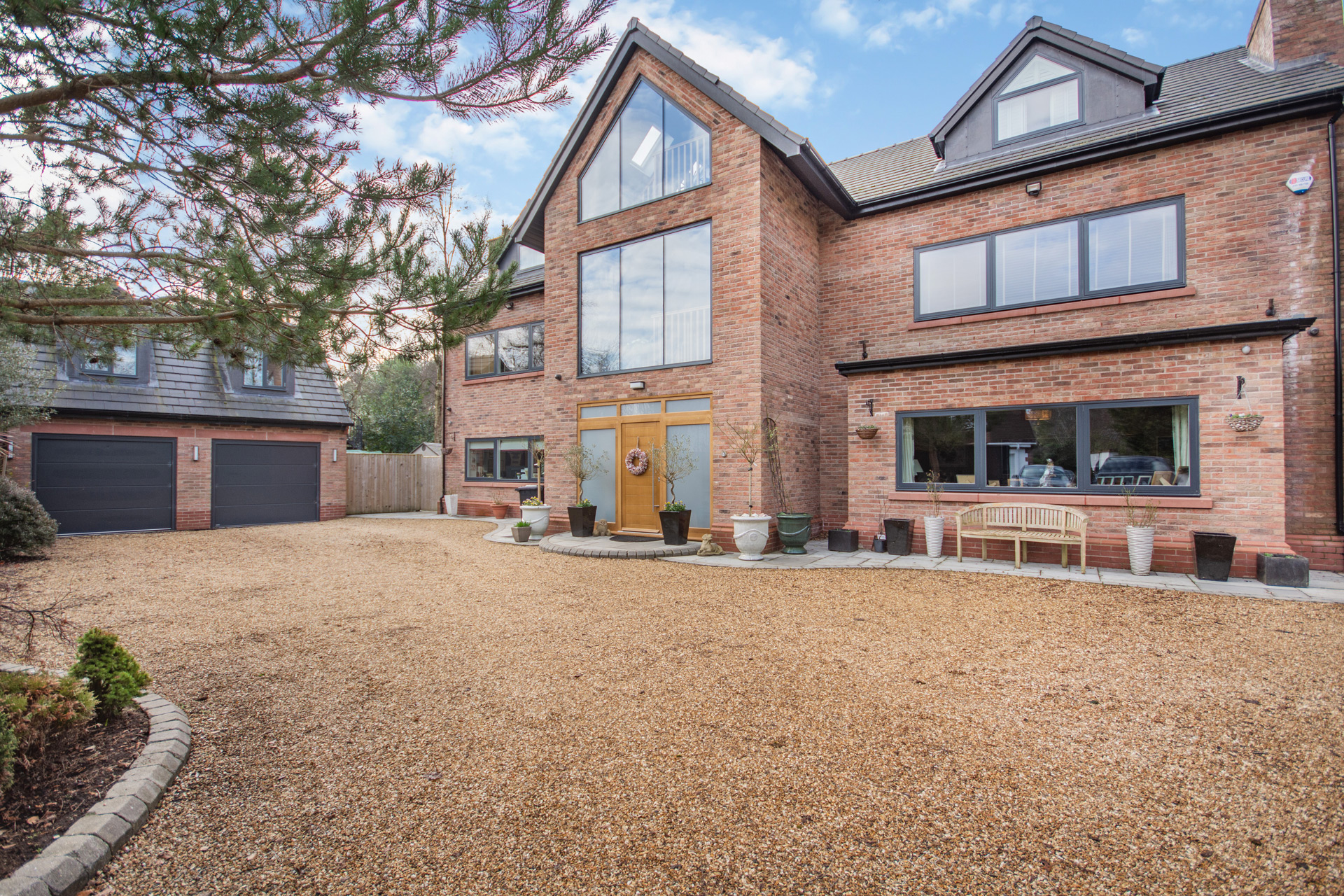 This capacious home is impressively energy efficient thanks to ground source heating, triple glazing and solar panels. It offers 6000 square feet of space across three floors, with five bedrooms, five bathrooms and four reception rooms. Outside, you'll find a fire pit and a double garage with further living space above that currently serves as a gym. Available through Savills for offers over £1.8 million
The Coach House, London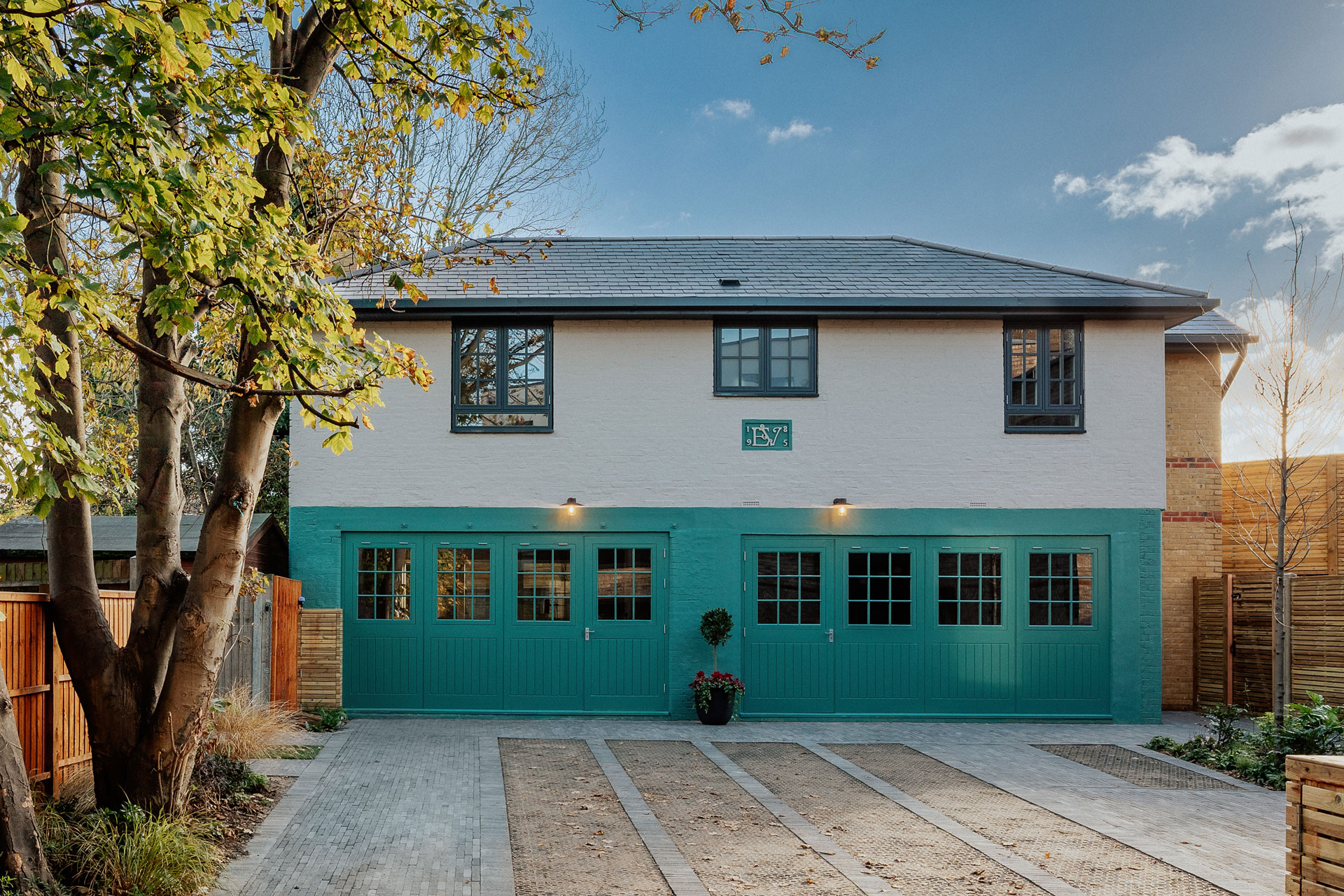 Situated in a private plot off Bristow Mews in south London, this is an exceptionally designed four-bedroom property dating back to the Victorian era. With recent renovations designed by MW Architects and Kinland, this home exhibits a tactile material palette, including ply, concrete and lime-wash paint, and an earthy colour scheme of chalky shades. With off-street parking, a beautiful rear garden and close poximity to the bars and restaurants of Streatham, this is a great choice for those seeking the city lifestyle. Available through The Modern House for £1,300,000
Perranuthnoe, Penzance, Cornwall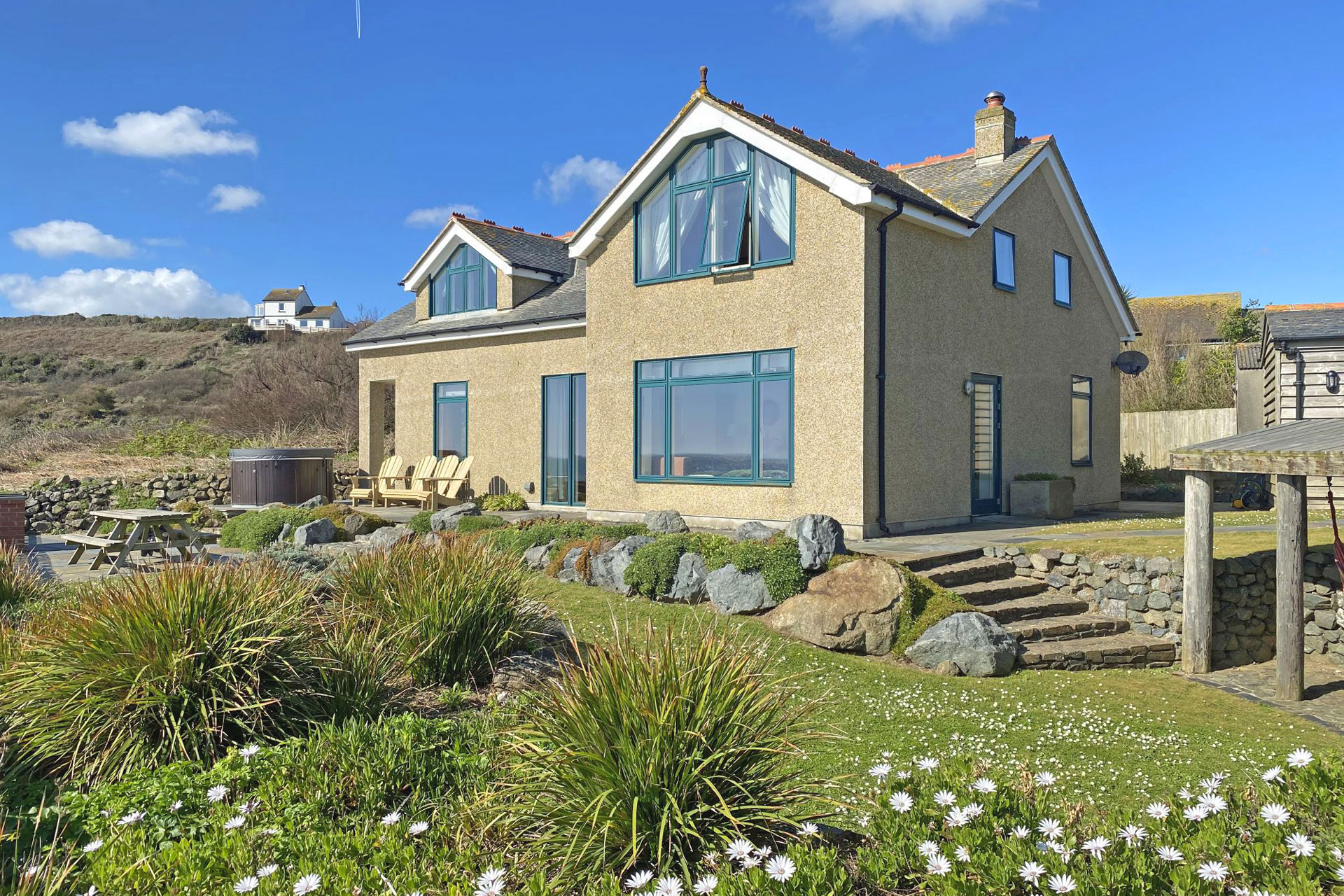 Perranuthnoe is a delightful, south-facing coastal property with panoramic views of the beach and surrounding coastline. With ground source heating, a total of four bedrooms, a timber gazebo and a built-in brick barbecue, this is ideal as either a family home or holiday getaway. Available through Lillicrap Chilcott at a guide price of £1,500,000
Pondwicks Close, Hertfordshire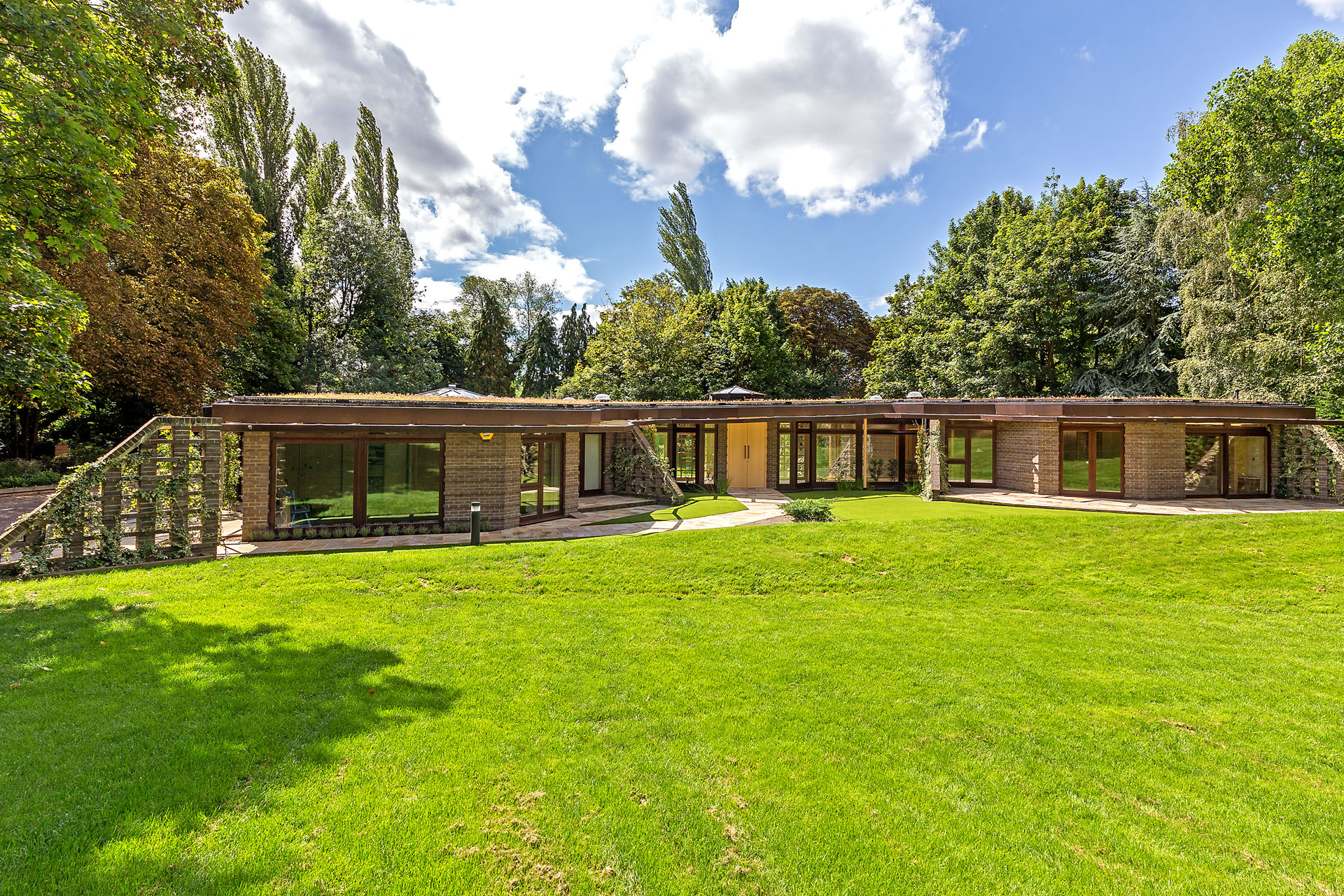 This is an elegant property with sensational architectural elements, a striking design and warm and inviting interiors. With exceptional designs trailing from the Japanese entrance gates, this home will marvel anyone who dares to explore its grounds. With strong influences taken from Feng Shui, echoed throughout the surrounding landscape, this gorgeous home features a practical but elegant kitchen area with a full range of Wold Sub Zero appliances. Your guests will never want to leave. Available through Savills from £5,950,000
The Approach, Dormans Park, Surrey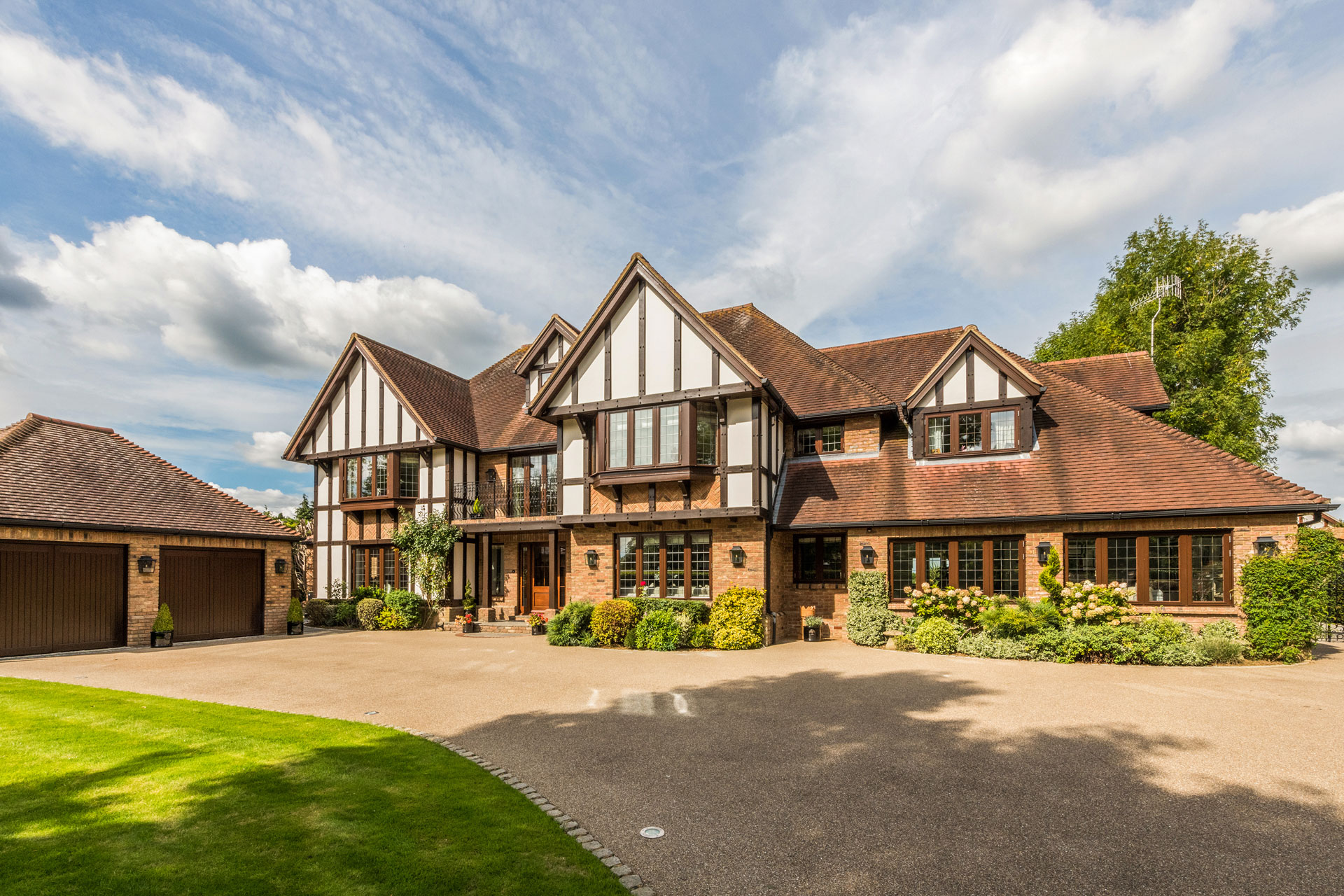 Woodlands is an idyllic country home, built by Scandia House in 1999 to a high specification with high performance, energy-saving design, with a heat recovery system in place. The garden and grounds are exquisite additions to this home, with rich woodland with mature trees, shrubs and flower beds to explore. The gardens include an eco-friendly swimming pool, a pool house complete with a kitchen area, a changing area, and a large paved terrace area at the rear of the property, an excellent setting for al fresco dining. Available through Knight Frank from £3,000,000
Chinthurst Lane, Surrey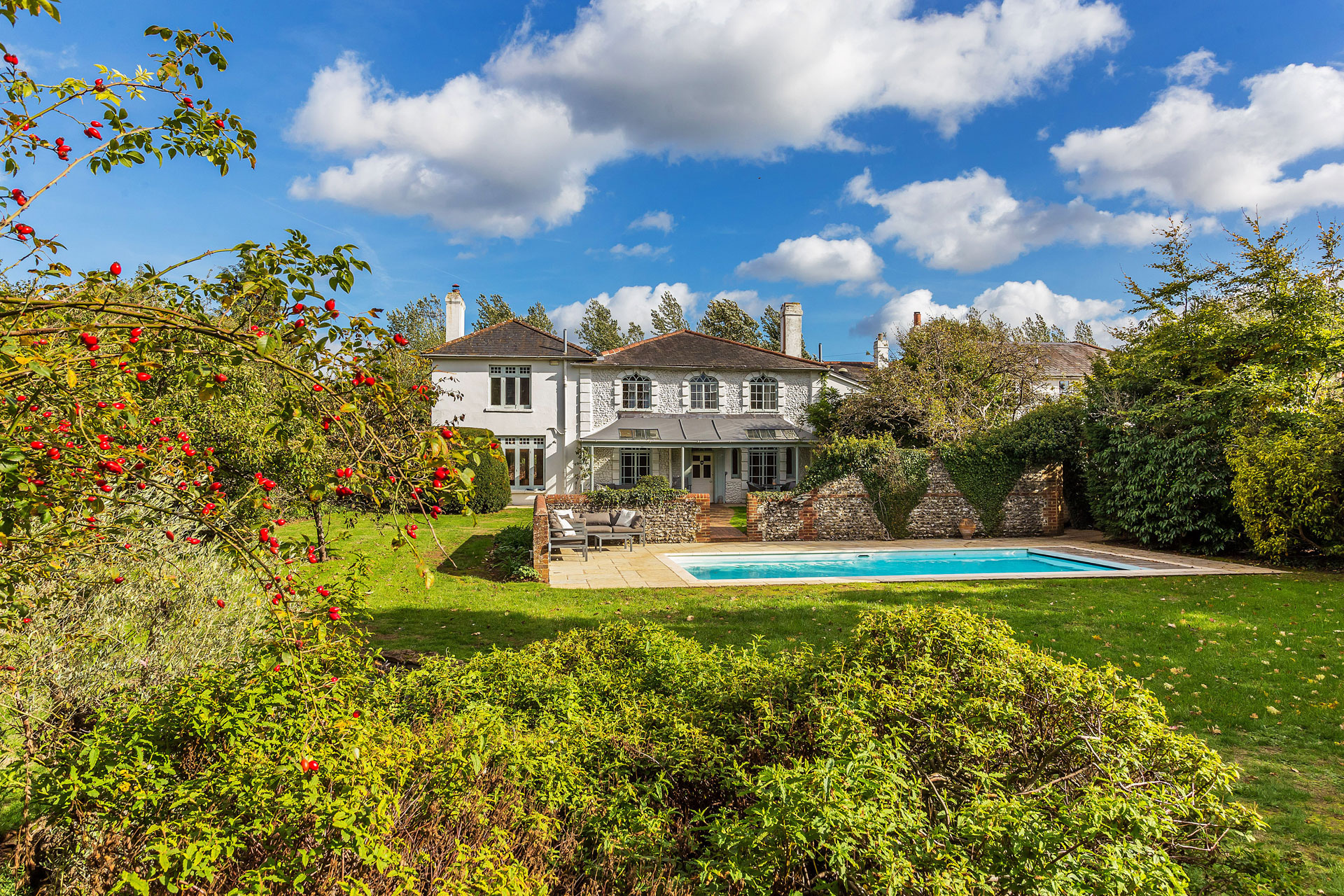 Chinthurst Cottage is an attractive Georgian property with more recently added and well-retained Victorian features including a charming veranda at the rear. The well-proportioned reception areas provide excellent entertaining and living space with a particularly impressive reception hall and a very elegant drawing room. There is an attractive flint-walled pool area with a flat lawned area beyond, all centred around an air-source heat pump that was installed by the current owners in recent years. Available through Knight Frank from £2,250,000
Acacia Grove, London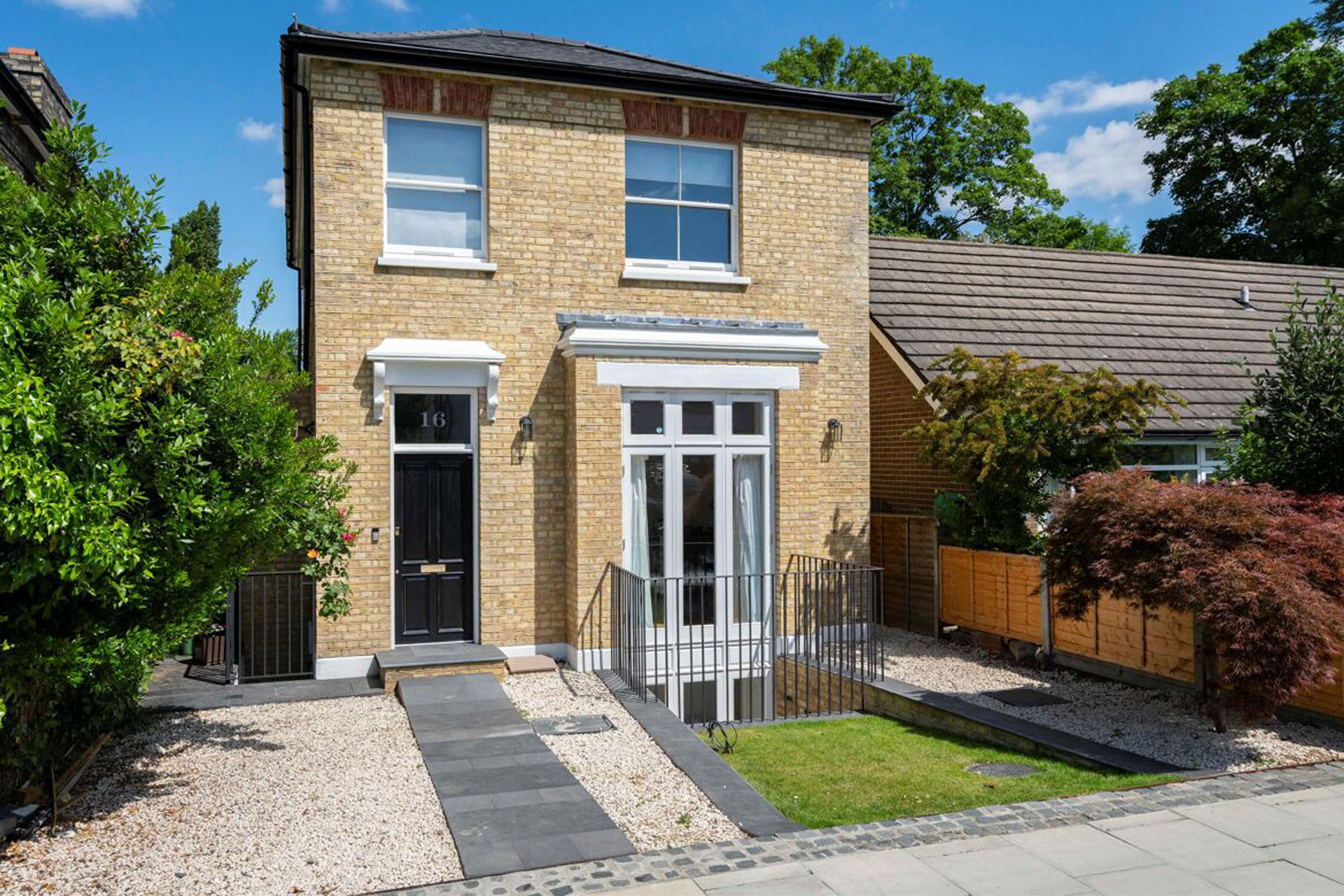 Positioned in the popular surroundings of West Dulwich is an exquisite detached new build home featuring five bedrooms and three bathrooms, meticulously crafted to create a contemporary family home. Painstakingly built with attractive reclaimed bricks and period features, the property has been finished to a high standard with engineered oak flooring and underfloor heating throughout. In addition to this Acacia Grove also incorporates various eco-friendly devices with photovoltaic panels on the roof and a 2,800 litre rainwater tank located under the front garden. Available through Knight Frank from £2,000,000
High Bickington, Devon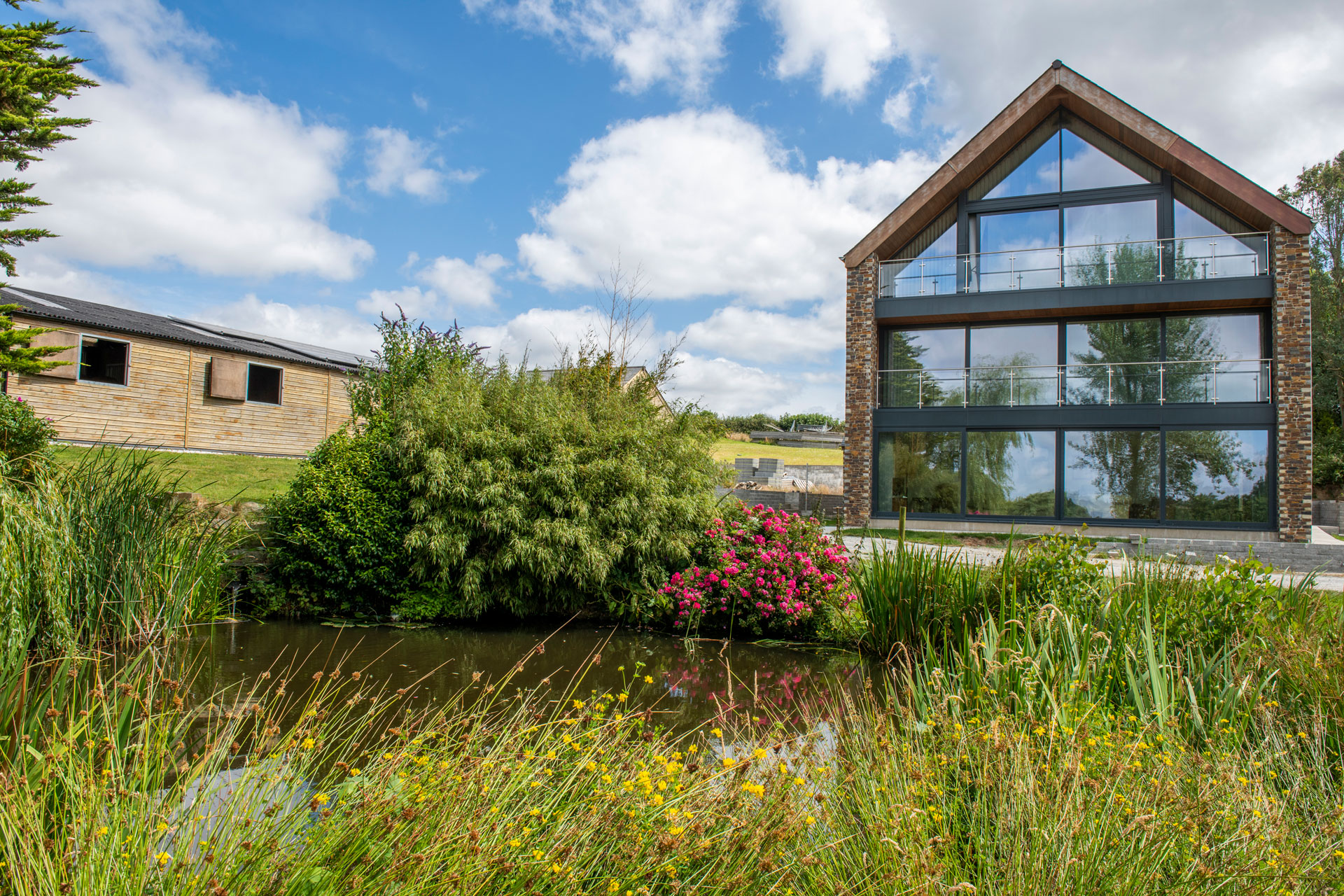 Located in a spectacular setting within the countryside is High Bickington. This superbly equipped, carbon-neutral country house offers glorious views of the surrounding countryside. Positioned on the edge of Exmoor Dark Sky Reserve, High Bickington has its very own observatory grounds perfect for exploring the unblemished beauty of the night sky. With over 5,800 ft² of living space over three floors, it's constructed around a steel frame with triple glazed windows and is faced in a locally quarried stone. This property also offers 7.8 acres, complete with a natural meadow and equestrian facilities. Available through Knight Frank from £2,750,000
Millfields Cottage, West Sussex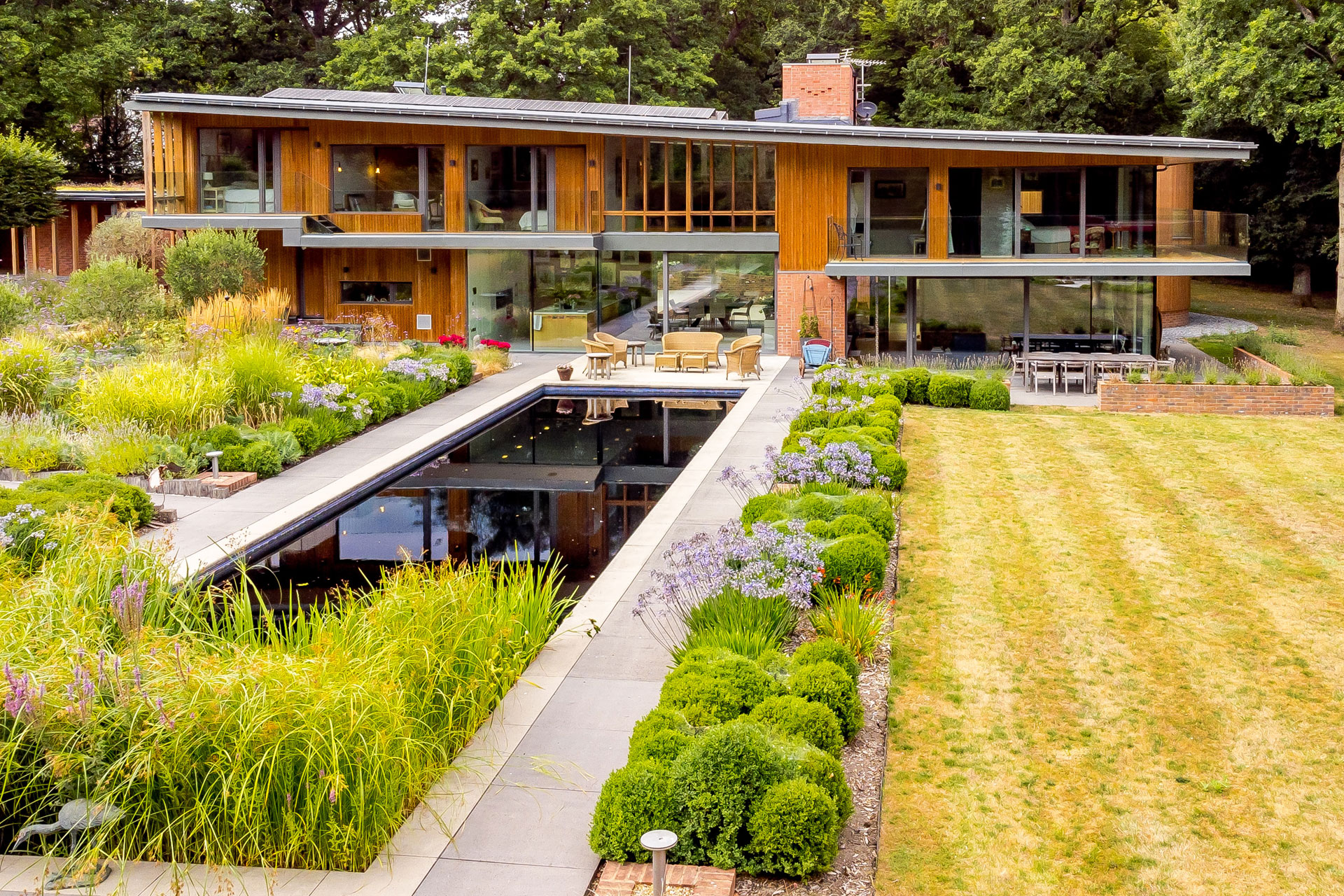 A sustainable delight, Millfield's Cottage is a contemporary property offering a range of eco-friendly features – from the bamboo-crafted staircase to a natural pool. This versatile living space is a prime pick for anyone keen to truly go green. This substantial modern home follows an updated design with floor-to-ceiling glazing spanning most of the southeast aspect, overlooking the delightful gardens and grounds. Available through Strutt & Parker from £3,500,000
Riggles Farm House, Devon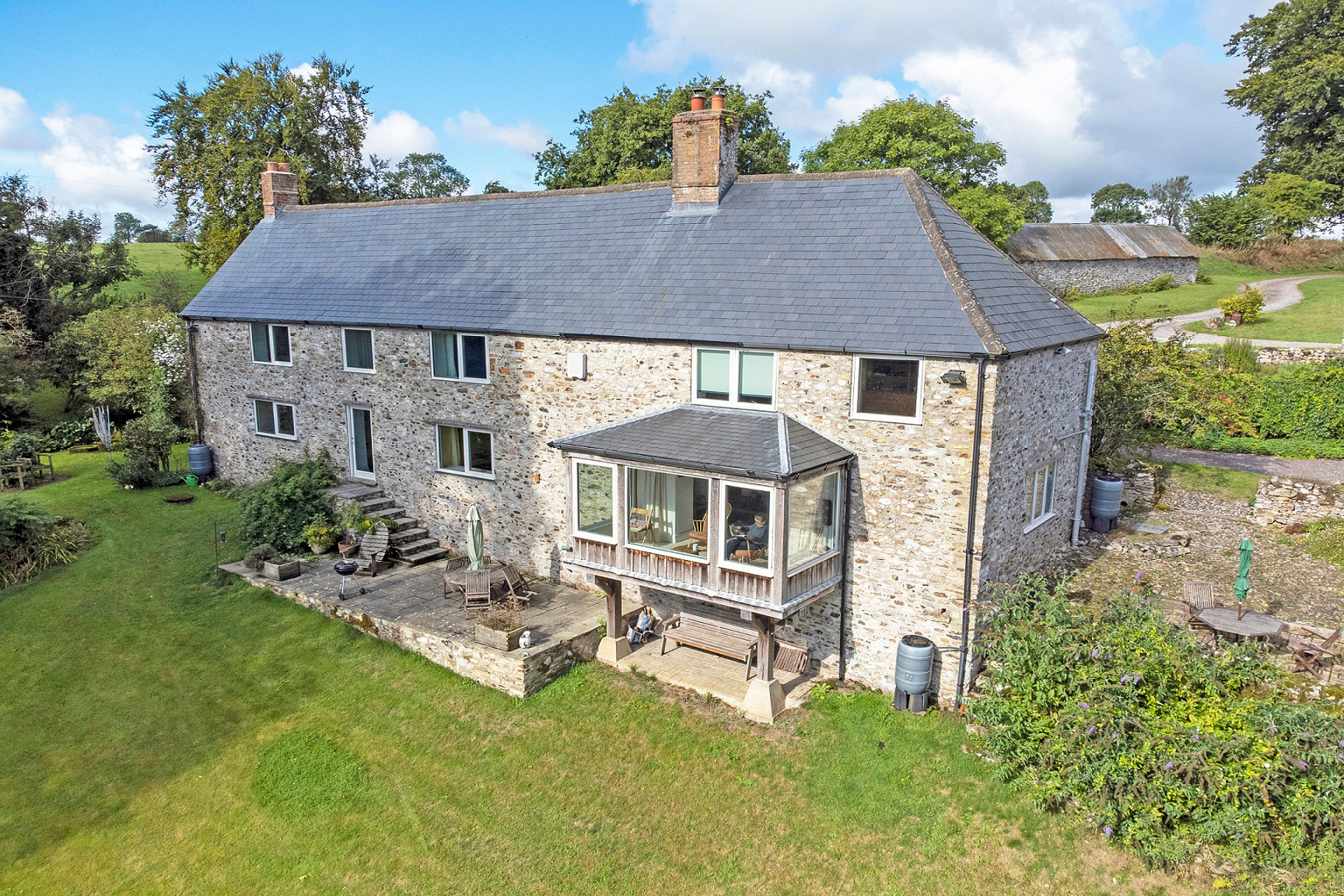 Nestled on the south-easterly facing slopes of the Otter Valley, just a stone's throw away from Devon's border is Riggles Farm House. This meticulously maintained property offers a wonderful country living space with the original farmhouse, which dates back several hundred years. With bright and well-proportioned interiors it provides masses of character which can be seen throughout. This property is also appealing to those seeking to improve their sustainable living standards with a myriad of renewable and sustainable energy features including: photovoltaic solar panels, solar water heating, a state-of-the art wood-fired central heating system that heats the three main buildings and triple-glazed windows. In addition to this it also has a private water supply and a modern private drainage system. Available through Rodger Hemming from £1,400,000
Sierra Madre Villa Ave, Los Angeles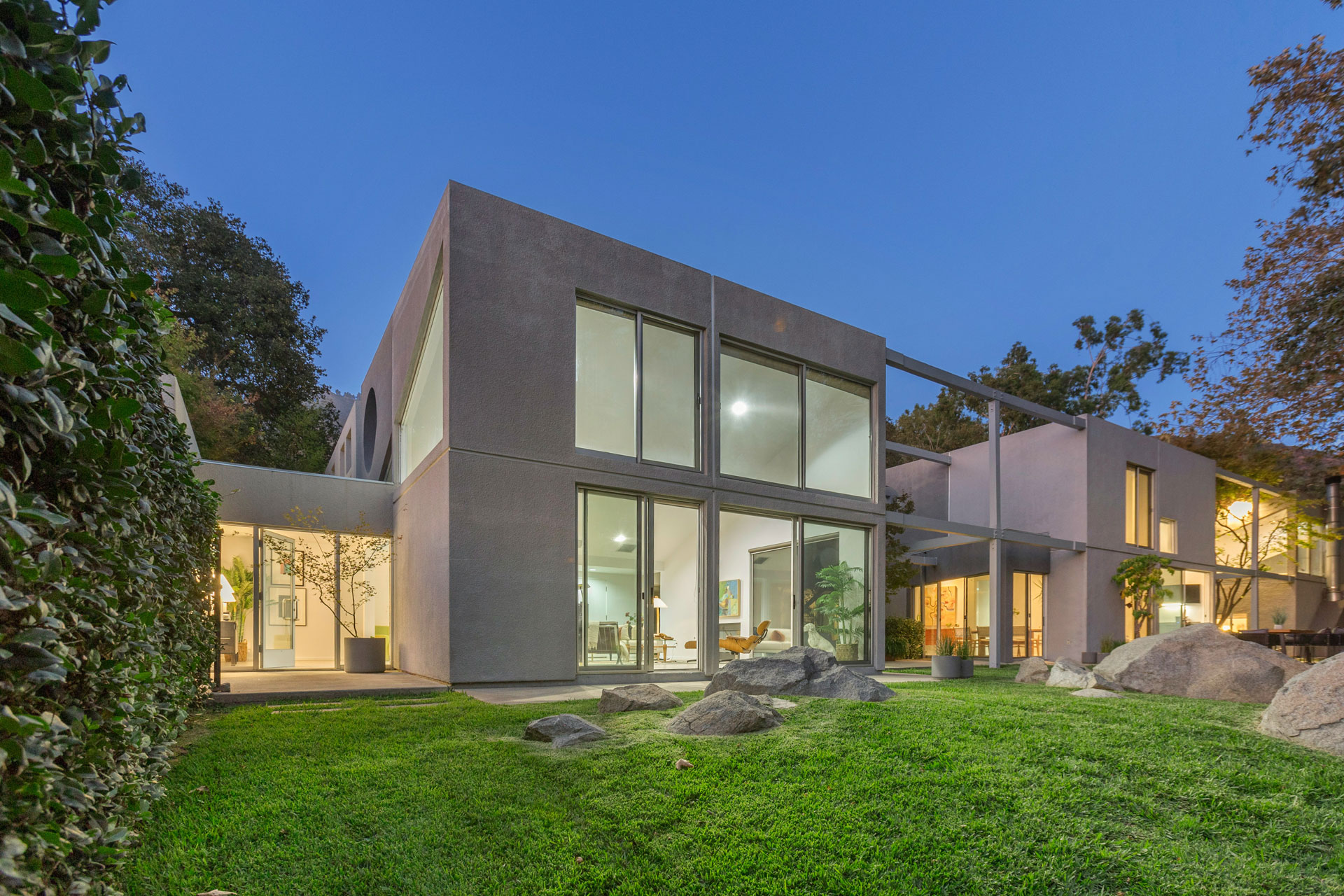 Nestled in the foothills of the San Gabriel Mountains lies a captivating architectural masterpiece, Sierra Madre Villa Aves. The interior design of this property captures contemporary pristine living in the Kinneloa Mesa Community at its finest with features including: solar panels, exquisite architectural fittings, soaring vaulted ceilings, breathtaking gallery windows, and glass hallways exposing the raw beauty surrounding this private residence. Take in the exquisite mountain views while dipping in the freshwater spa or pool and relish in the serenity of the landscapein this desirable neighbourhood of Pasadena. Available through The Agency for $1,999,000
Langham Hill, Devon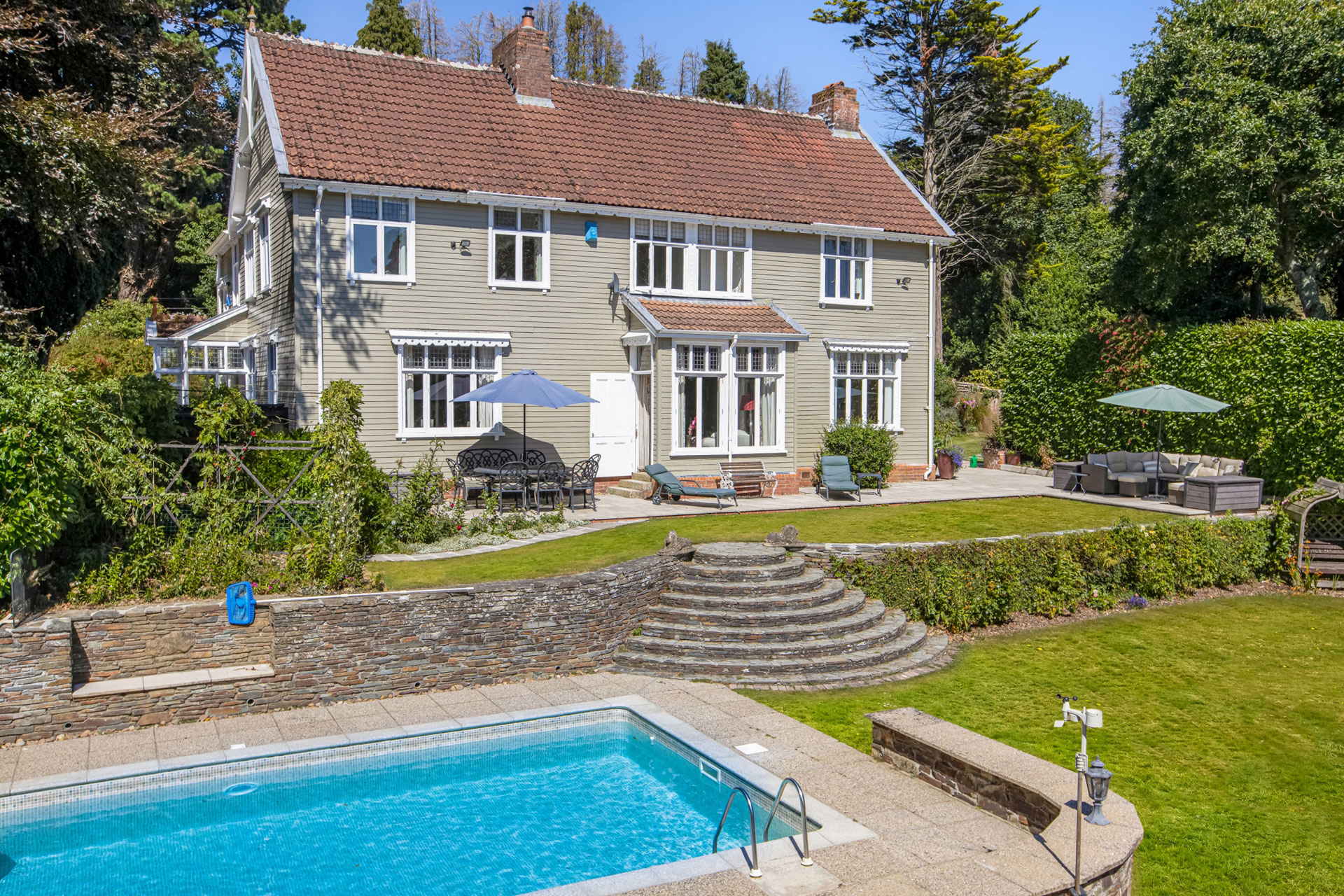 Are you in search of a luxurious home with harmonious surroundings? This 19th Century residence is just for you. Nestled within two acres of beautiful, landscaped, and mature grounds, Langhan Hill is bursting with charm and character, and despite new modernisations and updates, this property has succeeded in maintaining traditional features belonging to the bygone era. This convenient property also offers nearness of the A38 Expressway, providing commuters with efficient travel to and from Exeter and Plymouth. There is also a wealth of specimen shrubs and trees surrounding the property and daring paths leading you to explore the various features of the garden. Other notable features include a Victorian-style greenhouse, a solar heated swimming pool and cascading water features. Available through Marchand Petit for £2,000,000
Chelsea Waterfront, London
The Tower West development at Chelsea Waterfront is equally stylish, spacious and sustainable, offering breath-taking views of the River Thames. It features a state of the art gymnasium, swimming pool and spa, as well as luxury boutiques and exquisite riverside restaurants. Within the development, on the 19th floor, you'll find this fabulous four-bedroom apartment, which offers over 2,230 sqft of internal living space. The development  apartment also has water features which use recycled water and electric car charging points in car parks. Available through Savilis for £6,031,000
Whistler Square, Chelsea Barracks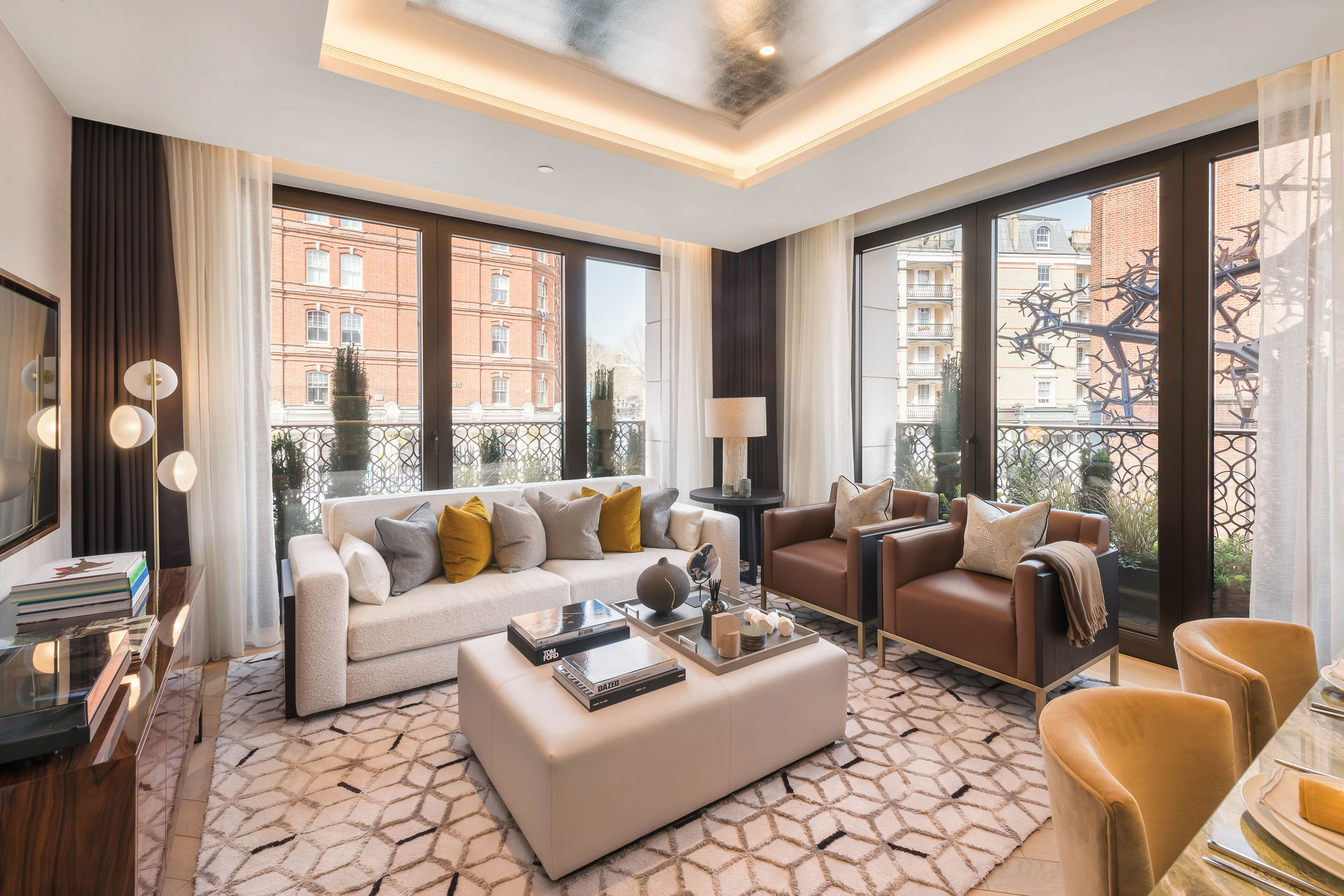 A beautiful lateral apartment offering elegant living spaces with sustainable attributes. This wondrous apartment will certainly tickle your fancy with its modern and bespoke furnishings completed with gorgeous garden square views. The luxury does not end there with your very own 24-hour concierge lifestyle services. Available through Savills
Hay-On-Wye, Powys, Wales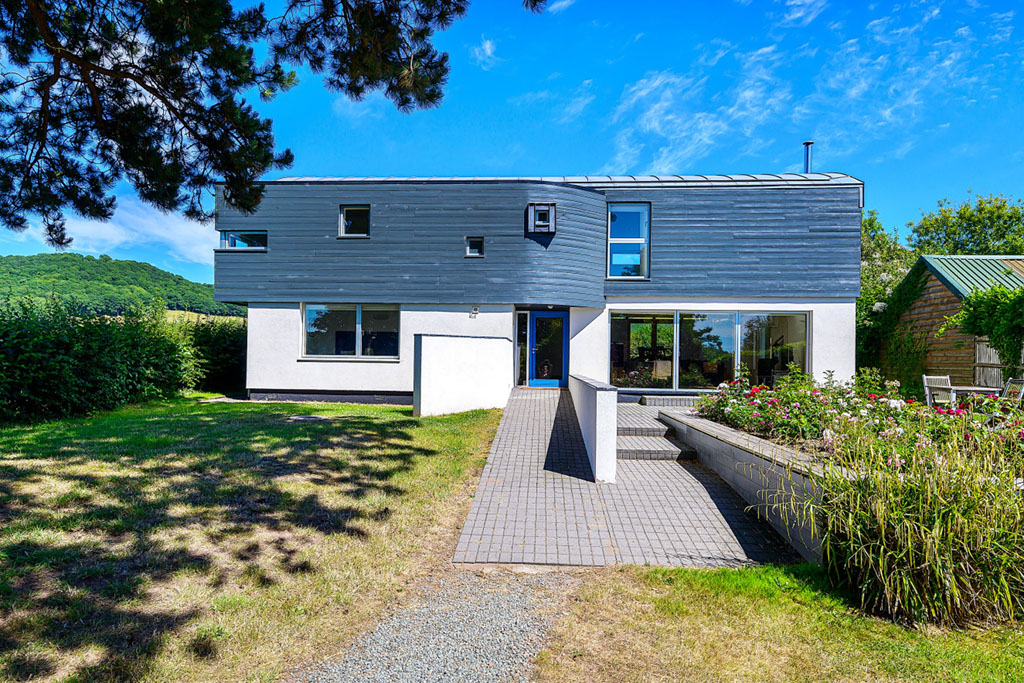 Spacious, bright and modern – this home is not only a stunning family home, but it's also incredibly energy efficient and boasts solar water. Set amongst pretty countryside, it's ideal for those who have a green thumb and want to live amongst nature. Available through Bill-Jackson for £925,000
West Carclaze Garden Village, Cornwall
Health and sustainability is at the heart of this exciting modern lakeside community. Located in Cornwall's Clay Country, the homes are energy-efficient with a contemporary and clean design, there are five stunning lakes, gorgeous walking opportunities and a buzzing community feel with plentiful amenities. Available through West Carclaze.
Telegraph House, Warren Road, Surrey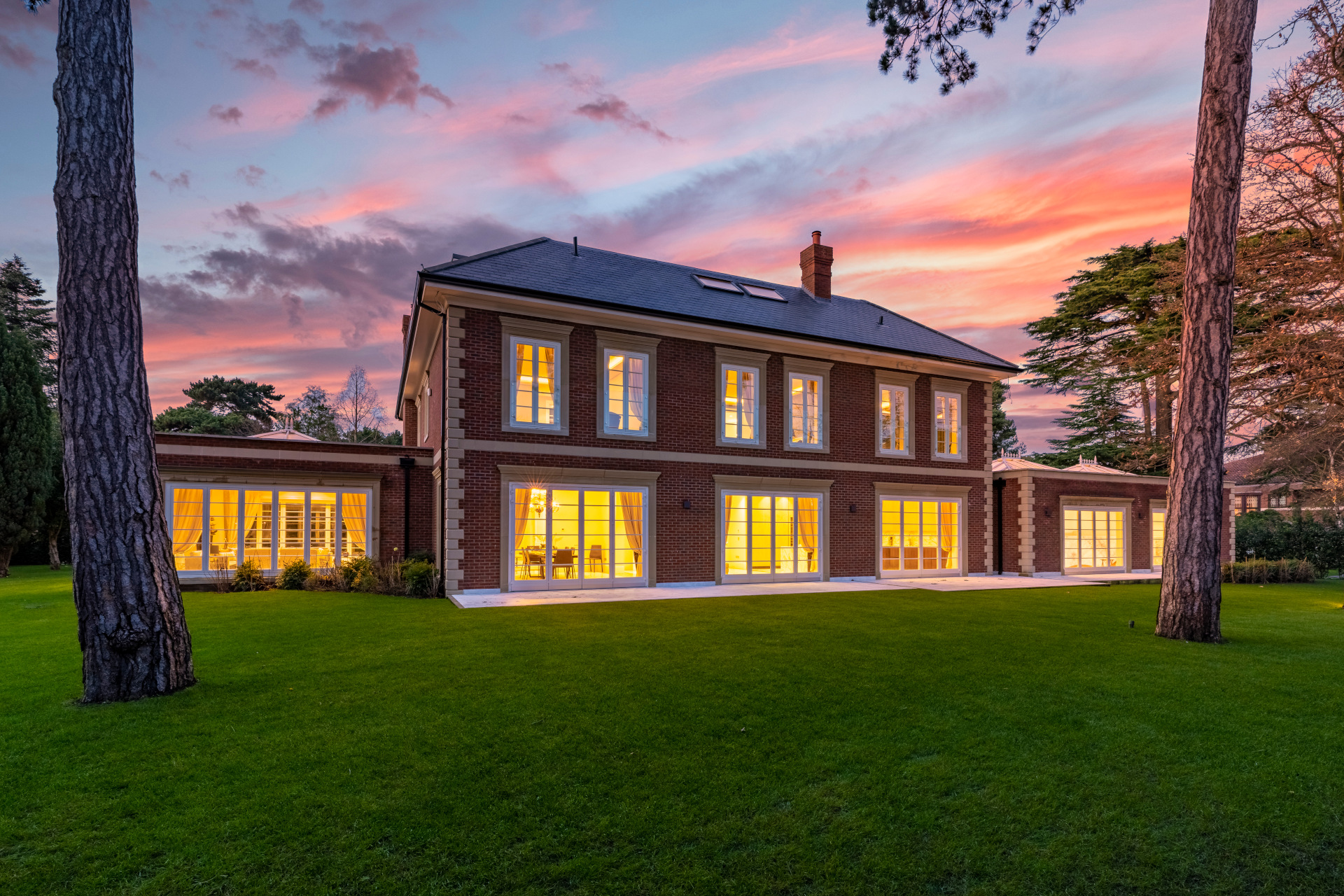 Sleek, spacious and sophisticated, this house promises a lifestyle of dreams. Inside you'll find seven-bedroom suites, a swimming pool, gym, cinema room, and an open-plan style ground floor perfect for entertaining. As well as plentiful luxurious amenities, it's also incredibly energy efficient thanks to the heat source recovery system, cavity insulated walls and roof voids. If you do ever manage to drag yourself away, you're a stone's throw from Coombe golf club, the rural bliss of Richmond Park, and central London with all its cultural amenities. Available through Harrods Estates for £9,995,000.
Monkwood, Alresford, Hampshire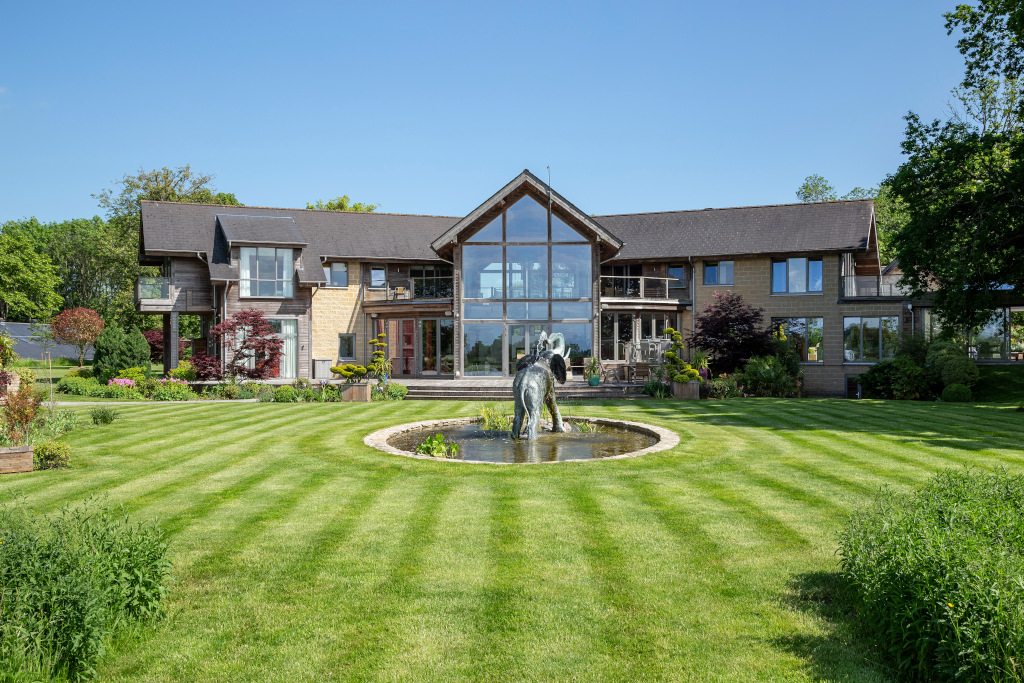 Set within 34 acres of its own land in the heart of Hampshire, this magnificent property's country setting means there's no shortage of space. Inside you'll find endless vast rooms with soaring ceilings and luxurious modern touches – the cinema room and glass vaulted dining room are particular wows. Head outside and you'll find a breathtaking swimming pool complex, complete with spa bath, steam room, sauna, gym and changing rooms. And to top it all off? Its construction has been centred around ensuring the property is uber energy efficient, thanks to the Swedish Ground Source Heat Pump and Canadian Mechanical Ventilation System. Available through Knight Frank for £15,000,000.
Ullswater Close, Putney Heath, London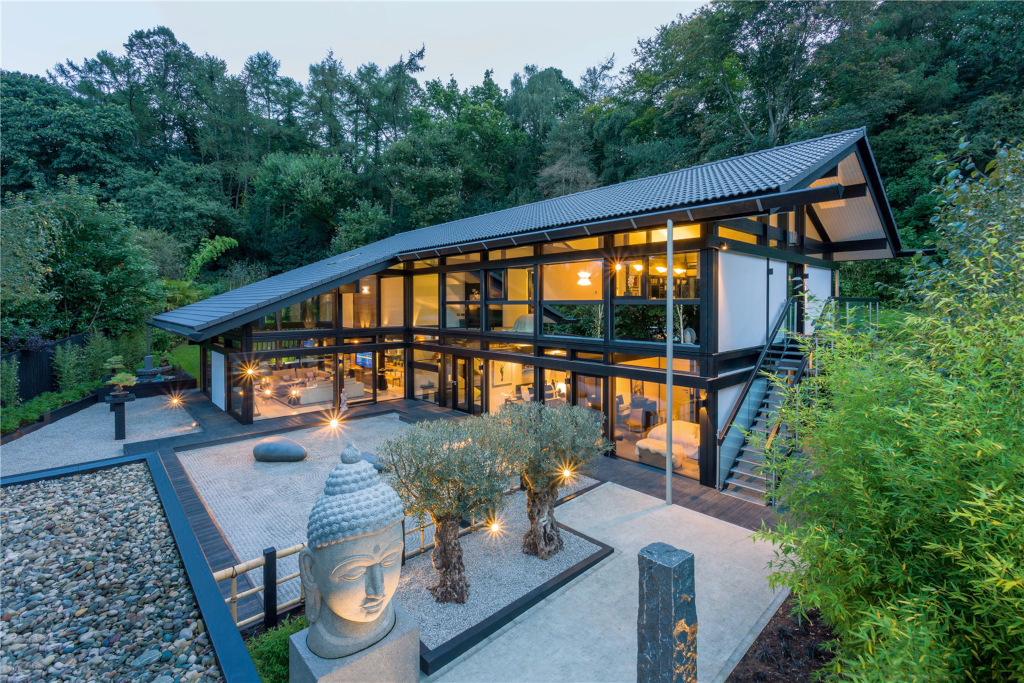 This property boasts breathtaking design with contemporary interiors endless floor to ceiling windows and huge ceilings leaving it feeling bright and spacious throughout. It's characterised by sleek, modern and earthy interiors inside; there's an impressive kitchen/dining room/ living area, a stunning principal bedroom, and a beautiful zen garden outside with plenty of space for alfresco dining or drinking. On top of all this – it's been built with energy saving in mind: there's underfloor heating throughout, automatic electric blinds, and state of the art energy efficiency construction. Available through Knight Frank for £4,000,000.
Franklin Avenue, Culver City, California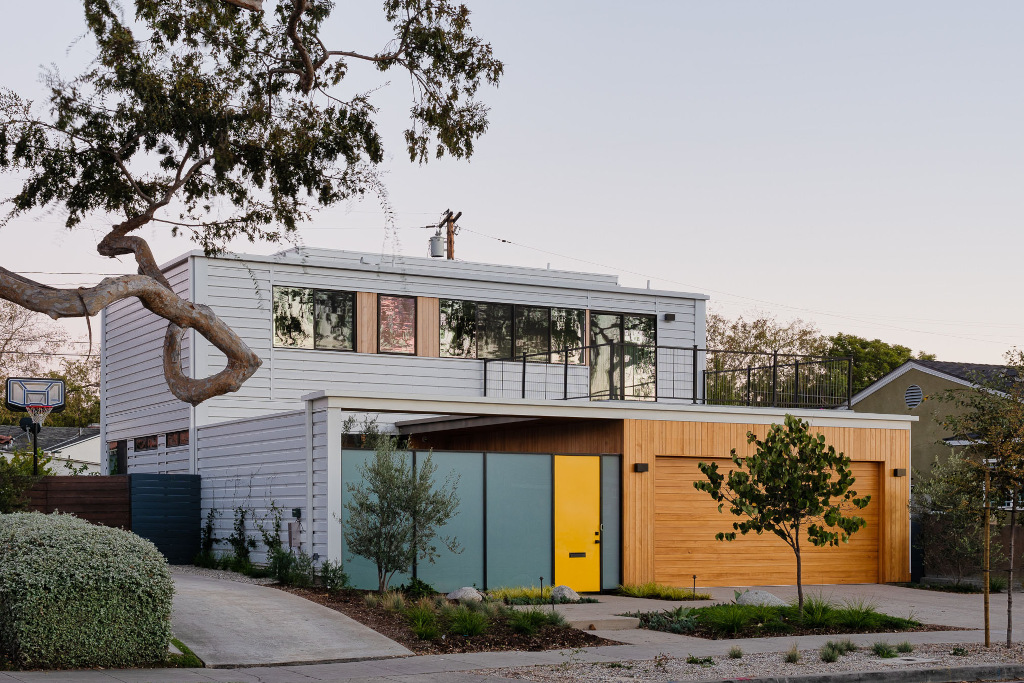 Positioned in an enclave in California's Culver City, this property offers effortless contemporary luxury, which are complemented by an abundance of natural light. This extensive natural light is a result of the designer having the environment in mind when building. Other features include the impressive sound design, EV charging point and the heavy integration of indoor-outdoor living. Available through The Agency for $2,850,000.
Camden Mews, Camden Town, London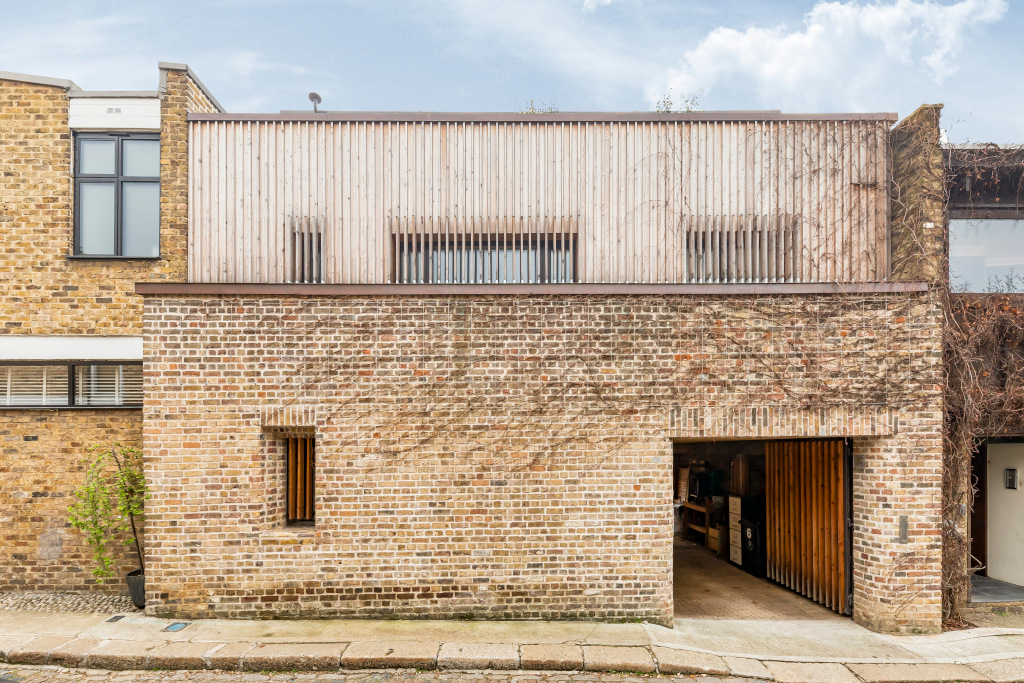 Tucked away on a quiet cobbled mews, this award winning four-bedroom home was designed by renowned engineer, Max Fordham OBE. It's the first ever property to be verified as net zero carbon, thanks to the considerable dedication that went into constructing it. Think low-carbon cement and timber, woodfibre insulation, cork flooring, triple-glazed windows and rooftop solar panels, as well the rest of the energy being sourced from Good Energy, the renewable electricity supplier. Meanwhile inside, the property is spacious and boasts a functional and minimalist aesthetic, with plenty of wood throughout. Available through Dexters for £1,350 per week.
Mount Avenue, Ealing, London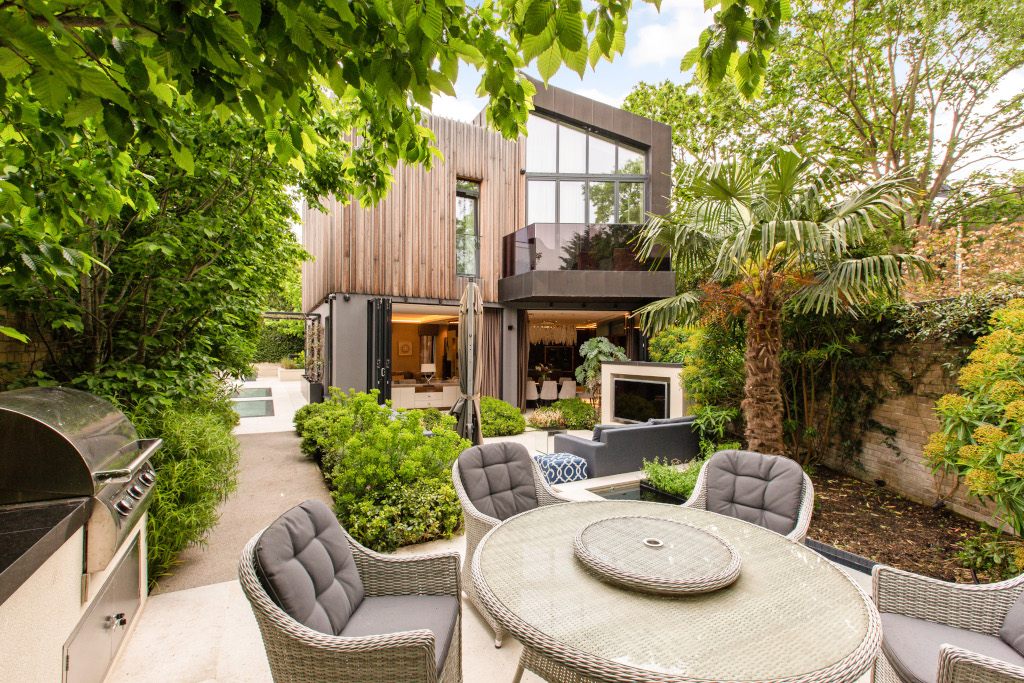 This property boasts upper wooden fascia and foliage exteriors, seamlessly blending it into its surroundings and reflecting its position as an eco-home. It has exceptional energy efficiency, thanks to the air course heat pumps, solar panels, heating controls and thermal insulation, meaning you can enjoy its plethora of luxury leisure features  think jacuzzi, spa, sauna, cinema room, games room and the 37 ft swimming pool – without having to worry about your carbon footprint. Plus, the triple height atrium and floor to ceiling window means the property is flooded with free natural light. Available through Hamptons for £6,000,000.
Ham Island, Windsor, Berkshire
Sitting on the banks of the River Thames, this property boasts stunning views of Richmond Lock, accessed through the plethora of floor-to-ceiling windows and balconies; these and the skylights also flood the property with natural light. The waterside garden is pretty and landscaped, and is ideal for lounging around on sunny days or alfresco entertaining in the summer. Inside, it's sleekly modern and there's good space to entertain when the weather's bad. The property has been carefully built to ensure there's minimal use of wasted or extra energy: there's underfloor heating, solar PV energy with hot water priority, triple glazed windows, a heat recovery ventilation system with pollen filters and it's got an A-rated energy efficiency certificate. Available through Knight Frank for £1,895,000
Roccastrada, Grosseto, Tuscany, Italy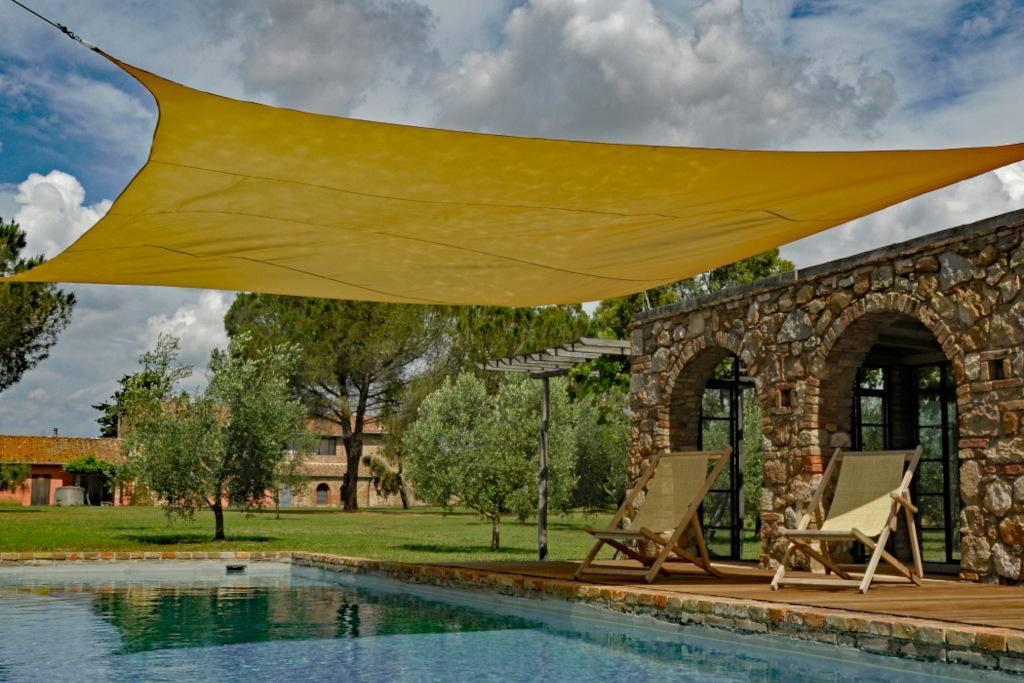 This dreamy Tuscan villa sits amongst idyllic Mediterranean landscape, surrounded by water canals. This property boasts an abundance of space, with its eight bedrooms, ten bathrooms and four kitchens and reception rooms respectively. And it's set within 3.46 acres of its own land; out here you'll find the gorgeous swimming pool, alongside a plethora of eco-friendly features. There's 130 olive trees, multitude fruit trees, a vegetable garden, photovoltaic panels for heating, solar panels, an original Vivarelli windmill and rainwater is collected in cisterns. A life of eco-luxury. Available through Knight Frank for €1,970,000
Saint Margaret's Residences, Magdalen Road, Exeter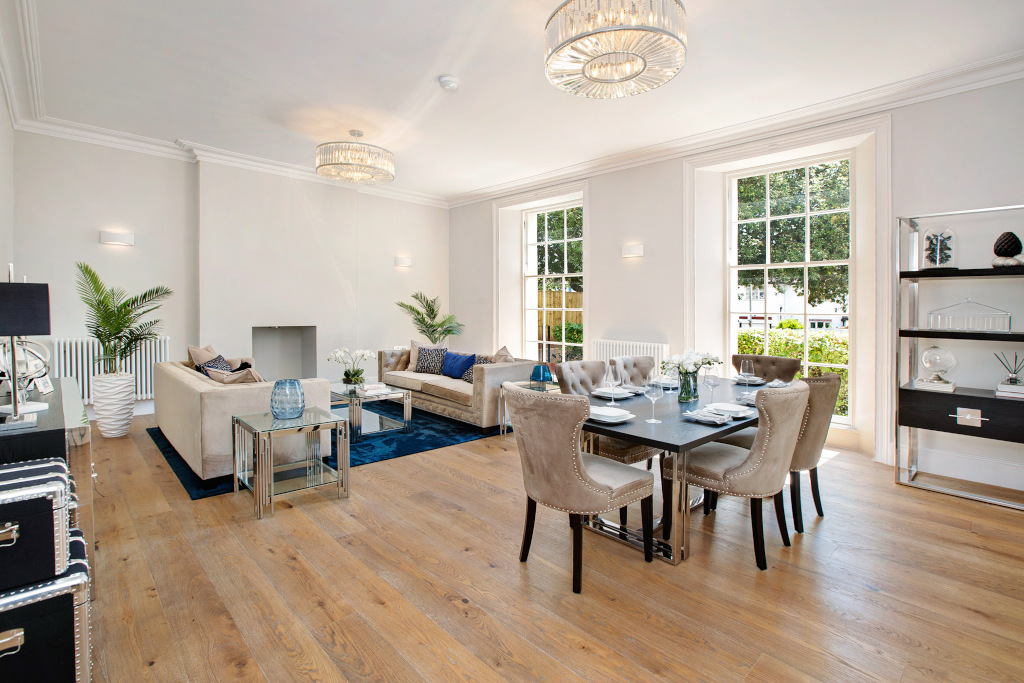 Electric car charging points; ground-source heat pumps; solar roof panels – this property has them all. It's bright, sleek and modern, and boasts open-plan style living with huge windows and high ceilings. Sitting in a quiet corner of Exeter, it's just a stone's throw from an abundance of independent shops and cafes, meaning you can shop sustainably and support local businesses. Available through Knight Frank for £700,000
Lake Maggiore, Novara, Italy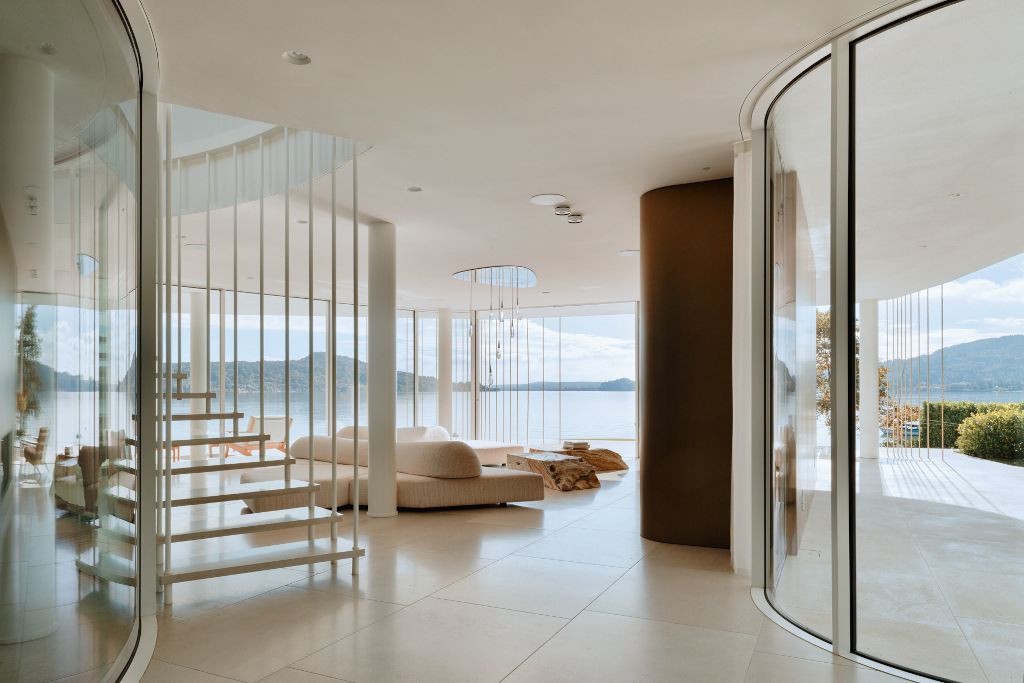 This idyllic lakeside escape puts indoor-outdoor living at its centre. Boasting infinite walls of glass, endless windows and numerous projecting terraces, you'll feel connected to nature wherever you turn. And thanks to the rainwater collection system, solar panels, heat pumps and passive ventilation – this house is also eco-friendly. Plus, the fruit and vegetable garden will provide an abundance of fresh and seasonal produce – which you can cook in the special chef's kitchen, before eating alfresco against the backdrop of Lake Maggiore. Available through Christie's Real Estate, POA
Pollensa, Mallorca, Spain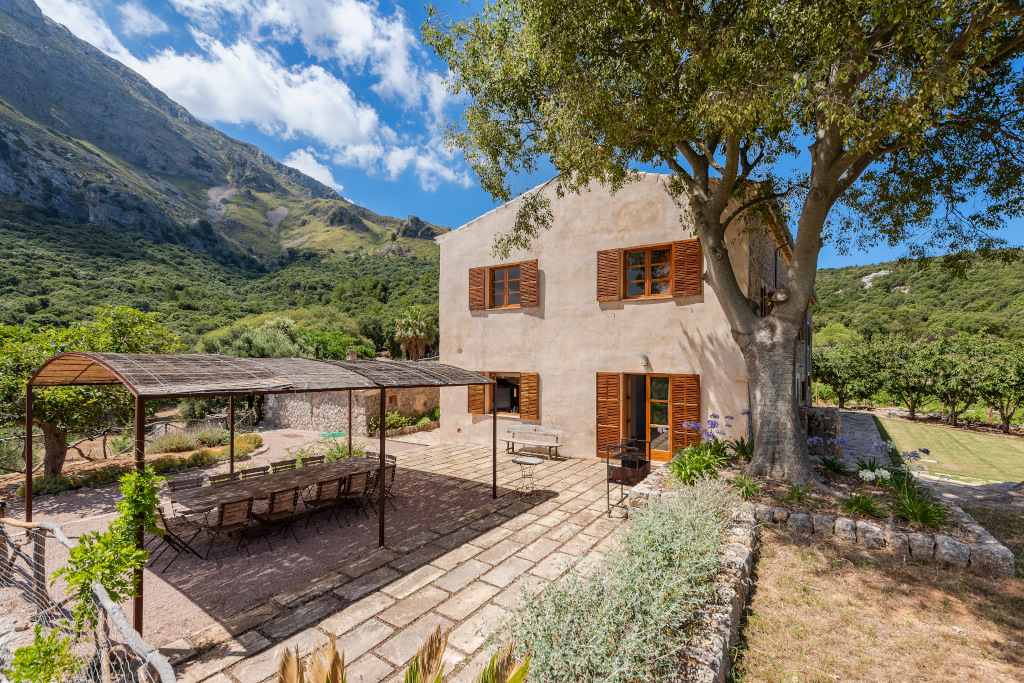 Perched on the Puig del Tomir Mountain, surrounded by lush greenery, sits this gorgeous Mallorcan villa. Boasting panoramic stunning views, of both the mountain and the sea, each guest will live in luxury with their own bedroom, bathroom and sitting room suite. This property is positioned amongst nature, and is also nature and eco-friendly: it's got its own water supply and solar panels. Available through Savills for £7,342,309.
Las Rozas, North West Madrid, Spain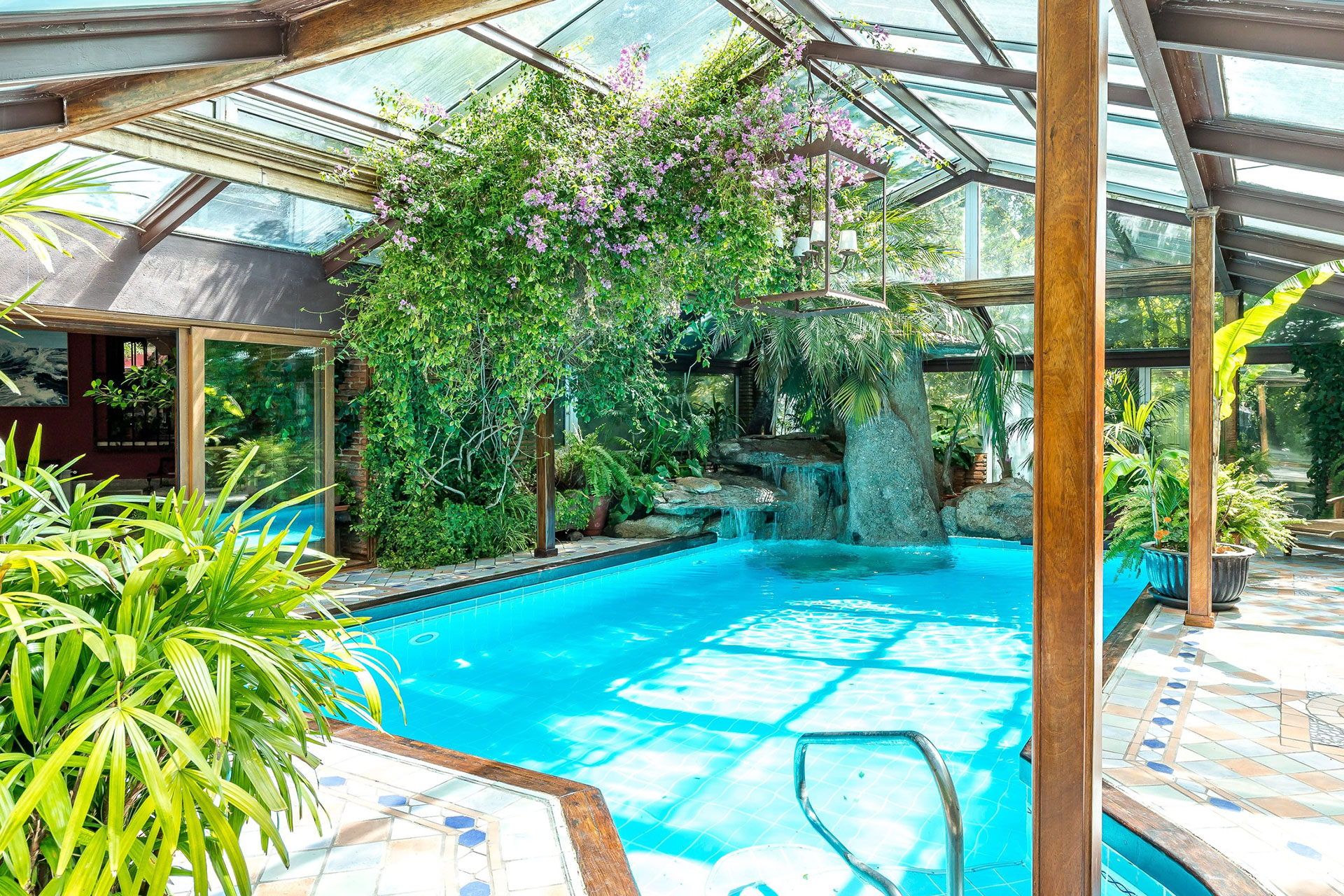 This house isn't just eco-friendly – it's an ecosystem unto itself. Situated just north of Madrid in the bustling town of Las Rozas, the Spanish mansion is teeming the verdant plant life. There are botanical gardens full of birds and vegetation, an artificial river surrounding the property and great greenhouse style rooms patterned with Tunisian mosaics. Inside is positively palatial, with suite style bedrooms, sprawling drawing rooms and a winter kitchen with Carrera marble walls. If all that luxury makes it difficult to believe you're helping the environment, don't worry – the pool is heated by solar panels, and there are fruit trees and wild strawberry fields to make sure you're eating local. Available through Sothebys International Realty for €4,950,000
Rapallo, Liguria, Italy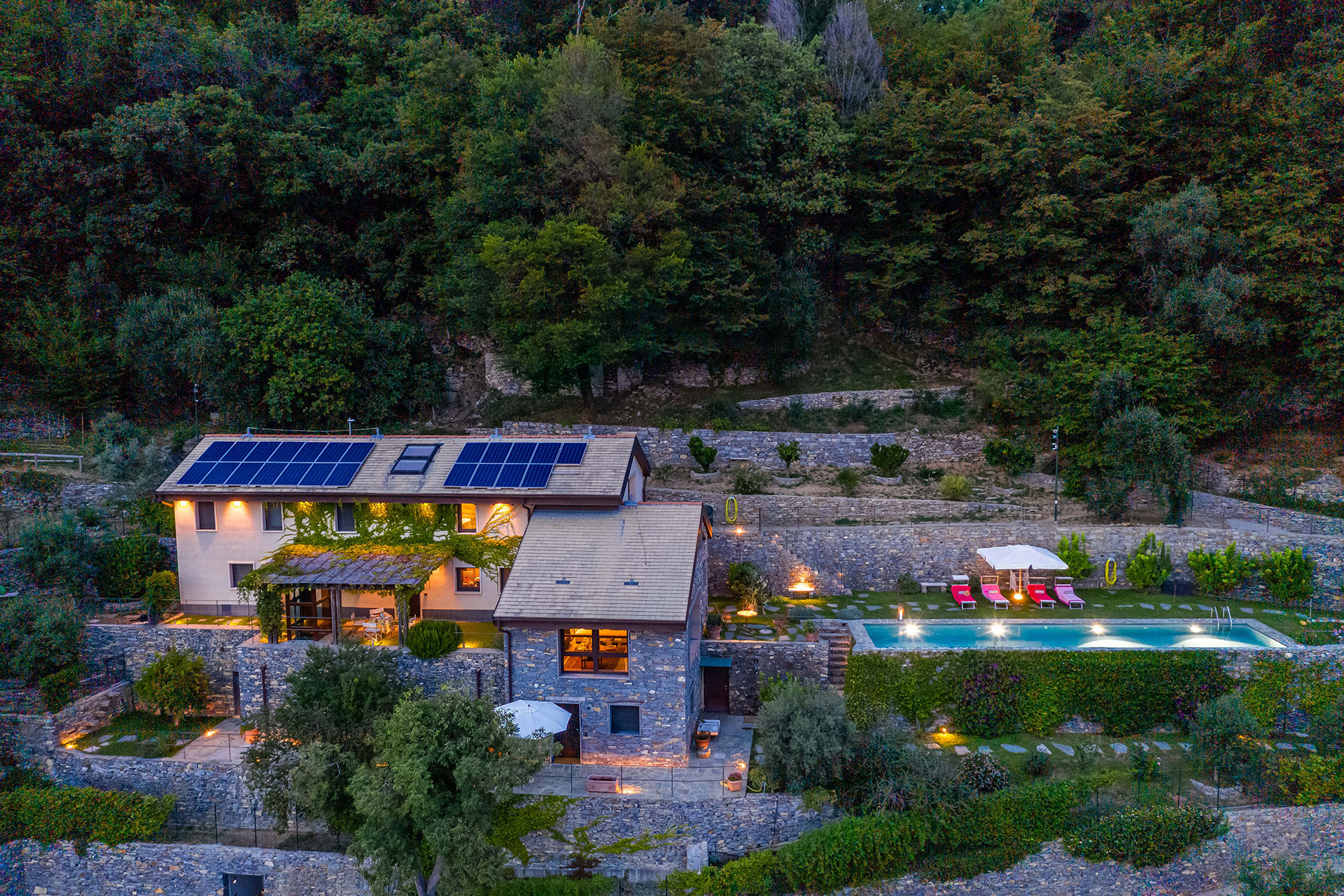 Who said luxury had to cost the earth? This enviable four-bedroom villa designed by architect Stefano Ghini has beautiful open plan living spaces that flow out into the garden, and a pool from which you can gaze down over Portofino and the Italian Riviera. It's also kitted out with solar panels, rainwater harvesting systems, triple glazing and low energy lighting. All this equipment does more than just reduce your impact on the planet – it also reduces the impact on your pocket, as it means the house has no hot water or electricity bills. How's that for green? Available through Savills for €2,200,000
Lower Mill Estate, Cotswolds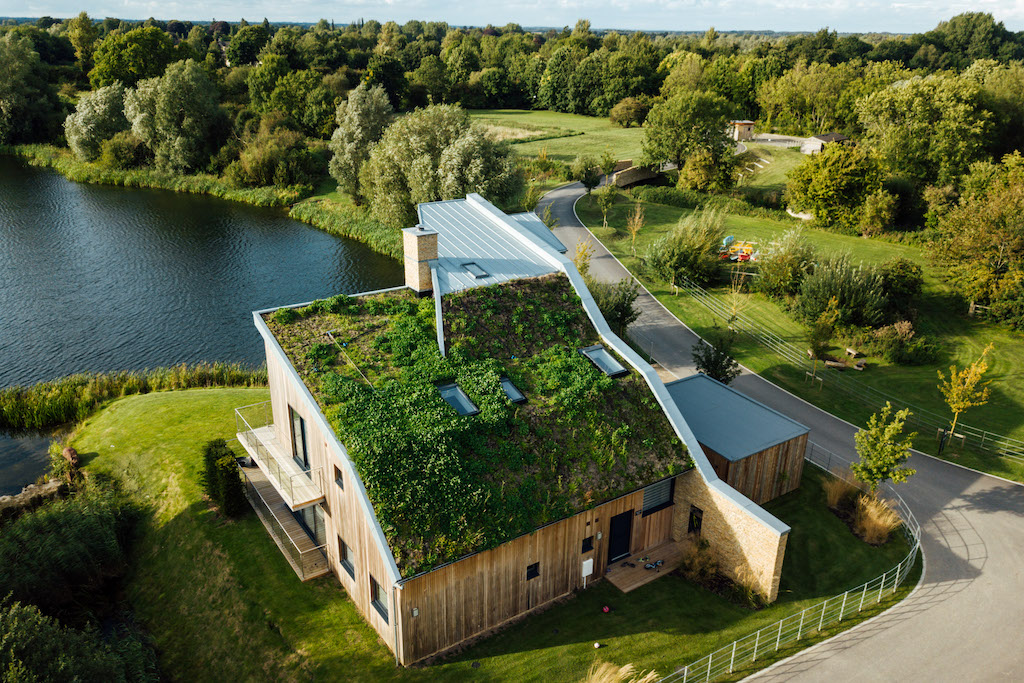 Looking for a sustainable holiday home? Look no further. The brainchild of eco-home experts Habitat First, Lower Mill Estate is a modern country estate nestled on the shores of the Cotswolds water park. Through natural materials and eco-friendly architecture, their aim is to make every home as sustainable as possible. There are an array of gorgeous designs to choose from, but our favourite is the Habitat House which – with it's distinctive wildflower sloping roof – looks like a 21st century Hobbit hole, and blends seamlessly with the surrounding environment. A green home for a green future. Available through Lower Mill Estate, price on enquiry.
More Property:
Best Country Homes / Best Thatched Cottages / Best European Boltholes