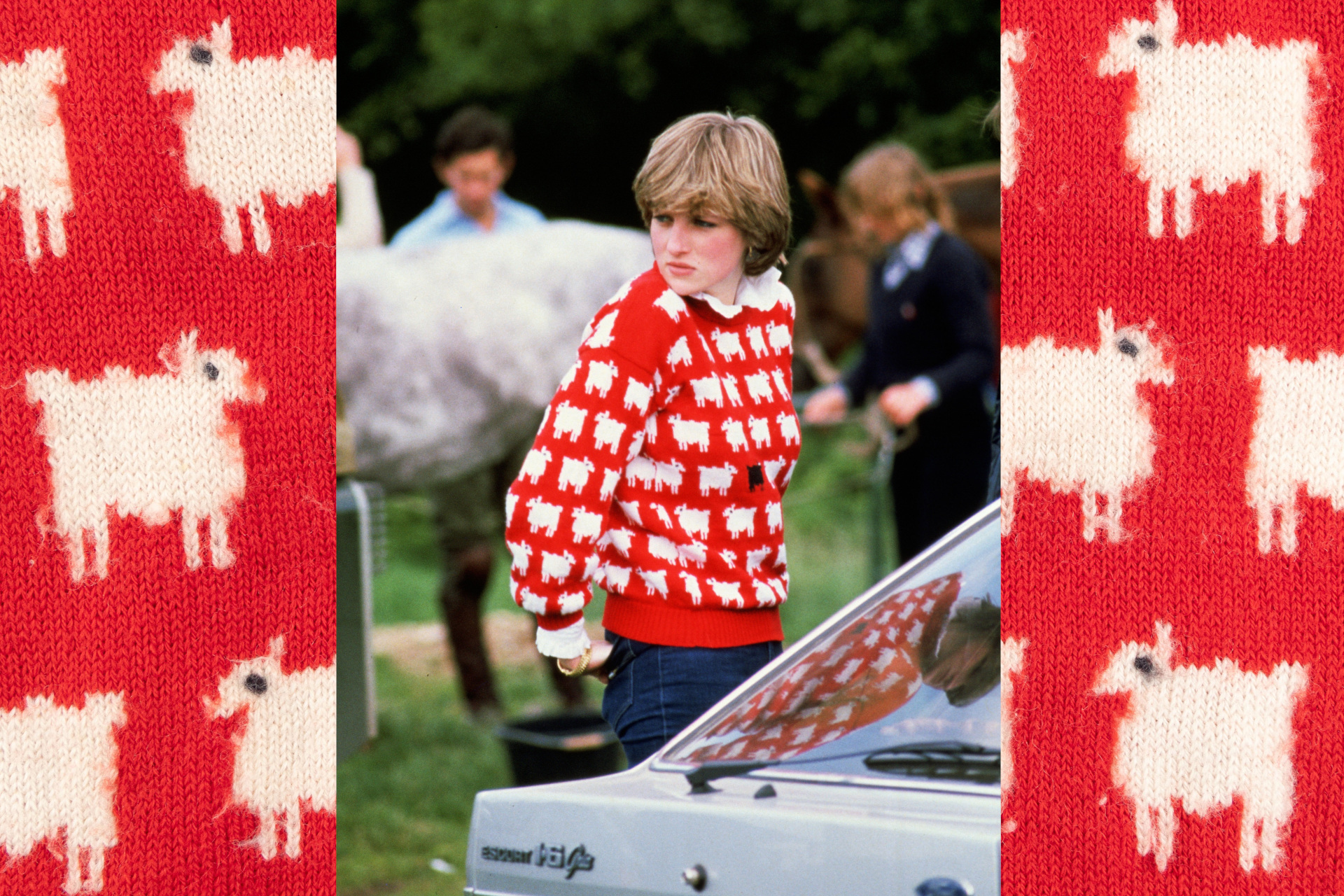 Princess Diana's Sheep Sweater Is Heading To Auction This September
Here's everything you need to know
It would be an understatement to say that the late Lady Diana Spencer was something of a fashion icon, known for her trendy wardrobe choices and timeless style. This September, international auction house Sotheby's is bringing royal fashion history to the fore with a very special lot: Princess Diana's historic black sheep sweater. Here's what you need to know…
Princess Diana's Sheep Sweater Is Heading To Auction
For the first time, Princess Diana's iconic red sheep sweater is heading to auction. Sotheby's, which currently holds the record for the most valuable Princess Diana dress ever sold ($604,800 at auction in January 2023), are set to host the sale as part of its Fashion Icons event later this year.
Whether it was attending royal events in elegant evening gowns and sleek suits or walking around London in jeans and workout gear, Princess Diana made every occasion a moment for her vivid personal style to shine. Easily one of the most style-savvy members of the royal family, Diana was known for igniting trends – inviting the world to draw on her image for fashion inspiration.
'From her early years as a shy and reserved royal to her later years as a confident and independent woman, Princess Diana's fashion choices broke the mould by reflecting the changing social climate and embracing evolving perceptions of femininity,' said Cynthia Houlton, Sotheby's Global Head of Fashion & Accessories. 'By combining high-end designer pieces with more attainable everyday apparel, Diana's style led to a wave of imitation and admiration – which remains steadfast to this day – leaving an indelible mark on the fashion world and solidifying the Princess as an icon in fashion history.
'This exceptional garment, meticulously preserved, carries the whispers of Princess Diana's grace, charm, and her keen eye for fashion. It's an honour to offer this historic sweater in our inaugural Fashion Icons auction, placing it in dialogue with other memorable and culturally important items of clothing.'
About The Sweater
History
The iconic sweater was one of the first pieces created by Sally Muir and Joanna Osborne and their knitwear label Warm & Wonderful, and its distinct design features a herd of white sheep laid out on red wool – with a lone black sat slightly off-centre in the middle. It was first seen worn by Princess Diana in June 1981, shortly after the announcement of her engagement to Prince Charles. Attending one of the prince's summer polo matches, Diana was quickly spotted in the red sweater and it soon became the object of trend chatter while propelling Warm & Wonderful into mainstream popularity.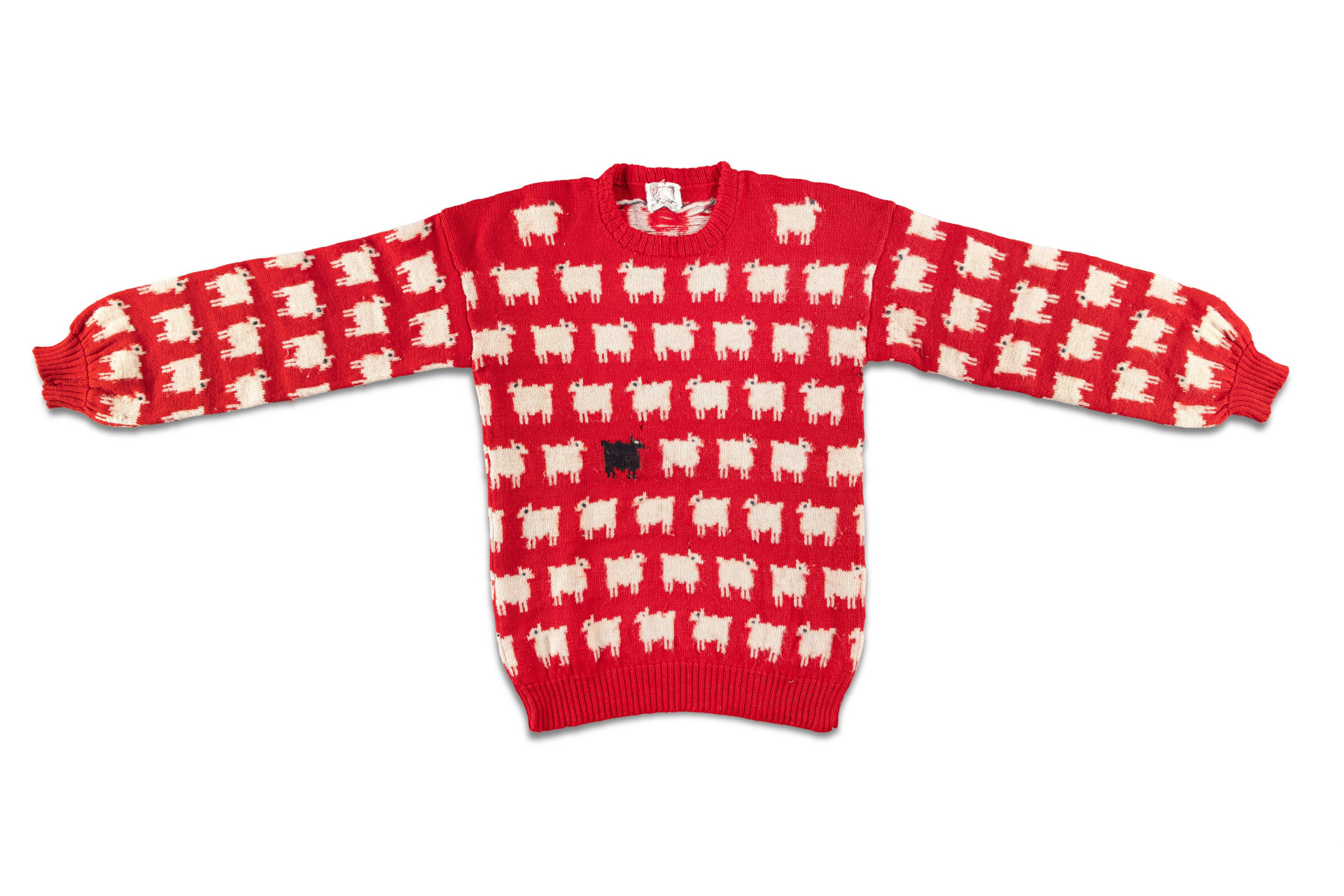 'Much to our amazement, the first we knew of Lady Diana Spencer wearing the sweater was when we saw her on the front page of one of the Sunday newspapers,' said Warm & Wonderful founders Sally Muir and Joanna Osborne. 'Her influence was impactful almost immediately thereafter, leading to a surge in sales and public awareness of our small label, for which we will be forever grateful.'
A few weeks after Diana was seen in the sweater, an official letter from Buckingham Palace was sent to Muir and Osborne politely explaining that Diana had damaged her much-loved sheep sweater and requested either a repair or replacement. The two sent back a newly knitted sweater (which you can see in the permanent collection in London's V&A), while the original remained with Muir and Osborne – remaining forgotten, until now.
'This past March, as we were rummaging through the attic searching for an old pattern, we spotted a small box. Inside, tucked away beside a cotton bedspread was Diana's original red sheep sweater from 1981. Now, almost four decades later, this one-of-a-kind sheep sweater is ready to make its way into the hands of a fortunate collector.'
Warm & Wonderful stopped producing the black sheep knit in 1994, before reissuing the design in 2020 in collaboration with American designer Jack Carlson and his brand Rowing Blazers. A replica of the sweater also appeared in the fourth season of Netflix's The Crown, worn by actress Emma Corrin.
Symbolism
Due to its intriguing design, the black sheep sweater remains a topic of conversation when it comes to Diana's relationship with the royal family. Historical speculation in the media has suggested that Diana felt a connection to the lone black sheep, while others have interpreted the sheep pattern as a nod to British agricultural history and a celebration of the countryside. Nevertheless, many were taken with the symbolism of the sheep itself – innocent, gentle and pure – and how it mirrored Diana's own compassionate and kind demeanour.
About The Auction
When Will The Sweater Go To Auction?
Princess Diana's iconic sheep sweater will be headlining Sotheby's inaugural Fashion Icons sale this September in New York.
Can We Place Bids?
Online bidding will be open from 31 August until 14 September, coinciding with New York Fashion Week. The sweater will also be displayed in New York from 7 September 2023. It's estimated value is between £40,000 and £70,000. sothebys.com
Images courtesy of Sotheby's and Tim Graham/Getty Images