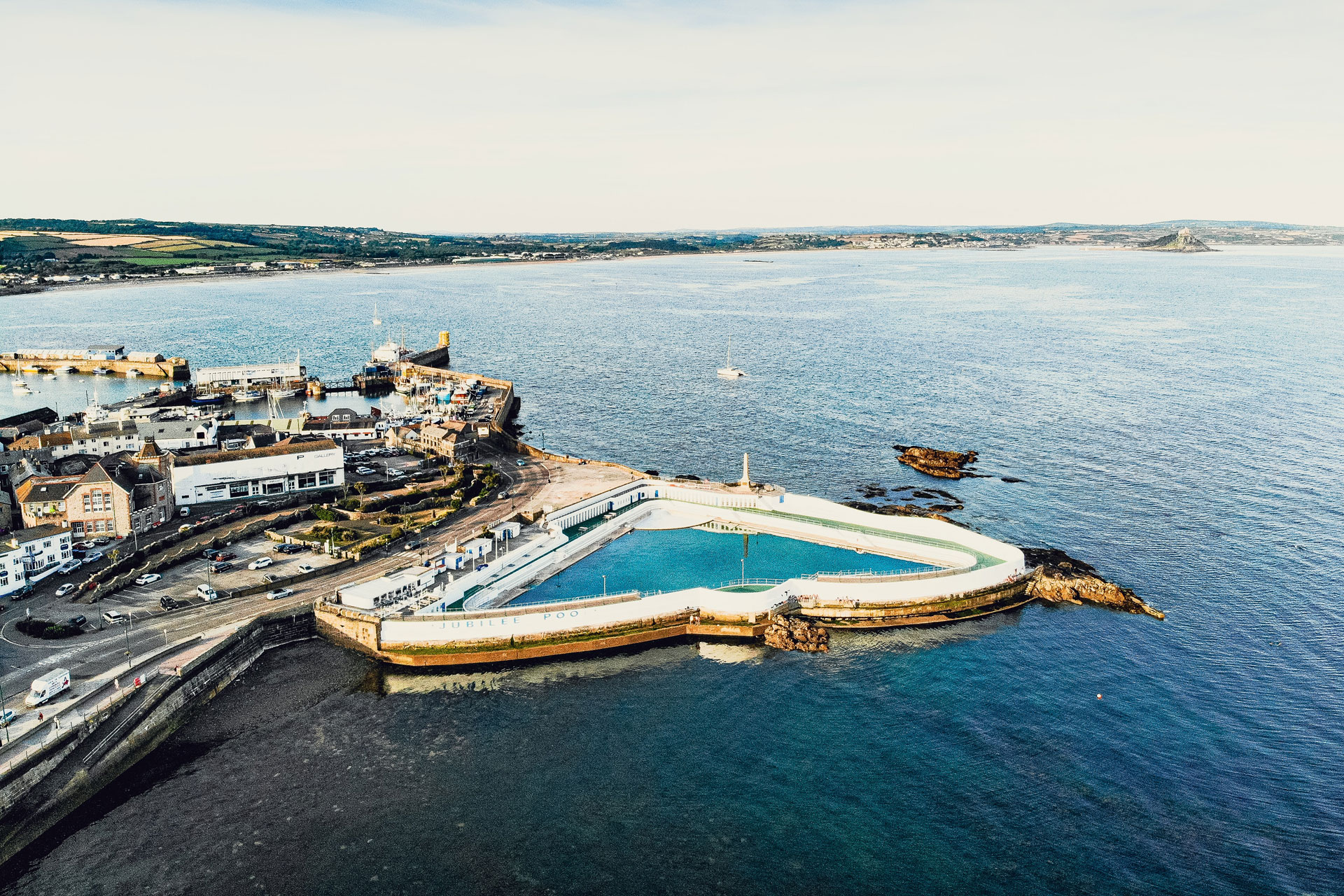 The Best Outdoor Swimming Spots in England
Explore the great outdoors with some of the most beautiful (and challenging) outdoor pools and wild swimming locations
There's something about sunshine that brings on the urge to be near water. Add an English heatwave into the mix, and being by a pool (even of the paddling variety) becomes a necessity. You don't have to flee the country to find an appealing outdoor pool or body of water to lounge by or plunge yourself into. If you're looking for the best outdoor swimming lakes and pools in England, or Britain's most challenging wild swimming spots, look no further. We've rounded up the best outdoor pools, open water activities, and the loveliest English lidos in the country. A wild summer swim (or a poolside lounge), here we come…
Best Outdoor Swimming In England: Lidos & Wild Swims
The Swan at Streatley, Reading
Set on a clean stretch of the River Thames, The Swan at Streatley is in prime position to invite its guests to enjoy the benefits of wild swimming. Led by wild swim instructor, Jo (who has been open swimming since she was twelve and even swum the English Channel twice), the wild swimming events are unlike any others. The session will cover entry and exit, technique, kit recommendations, swim etiquette, water safety and how to adapt pool swimming to outdoor swimming. You can even pop to the hotel afterwards for a spot of lunch or a steam and sauna.
Find It: Streatley-On-Thames, Reading RG8 9HR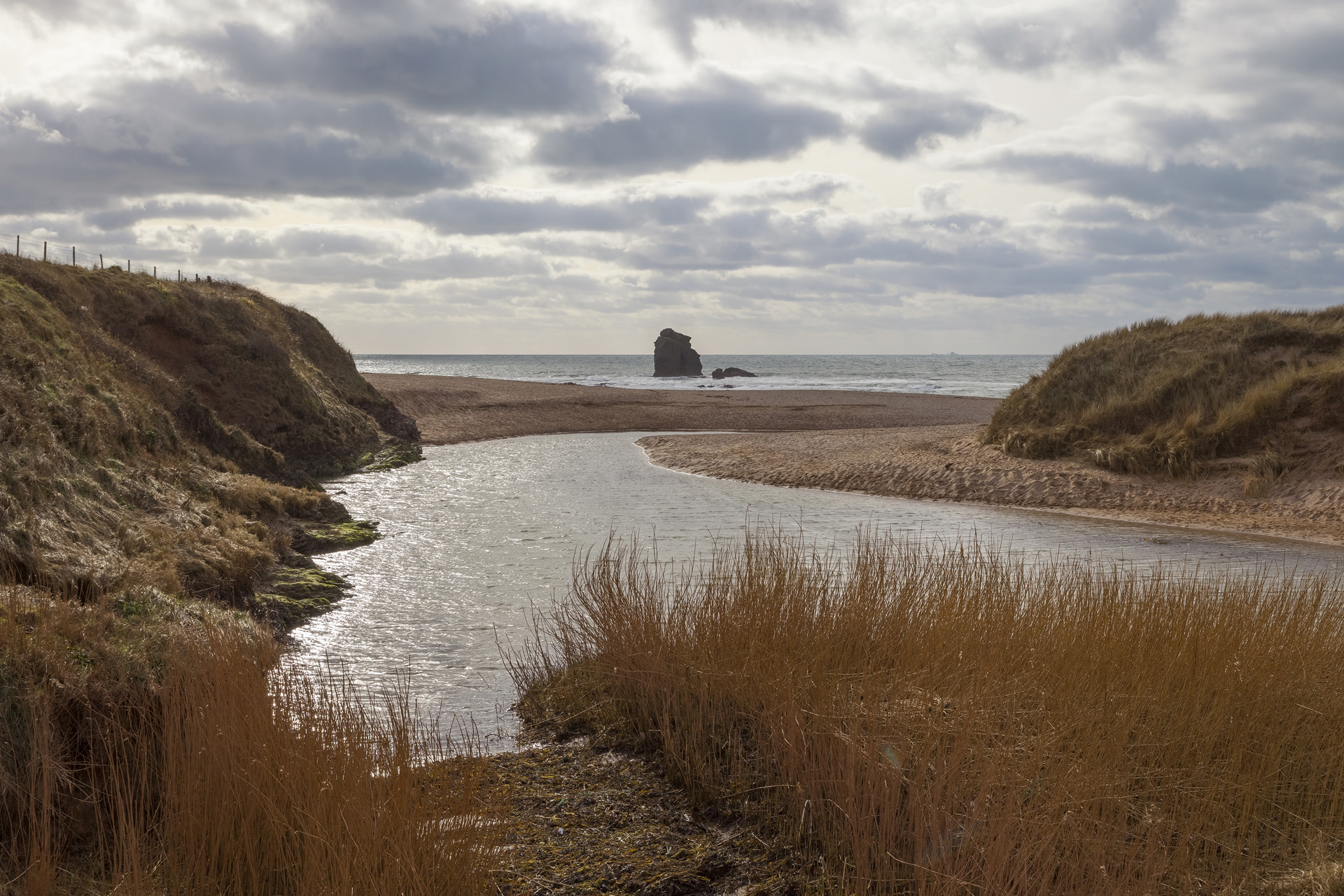 Thurlestone Rock, Devon
Thurlestone Rock in Devon is a great destination to aim for if you want a truly wild swimming experience. The rock formation is situated in Thurlestone Bay on the south Devon coast, sitting around 500 metres off the shore at high tide, and is famous for its unusual natural arch, created over centuries by the crashing waves.
Don a wetsuit (the water can be cold) and goggles and challenge yourself; experienced wild swimmers pride themselves on being able to swim through the arch, but it's just as fun to simply float over the reef and – if the water's clear – take in the aquatic garden of seaweed and fish below you. visitdevon.co.uk 
Find It: South Milton, Kingsbridge, Devon TQ7 3JY
Grassington, Skipton
Grassington is an idyllic little Dales market town with a cobbled square, but if you can escape from its cosy pubs, it's also a great base for a spot of wild swimming. The surrounding area is scattered with plunge pools, cascading waterfalls and the pristine waters of the River Wharfe. Choose to ride a rubber ring down the chutes, cool off with a paddle or brave the jump into the plunge pool at Loup Scar. Stick to the summer months unless you're impervious to the chilliest of temperatures. wildswimming.co.uk
Find It: Skipton, North Yorkshire
Swim Serpentine, London
Swim Serpentine is a one-day open water swimming festival staged in the heart of London. Organised by London Marathon Events, the festival is held in and around the beautiful Serpentine in Hyde Park, the venue for the open water swimming competition at the London 2012 Olympic Games. Sharpen the elbows; it can get busy. Alternatively, the open-water lido is open everyday in the summer until mid-September, 10 am until 6pm. swimserpentine.co.uk
Find It: Marathon House, 190 Great Dover Street, London SE1 4YB
The Lido, Bristol
Tucked away inside a secluded courtyard in the heart of Bristol's most prestigious area, Clifton Lido provides a luxurious leisure space that is another modern destination for both locals and visitors. The large outdoor pool and hot tub are complimented by an award-winning restaurant that cooks delicious yet affordable meals that are prepared using the finest ingredients, many of which are sourced locally. lidobristol.com
Find It: Oakfield Place, Clifton, Bristol BS8 2BJ
Jubilee Pool, Penzance
The Jubilee Pool is the country's largest sea water lido and has been a significant feature of Penzance's seafront for 85 years. With stunning views of both St Michaels Mount and the quaint fishing town of Newlyn, this lido is a fantastic place to splash around on a summer's day. The pool opened in 1935 and has since become one of Cornwall's greatest landmarks. A true beauty, jutting out into the sea and providing locals with a safe spot for sea swimming for 85 years. The addition of a new heated geothermal pool means that there's no need to brave the cold, although tickets sell out months in advance and priority goes to Cornwall locals, so be quick! jubileepool.co.uk
Find It: Battery Road, Penzance TR18 4FF
Swim Trek, Lake District
How about a short escape swimming holiday in the Lake District? With freshwater swims in some of the region's most iconic lakes, this weekend getaway is the perfect way to spend some time in the great outdoors and discover this beautiful part of the British countryside from a unique perspective. swimtrek.com
Find It: Glenthorne Guest House, Easedale Road, Grasmere, Ambleside LA22 9QH
Watkin Path Waterfall, Snowdonia
Wild swimming lovers, you'll have to earn this idyllic swim. Located off the Snowdon Watkin Path, the nearest parking spot is a 20 to 30 minute walk away, but totally worth it for secluded pools and cascading waterfalls with views of rolling hills and ancient woodland. wildswimming.co.uk
Find It: Snowdonia National Park, Beddgelert, Caernarfon LL55 4NL
Scilly Sea Swim Challenge
Watch the spectacle (or join the madness) as 150 swimmers swim and walk between Scilly's main islands in just one day. Starting at sunrise from Bar on St Mary's north side the swimmers head first to St Martin's arriving at Higher Town Quay. They then walk the length of the island to Lower Town Quay. Here they set off for Tresco, to Old Grimsby Quay passing Tean and St Helen's. After walking across the backbone of Tresco to New Grimsby, they head off once again for the shortest of the swims to Bryher and then on to Samson. From Samson, comes the penultimate swim and arguably one of the toughest – through the deep channel to St Agnes. And then the longest swim of all to wrap up the challenge: from St Agnes to Porthcressa Beach back on St. Mary's. Sounds easy, no? scillyswimchallenge.co.uk
Find It: Isles of Scilly
Salford Quays, Manchester
Situated in the heart of Media City, Salford Quays proudly boasts the best water quality of any open water in the UK. Since 1987, APEM have managed and monitored the water quality at the Quays ensuring it is entirely safe, giving you complete peace of mind during your swim. Both Uswim and Helly Hansen offer classes at Salford Quays – whilst Uswim attracts a range of ages and abilities, Helly Hansen draws in a more competent bunch! salfordwatersports.com
Find It: Manchester M50 3UB
Saltdean Lido, Brighton
The UK's only Grade II-listed lido in Saltdean, near Brighton, reopened in 2017 after a five-year restoration programme. The lido is one of the finest remaining examples of modernist lidos in the UK. Phase one saw the opening of the main 40-metre-long swimming pool and the children's swimming pool re-opening – with heated water, for the first time since it was closed in 1940. Phase two restored the main building, with a café/restaurant/events space, pending funding. You can support the Lido's ongoing restoration here – just think of the fabulous days out that lie ahead. saltdeanlido.co.uk 
Find It: The Oval Park, Saltdean Park Road, Saltdean, Brighton BN2 8SP
Bude Sea Pool, Cornwall
Following its closure in 1990, a local campaign succeeded in protecting the lido from demolition, resulting in the lido opening its doors once again in 2008. Bude Sea Pool is nestled in the rocks of a laid-back seaside town, making it the perfect place to relax in between exploring the beautiful beaches views and wild coastline. Built in 1930, the part natural, part man-made pool is topped up by the waves of the Atlantic Ocean each day, making it one of the few tidal swimming pools currently open to the general public. budeseapool.org
Find It: Cornwall EX23 8HN
Hampstead Ponds, London
The Hampstead Ponds were originally dug as reservoirs in the 17th century. Over the past 400 years they have been converted into three separate bathing ponds consisting of a Ladies, Mens and Mixed Pond. The Ponds are as iconic as the Heath itself, offering a chance to step out of the chaos of modern city living and immerse yourself in a pool of calm. After taking a dip in the Ponds make your way through the Heath and take in one of London's finest parks. Truly the best of both! Tickets for the following week are released every Monday at midday – but be quick as they sell out fast. hampsteadheath.net
Find It: Hampstead Heath, London
London Royal Docks
Long day in the City? London Royal Docks is the ideal place for those craving a post-work swim. There are numerous supervised swimming sessions which run throughout the week in both the daytime and evening. So whether you're looking to get a serious cardio workout or simply relax after work, the Docks are perfect for you. Follow the course of the water as it meanders through Canary Wharf and around the O2. Although before taking a dip, ensure you purchase an electronic wristband from NOWCA which allows you to track your progress and keep you safe in the water. londonroyaldocksows.co.uk
Find It: Dock Road, London E16 1AH
Queen's Dock, Liverpool
The charity Local Solutions is committed to widening participation in watersports, they run open water sessions every Wednesday for just £5. What's more, your fee is reinvested back into the local community to help disadvantaged individuals who do not have access to sports facilities. The sessions are open to all abilities and are designed to allow everyone to experience open water swimming at their own pace. liverpoolwatersports.org.uk
Find It: Liverpool
Featured Image: Jubilee Pool, Penzance (c) Benjamin Elliott