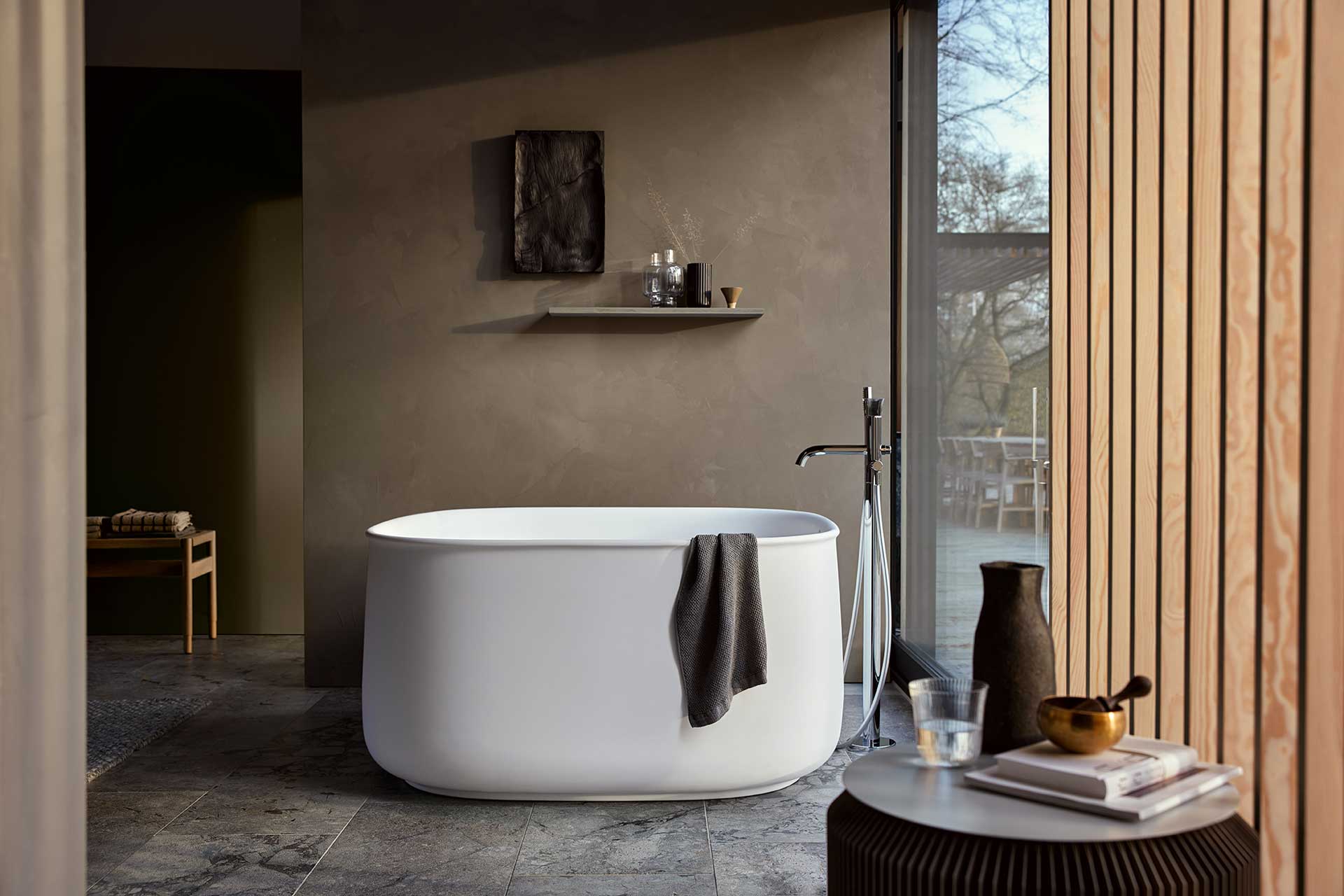 Create A Home Retreat With This New Japanese-Inspired Bathroom Collection
Introducing Zencha by Sebastian Herkner for Duravit
The bathroom should be a space for retreat, renewal and relaxation, a space perfectly in balance. If you're looking to update your bathroom, you'll find the perfect fit with Zencha by Sebastian for Duravit, a range which is a homage to mindfulness and traditional craftsmanship. 
Zencha by Sebastian Herkner
In the outstanding quality you would expect from Duravit, the basins and bathtub in this new range are striking, with a rounded shape that opens into a graceful, outward curving edge. The dual-walled sanitary objects made from DuraCeram® and DuraSolid® are paired with modular, geometric bathroom furniture to help you create the most balanced and relaxing space at home. The furniture is made from wood and tactile ribbed, textured glass, to add texture to the space while providing plenty of storage space. 
'I've always wanted to develop a bathroom series for Duravit,' said Sebastian Herkner, who hails from Offenbach. He takes his place in the roll call of renowned designers such as Philippe Starck and Cecilie Manz to have designed collections for the German brand.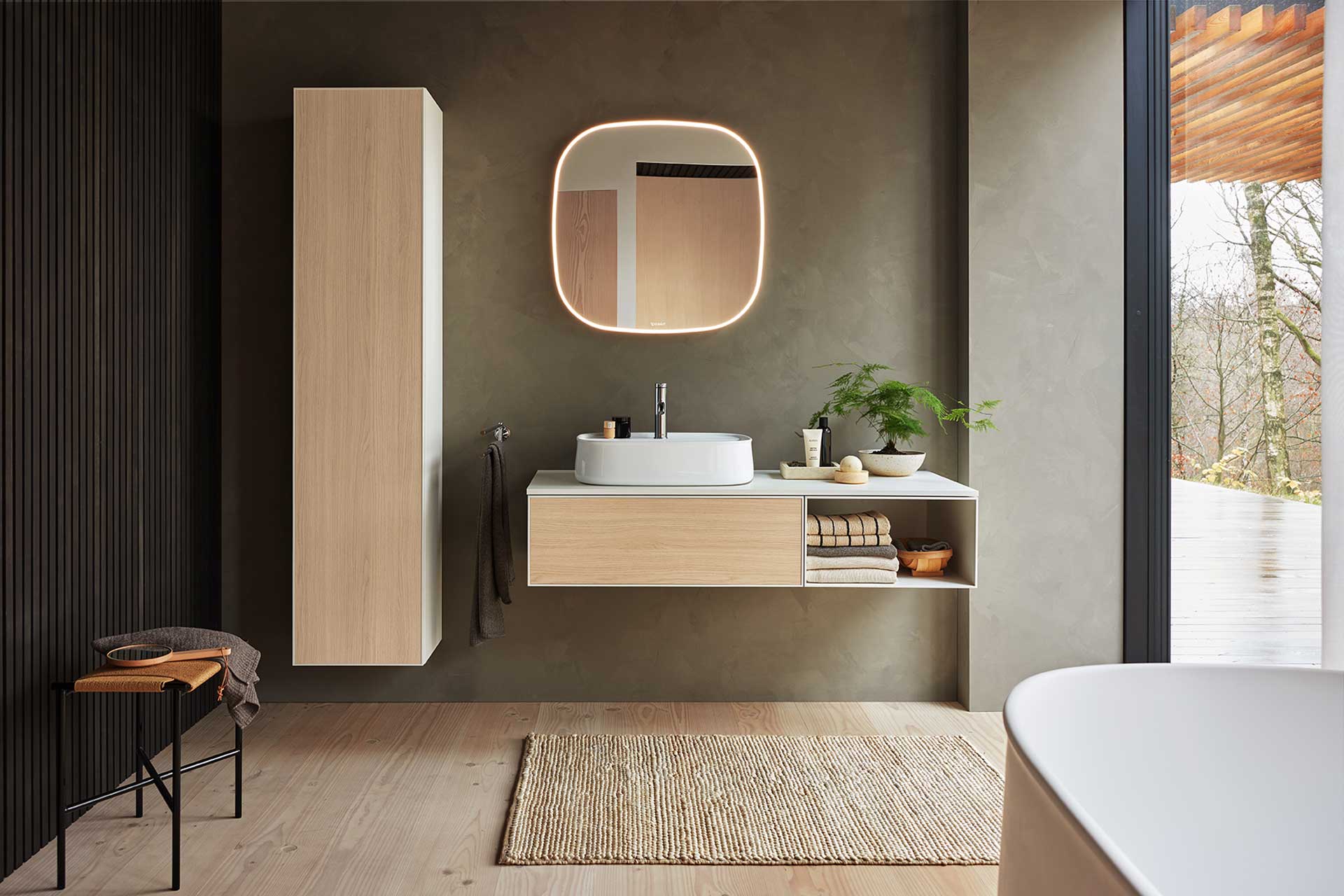 Inspired By Japanese Rituals 
The design of the Zencha bathroom collection by Sebastian Herkner was inspired by traditional Japanese rituals and craftsmanship, combining above-counter basins with minimalistic furniture.  The inspiration for the design comes from hand-made ceramic tea cups that the designer discovered in Japan. The above-counter basins are created with a visually-appealing extremely thin rim, while still being robust and easy to care for. The furniture pieces create an intriguing contrast to the sanitary objects, with an outstanding design feature of an elegant frame just six millimetres thick, creating a uniform shadow gap that lends the furniture a graceful and effortless feel. 
'You can only manufacture technically sophisticated solutions like this with consistent quality if, like Duravit, you have your own manufacturing facilities, corresponding expertise and high levels of craftsmanship.' – Sebastian Herkner
Finishing Touches
The furniture comes with easy-to-clean surfaces and an anti-fingerprint effect, available in the subtle colours White Super Matt, Taupe Super Matt, and Graphite Super Matt. The cabinet fronts add a playful element and are offered in natural oak and oak black, white plate or black textured glass. A separate mirror emulates the contour of the round basins, accentuated by an all-round LED strip, which is turned on and off via a sensor on the bottom edge of the mirror. 
The Ultimate Bathing Experience
The bathtub is the perfect bathroom centrepiece, the place to find luxury and indulgence at home. The square version of the free-standing bathtub measures 1250 x 1250 mm and is the perfect space to immerse yourself in deep water and have an experience reminiscent of a Japanese Onsen bath. The bathtub is also available in two compact versions with an optional air whirl system integrated into the base for a gentle massage effect. 
See more of the collection…