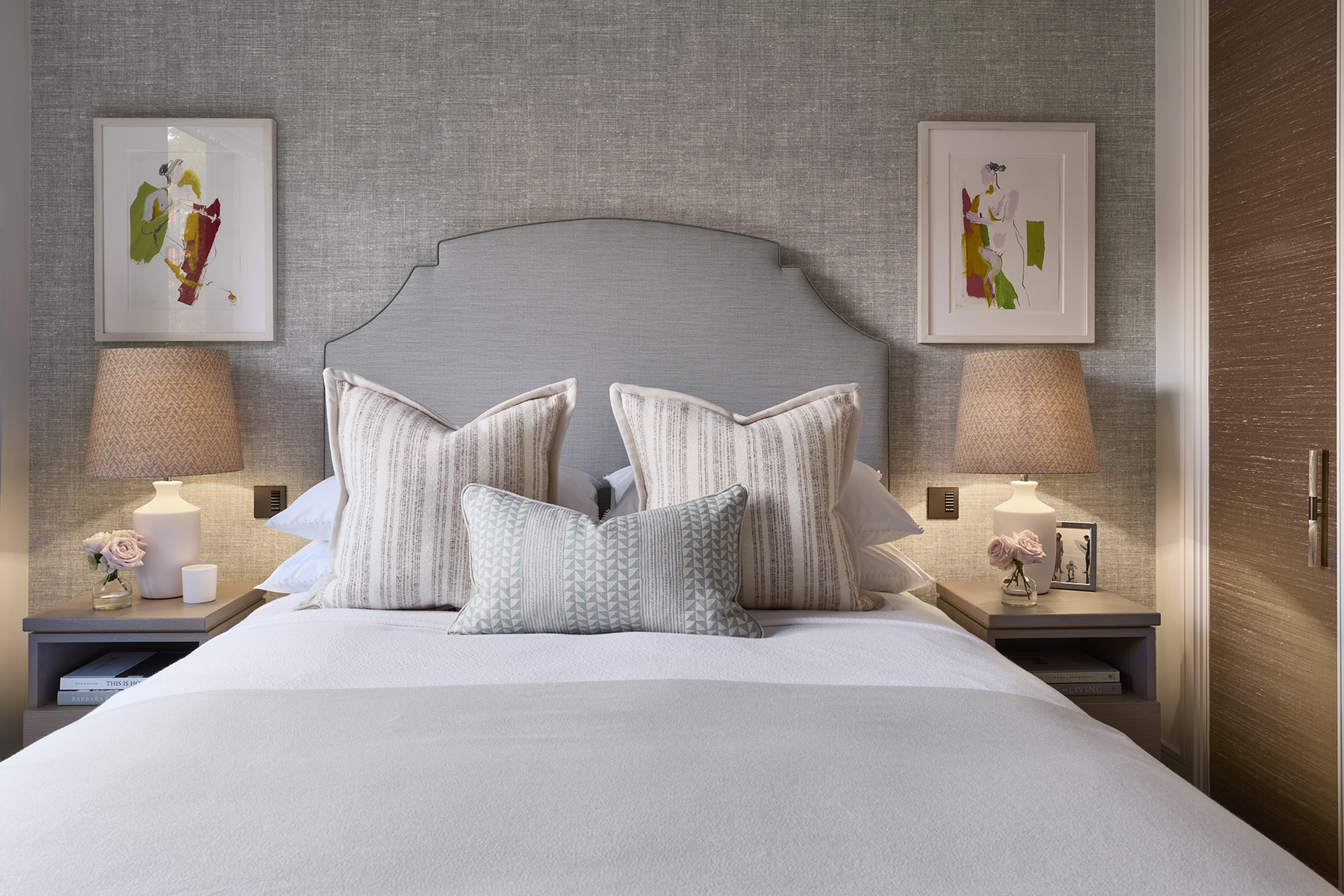 Designing Your Bedroom: An Interior Designer's Tips
Thinking about re-designing your bedroom? We asked leading interior designer Charlotte Elizabeth Evans her top tips for what to ponder when considering your private sanctuary.
Charlotte Elizabeth Evan's Tips For Designing Your Bedroom
A bedroom is a sanctuary…
It's a place where we switch off to rest and recharge our batteries. The layout, colour scheme and selected furniture needs to reflect that.
When I start a design, the first thing I like to understand from my clients is how they intend to use their bedroom.
Do they like to watch TV? If so, how can we incorporate a TV into the room, where is the best location and how can we tie it into the scheme, for example, either through built-in joinery or a niche in the wall. Do the clients like to read? If so, would they like a reading corner and a space to display their books? Can we incorporate an armchair and footstool or a chaise with a display case? How much storage do we need to build into this scheme? Once you have acknowledged the importance and functionality of the bedroom, you can then build on that through fabrics, finishes and furniture.
A rule I stick by is…
Create a natural flow to ensure you have a calm space.
For example, I like to walk into a bedroom with the headboard wall ahead of you. It makes a lovely view point when entering a room and you can create such a feature by framing the headboard with beautiful bedside tables, decorative lamps and the addition of striking artwork or mirrors above or either side of the headboard wall. In turn it becomes a beautiful focal point that greets you everytime you walk into your bedroom.
You must have a place for everything…
A cluttered home creates a cluttered mind. So, if you are designing your bedroom with sufficient storage, then it is always easy to maintain a tidier space, because everything has an allocated home.
I appreciate that bedroom sizes can vary and so it is just about being clever with how you utilise your surroundings. Maybe it's adding storage under a bed. Another idea is having drawers in your bedside tables – having that extra space to store your belongings can be really helpful and every little helps.
If you have the room, the addition of a chair or end-of-bed ottoman is a lovely way to introduce warmth through textured fabrics and it adds a softness to the room. You can also occasionally use it as a clothes horse when you just need to jump into bed. Or, if you're like me, it's where my husband ends up sitting when I am running late for date night!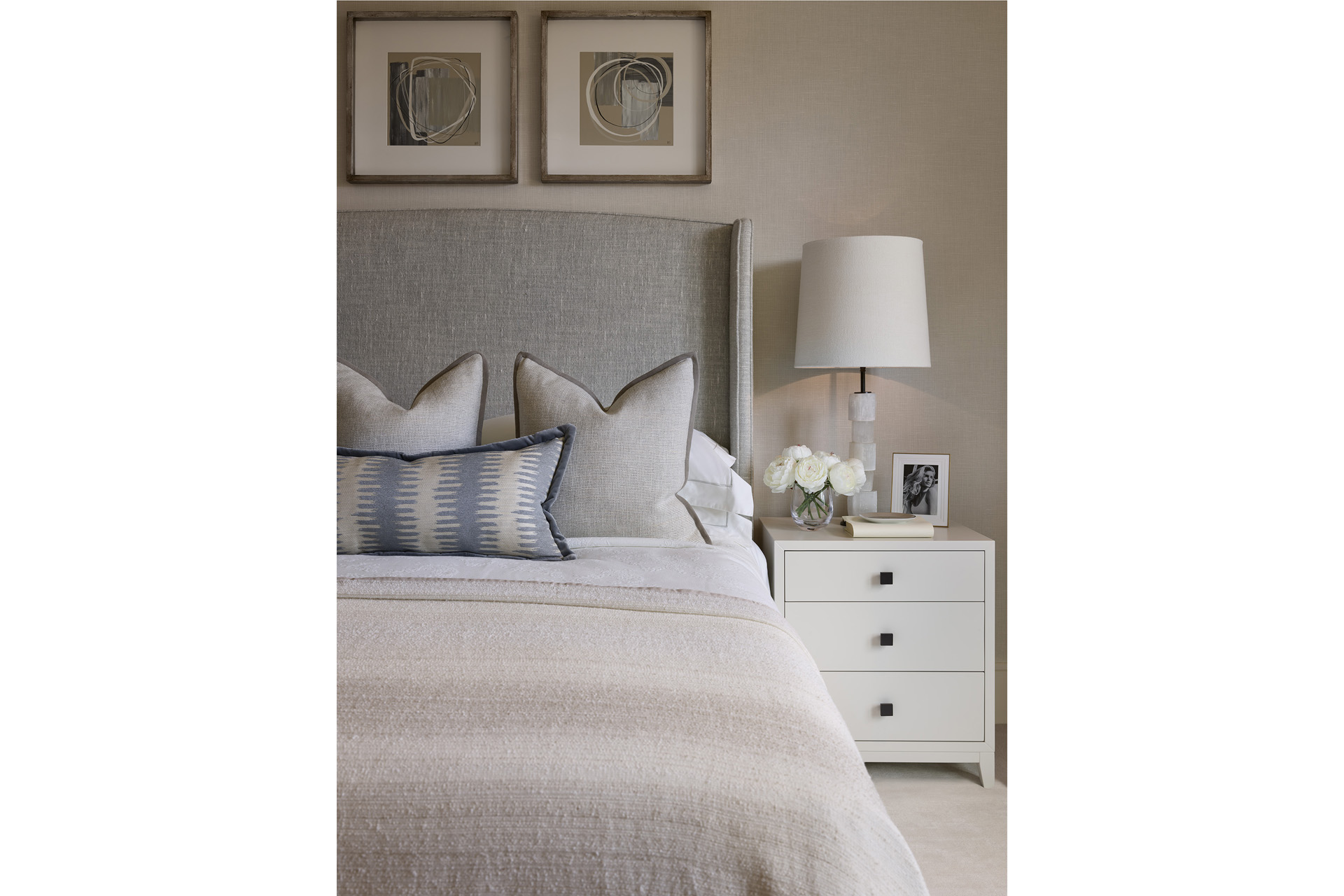 I prefer down lights in a bedroom…
Unless you intend to have a focal pendant above the bed.
I prefer to keep our downlights to the perimeter of the room. This lighting better draws attention to curtain headings, joinery doors and I often place them centred and just in front of the bedside tables so that the light does not disturb you when lying in bed. You do not need to have spots in the centre of the room!
In a bedroom, creating ambience is vital…
So, minimising spotlights and adding more decorative lighting is something I would advise. Soft lighting creates a very cosy mood. I love table lamps on bedside tables and on chests of drawers. Or floor lamps paired with bespoke lampshades… Or detailed wall lights mounted on panelling/fabric walling can look so atmospheric and inviting. There are so many possibilities when designing your bedroom! Always have bedroom lighting on dimmers as that really enhances the mood and when coupled with flickering candles, you will feel immediately zen.
Start with the headboard wall first…
Or, I like to start there. Where you start designing depends on the shape of, and vision for, the room. You may be starting with existing furniture or collectable artworks, or a preferred colour scheme, so that might be the starting point.
But the headboard wall is the most important part of a bedroom to me. I want our clients to fall in love again and again each time they walk into their bedroom. Wallpapers are a wonderful way to create ambiance (adding a large amount of texture immediately adds warmth and another layer of detail). Or selecting a shape for the headboard, which can be a fun way to add interest to the space (maybe it's a scalloped, studded or timber framed design, with interesting wood and inlays).
Don't overlook ironmongery…
When designing your bedroom, ironmongery can be a way to invite depth into the room. Dark bronze door handles are always timeless and work with any other finish you may be bringing into a scheme. We have recently used coloured resin handles in a putty finish for a client's bedside table – they sit against a sprayed stone coloured bedside and look really chic due to their curved shape, but also because they work beautifully at pulling out the ground colour of the curtain drapery. Tying in colours and finding balance in a scheme is paramount in creating harmony and tranquility in a bedroom.
I recommend looking back at historical designs – as they cleverly consider both the practical and aesthetic…
I studied History of Art at university and believe that visiting old stately homes and museums is the perfect way to learn how to create the right balance in any scheme, and, in particular, bedrooms. I also love seeing how other designers balance pattern, texture and colour in their schemes. Colefax and Fowler's bedroom in Leaf Green comes to mind, as does De Gournay's little girls bedroom designed by Julie Hillman. Look around you for inspiration when designing your bedroom!
My own bedroom is constantly changing…
I am constantly adding or updating the scheme with new cushions, artwork, throws, accessories but all in all it epitomises a place of calm and relaxation for me.
I would love to wallpaper my bedroom but at the time I was designing my bedroom, wallpapering was a little out of my budget and so I used Stone II from Paints and Paper Library. I painted the skirting, doors, architraves and windows in the same colour.
I wanted to create interest with the headboard and so used a beautiful wool from Dedar with a stained oak frame to sit in harmony with the oak bedside tables and I bought two beautiful selenite table lamps and had bespoke lampshades made in a raw linen and so you can see the slub running through the fabric which adds such a lovely texture.
The fabrics I chose for my bedroom are all tonal, and I used a tonal patterned linen for the curtain and pelmets. During the week, I often sleep with the curtains not fully closed as I love to wake up with natural light and get up to go for my morning walk, however, on the weekends they are shut so tightly so I can really indulge in my sleep. I always recommend using blackout in a bedroom and if you can, having a pelmet or soffit box to ensure you do not get disturbed by any light.
I have collected some really cool artworks over the years and there is always something to add or re-style but we are getting there, slowly but surely. I adore my bedroom and I really believe everyone should, no matter the budget. There is always a way to create your own space, exactly how you want and need it.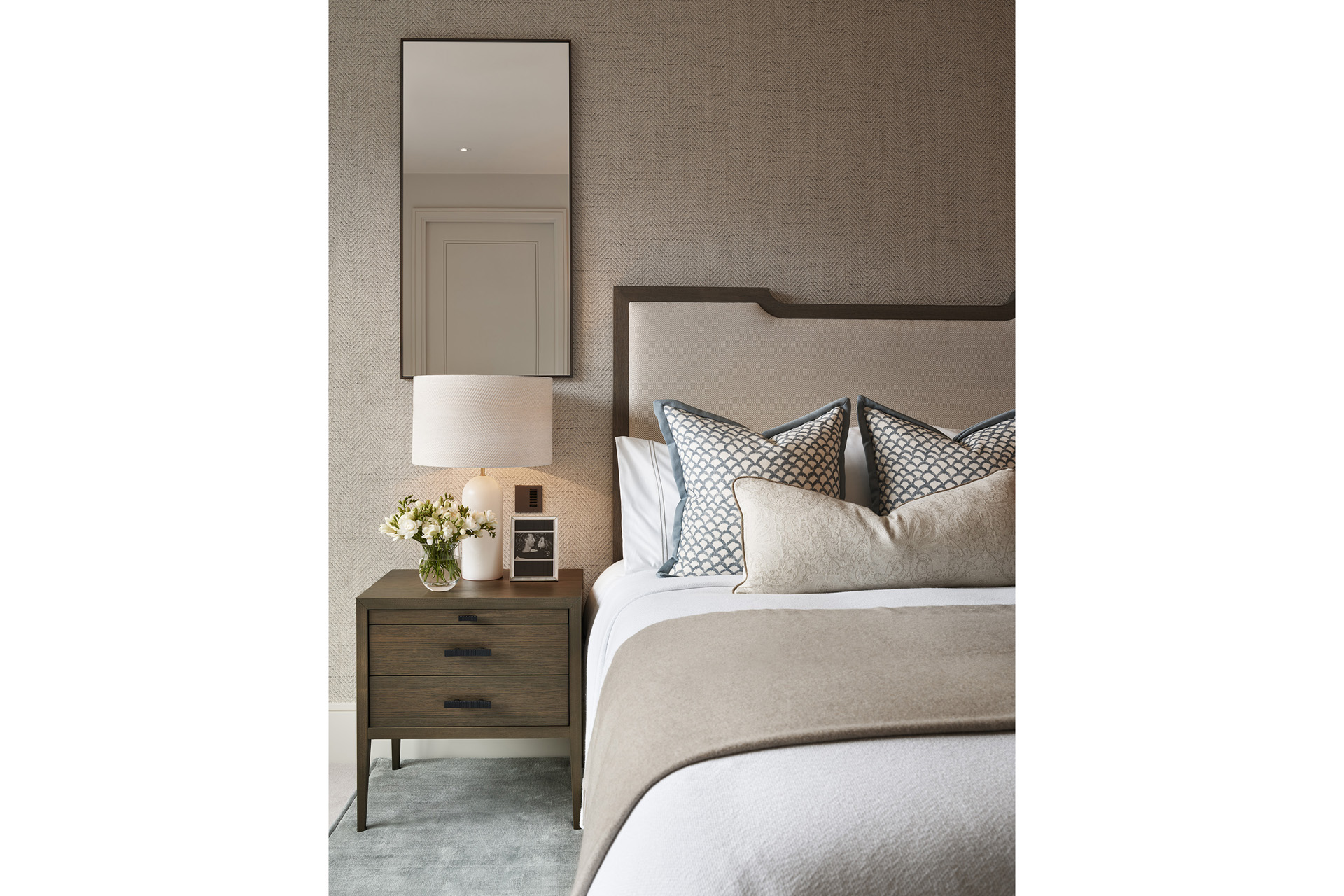 My favourite item is my bed…
And that's also where you should start, when designing your bedroom. I would advise first and foremost investing in a good bed and mattress, you can take them wherever you go and having a good night's sleep is vital to a productive and positive mindset.
I have a wonderful supplier for mattresses, they are super competitively priced and they are extraordinarily comfortable. I like to recommend them to all my clients, unless of course the client has their own or a preferred brand they wish to use. Every time someone comes to stay I always get asked about the mattresses and I have shipped them all over the place for friends, clients and family.
My second favourite item would be my bedside table lamps. I clocked them when I first started my career and have been saving up ever since for them. They are big sticks of selenite fitted onto dark bronze bases, and spiritually selenite relates to clarity and consciousness and so incorporating natural materials and crystals further enhances the tranquility of any bedroom.