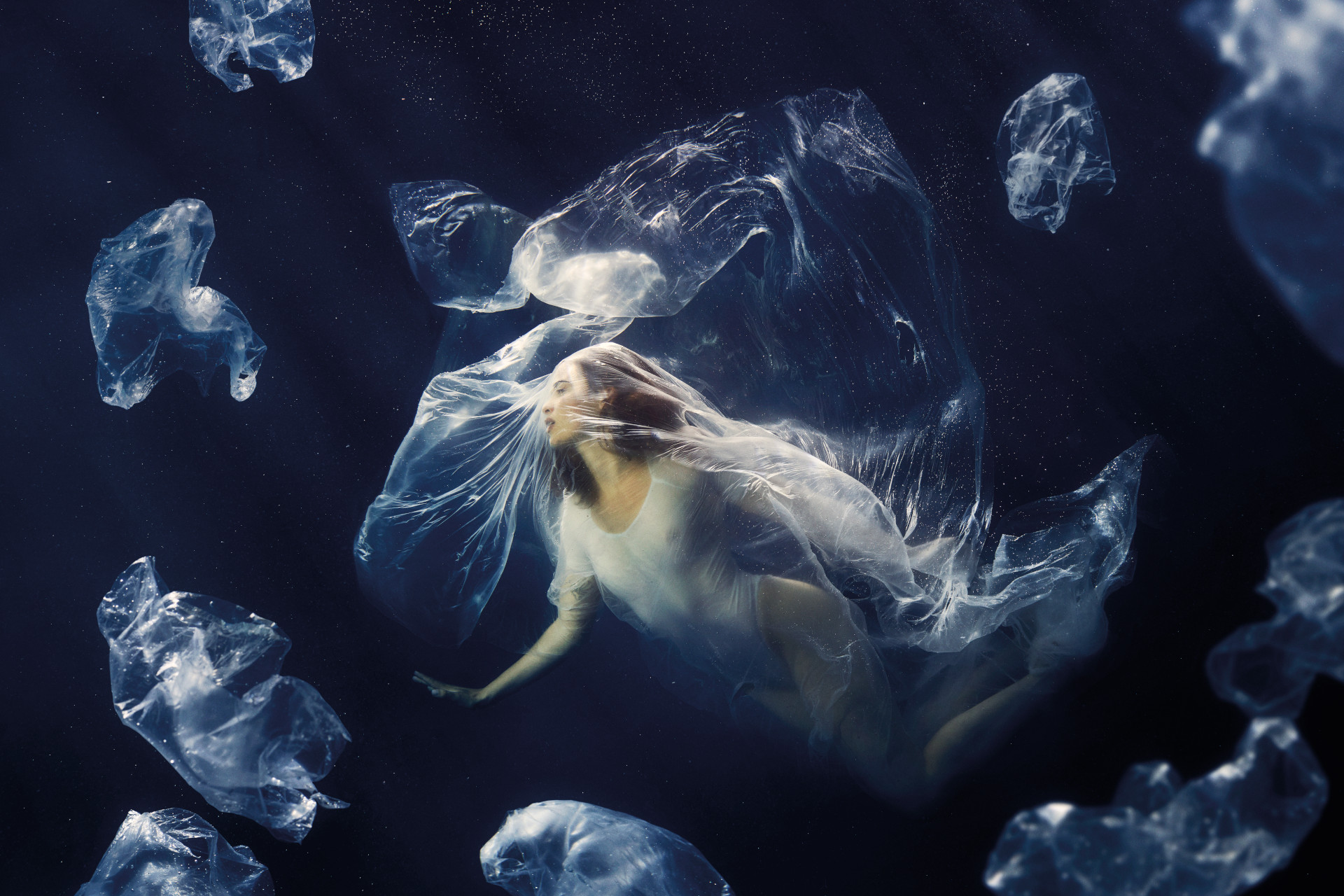 It's a Wrap for Plastic
'The beauty and cosmetics industry alone contributes some 120 billion units of packaging each year, all predominantly made of plastic.'
By Sian Sutherland | 2 years ago
The luxury industry has traditionally branded itself through expensive, disposable packaging, but eco consumer values are driving change. It's time to think outside the box, says Sian Sutherland.
It's a Wrap for Plastic
In 2007 BBC2's Horizon programme sparked a shopping frenzy after it put No 7 Protect & Perfect beauty serum to the test. The results were a resounding vote in the product's favour. It was proven to rejuvenate skin and beat wrinkles at a fraction of the cost of higher-end skincare products, causing countless shoppers to swap out their luxury favourites for a Boots-owned gem.
The demand was such that the serum sold out online the night the programme aired, and in-store supplies were gone in a matter of days. Production grew from 10,000 bottles manufactured in the months preceding the Horizon feature to 24,000 bottles each day afterwards. The response proved that true selling power lies in the product itself, not the brand it sits under. And this is a key lesson for luxury brands to learn.
For years luxury labels have made sales through aspiration. Their advertising and packaging cultivate an identity for shoppers to strive for, with products that have an iconic look and feel. Product boxes are weightier, more attractively detailed and highly finished than those of budget brands, aiming to give consumers a seductive unwrapping experience.
The result is an entirely warped value placed on what the product comes packaged in, sometimes even outweighing the value of the product itself. For decades, Tiffany blue and Hermès orange boxes have taken pride of place on dressing tables around the world, while the jewellery and accessories they contain are swapped out for new-season favourites. Empty Rolex boxes have been known to sell for as much as £160, and Louis Vuitton-branded carrier bags for £69. Luxury packaging has historically been used as a statement of buying power, with willing consumers. But our values are changing and this is soon to be relinquished as a statement of a bygone era.
With the environmental crisis at the top of the global agenda, what was once aspirational is now viewed as wasteful. Fast fashion and linear consumption are under fire and the spotlight on packaging is shining harsher than ever. Luxury brands are not above this – the over-use of plastic in the food industry has been well-documented; cosmetics, fashion and accessories are next.
The beauty and cosmetics industry alone contributes some 120 billion units of packaging each year, all predominantly made of plastic. More than 100 billion plastic sachets are used to package up samples of products, just to drive sales. The fashion industry packages garments for delivery to homes and shops in plastic polybags, billions of which are used once and thrown out. Almost every bag, box, bottle and sachet is destined for landfill or incineration, each affecting our environment. Yesterday, packaging equalled luxury. Today, packaging equals waste.
According to recent government research, eight out of ten UK consumers are now actively making efforts to reduce their plastic use, while half are willing to pay more for eco-friendly packaging. In the case of luxury packaging, one in five consumers believes environmental credentials will be one of their top considerations when buying luxury items in ten years' time.
Luxury labels that continue to ignore this sustainable direction, clearly signposted for some years now, will find their growth predictions deeply flawed. While a sumptuous box was once positive reinforcement of a brand's value, it will soon signal a failure to adapt. It's an open goal for brands willing to innovate and take plastics and packaging out of the equation.
Many ideas are already proven, such as refill schemes using infinitely recyclable aluminium bottles or jars – one of the most impactful ways personal care companies can reduce their packaging footprint. This does away with single-use, but still allows brands to stamp their identity on a sustainable bottle, so as not to be left out of the all-important Instagram 'shelfie'.
Examples include L'Occitane, which launched its first refill scheme in 2008. UpCircle skincare was founded with a waste-free ethos of 'return, refill, reuse' and is shaking up the market by placing the environment at its heart. Beauty Kitchen operates a recycle system in which packaging is washed and refilled. Lush was a pioneer of package-free products and Neal's Yard is encouraging customers to bring containers back for refills, with the incentive of discounts on future purchases.
It's not only smaller brands making a change. In January this year Unilever launched its first-ever refillable deodorant for the popular personal care brand, Dove. Designed to last a lifetime, the initiative tackles our throwaway lifestyles and the global plastic waste crisis. By reimagining the product with a smooth, stainless- steel case Unilever wants to elevate user experience while aiming to cut 300 tonnes of its virgin plastic use by 2023.
Fashion house Burberry is also making efforts to reduce its environmental impact. In a bid to tackle plastic use it recently launched new paper packaging using FSC-certified paper from recycled coffee cups. The result has a high quality, expensive feel that oozes class and resonates with the brand's luxury heritage. Crucially, it gives consumers a crème de la crème experience that's not at the expense of the planet.
Meanwhile, the iconic green carrier bag from Harrods has had a makeover after remaining unchanged for 50 years. The world's most famous department store has forsaken the traditional plastic design, replacing it with 100 per cent recyclable and sustainably-sourced paper carrier bags. Harrods is also looking to reduce the overall number of bags leaving its stores each year, with the mindset that switching to more sustainable materials is simply not enough in the battle against waste. Their thinking is that when boxes and bags are truly necessary to protect and/ or carry purchases home from the store, plastic-free paper or cardboard can be substituted for plastic. Otherwise they're surplus to requirements.
And calling unnecessary packaging a 'keep box' or a 'reusable bag' doesn't make it sustainable. There are only so many uses you can find for a box, and only so many times a bag will actually be reused before it joins the others stuffed under the sink and eventually thrown out.
In the end, packaging is just that: a covering for the main event. Since that 2007 flurry to buy the No 7 Protect & Perfect beauty serum showed the true value consumers place on a functional product over its brand, the message has taken on a whole new importance – one that blazes in the light of the current waste crisis.
Up to now, most luxury brands have fiercely protected their business practices as a key part of their traditional identity, but the new age of eco-innovation demands an about-turn. They need to show fearlessness and an ability to change. If we are to meet the plastic crisis head-on, brands must define themselves according to their product, not their packaging. The most iconic names in fashion and beauty must tear up the old rule book and elevate the meaning of luxury to one that meets the aspirations of the buyers of tomorrow – where minimal environmental impact will reign supreme.
Those who rise to the challenge will future-proof themselves for years to come. Those that don't will see their once prestigious stock fall dramatically.
Sian Sutherland is co-founder of global solutions organisation, A Plastic Planet, which works with brands and governments to 'turn off the plastic tap'.
Drowning in Plastic
'We have a global plastic pollution problem, so I felt inspired to do something that might make a difference. This shoot 'Drowning In Plastic' was my attempt as a fashion and beauty photographer to do 'a beautiful take on a dirty subject'. These images focus on a model swimming through water – either surrounded by, or entangled in single use plastic items. In some of the images the pollutants' appearance changes, to almost become the representation of the wildlife it might replace. The aim was to make the viewer do a double take. This problem is very real. If we do not change the way we use this non-disposable substance in a disposable way, the above prediction will become a fact. Plastic is killing our seas.' – Elisabeth Hoff, Photographer and Art Director.
Photographer & Art Director: Elisabeth Hoff / Talent: Genevieve Chenneour @genevievechenneour / Hair: Michael Douglas @mdlondon / Makeup: Afton @aftonmakeup