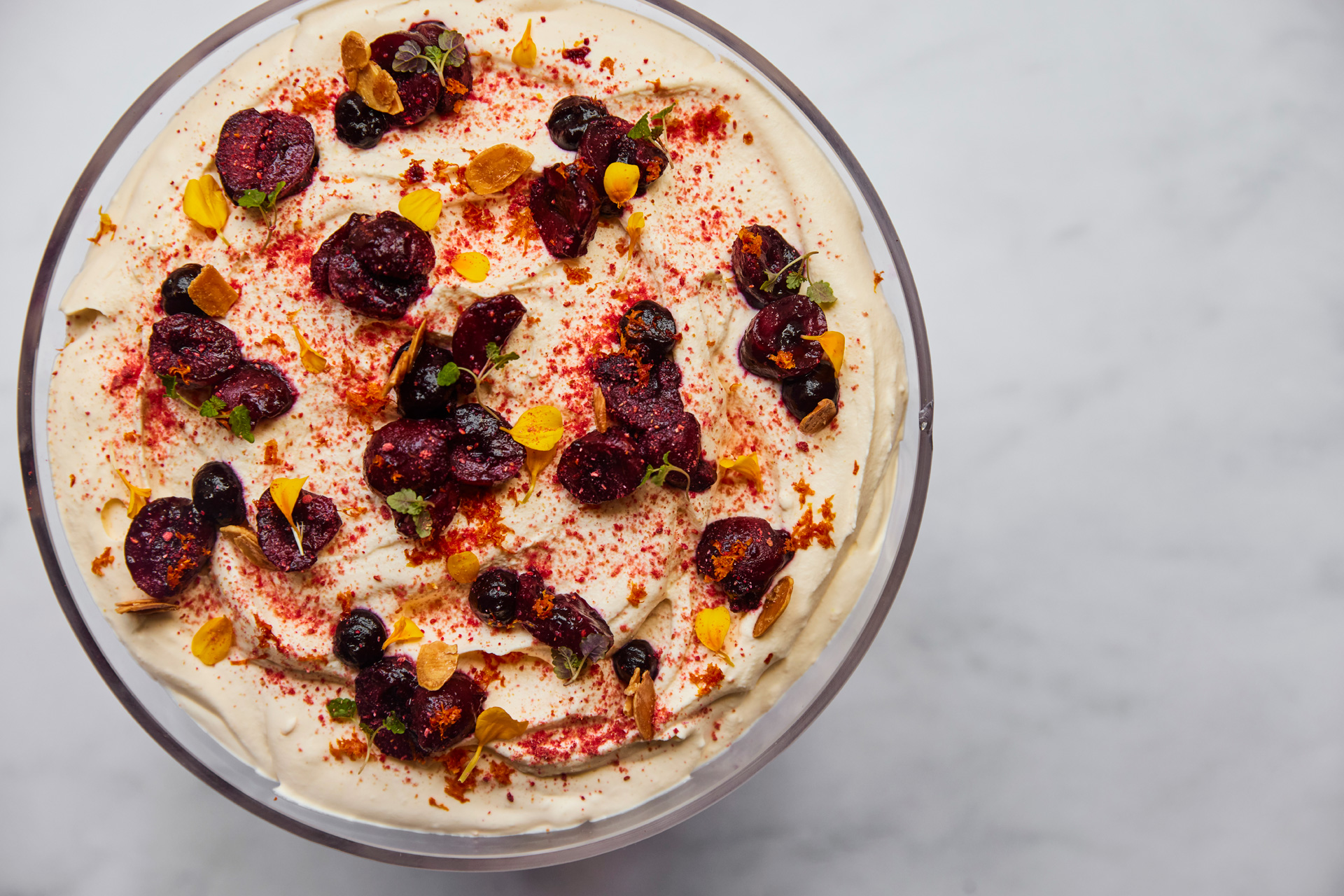 Coronation Recipe: Royal Cherry Trifle
This impressive dessert is fit for a King
Planning a coronation street party? Impress your neighbours with this showstopping royal cherry trifle, created by Sarah Turner, head of development at catering company Social Pantry. It's made with Earl Grey crème pat, whey caramel sauce and orange cream, and will make the perfect centrepiece to any royal festivities over the Bank Holiday weekend.
Coronation Recipe: Royal Cherry Trifle
Ingredients:
1 packet sponge fingers

200ml double cream

1 orange 

50g Caster sugar 

Handful of fresh whole cherries for decoration
Optional toppings: 
Flaked almonds, pistachios, edible flowers, mint sprigs and dried raspberries
Cherry compote:
450g tinned cherries, pitted, syrup reserved 

50g caster sugar 

30ml water 

15ml lemon juice 
Earl Grey Crème Pat: 
600ml milk 

30g Earl Grey tea

40g yolks 

45g cornflour 

100g caster sugar 

10g vanilla
Method: 
Drain the tinned cherries, chop the cherries roughly six to eight pieces, put the syrup in a pan with 50ml water and 50g of the caster sugar and place on a medium heat until the sugar has dissolved and the cherries juice is a light syrup consistency. Set this aside for soaking the sponge fingers. 

Put all the cherry compote ingredients together in a separate pan and cook gently until the cherries have broken down and the sugar dissolved. You can either keep this as a chunky compote, or blend into a smooth purée. 

To make the crème pat, place the milk and Earl Grey tea in a pan and bring to a simmer. Allow to reduce in temperature until warm, then strain through a fine sieve. 

In a separate bowl, mix together the egg yolks, sugar, cornflour & vanilla, slowly pour the warm milk over the egg yolk, mixing it in as you go. 

Return to the pan and place over a very gentle heat, continuously stir until the mix thickens, if it goes lumpy remove and give it a really good mix to bring it back together. Set aside, covered with some baking paper so that it doesn't form a skin. 

Lightly whip the double cream, add the orange zest and stir through. 

Soak the sponge fingers in the cherry syrup and layer up inside the trifle dish: sponge fingers, crème pat, cherry compote, repeat the layers & top with the orange cream. 

Sprinkle with your preferred toppings!