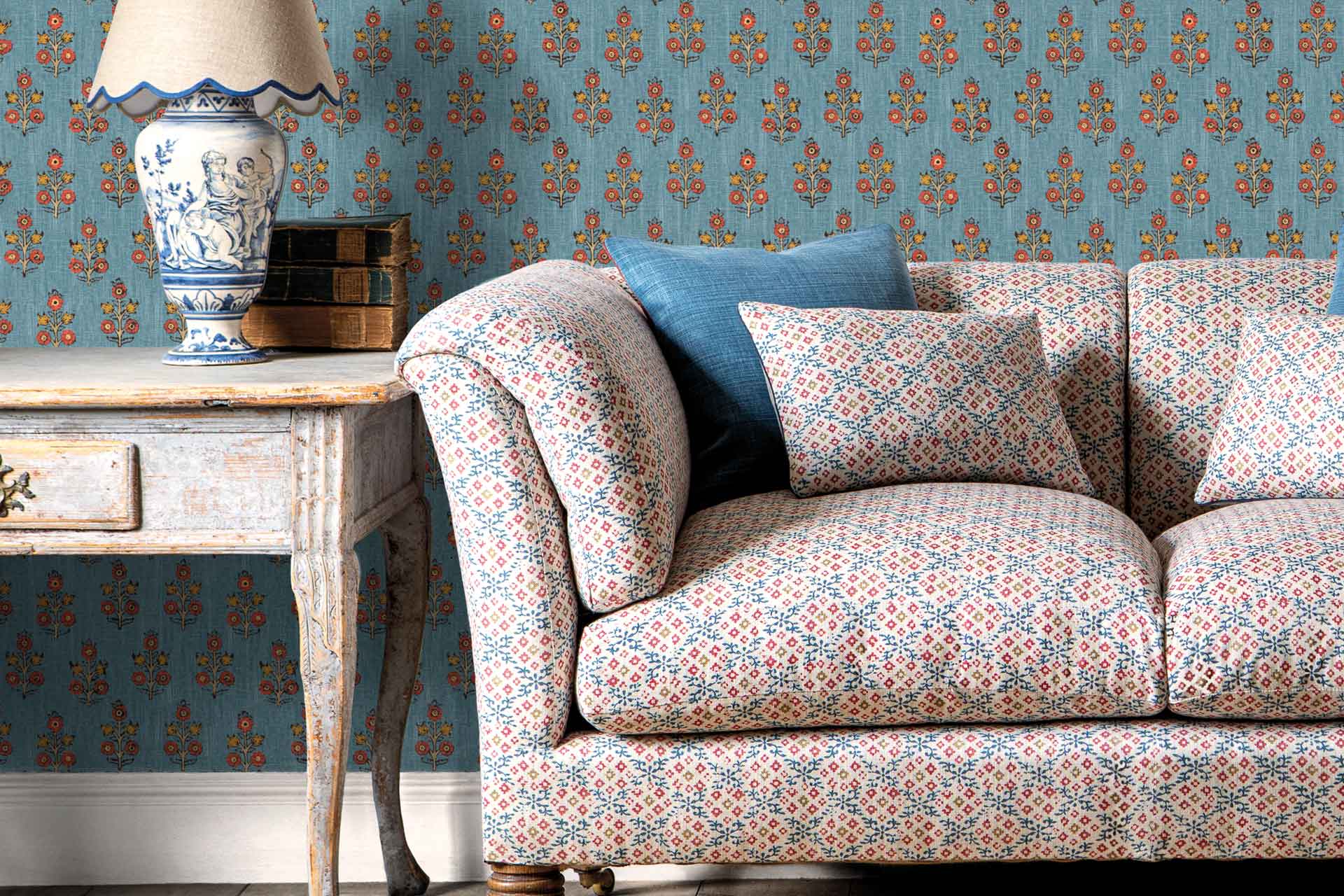 GP & J Baker Makes Beautiful Fabrics Inspired By Its Historic Archives
GP & J Baker is a Great British Brand 2023
GP & J Baker is an entry in our Great British Brands 2023 book. 
GP & J Baker: Great British Brand 2023
'People came into 2022 very optimistic that the pandemic was behind us but we were all hit by challenges, like rocketing freight charges and the impact of the Ukraine war on our linen yarn suppliers in Belarus.
'Luckily for us, people increasingly want their homes to be sanctuaries, so we've been using our archive to reinvent and grow our wallpaper collections. In autumn we launched our Brantwood collection of fabric and wallpapers, with uplifting colours, inspired by our Arts & Crafts archive dating back to the 1930s. Another big success of 2022 was our small prints, fabric and wallpapers that can be used everywhere in the home. 
'We have the licence for Mulberry Home, so produced some recoloured Mulberry icons in fabrics and wallpapers. We also launched a lovely cushion collection, in five core colours, and a beautifully edited boutique range of English handmade furniture. 
'Really, we've had a fantastic, busy year. Some of our greatest achievements included our Planet Mark accreditation, reflecting our ongoing commitment to doing things better environmentally; partnering with Chelsea Design Centre on its WOW House that benefitted the Shelter charity; and innovating our product offer to encompass finished product. In January 2023 in Paris, we launched a smart striped collection for Mulberry in cotton, jute and mix linens and in the spring there'll be new collections of both rugs and our contemporary brand, Threads. 
'We're a small team but very positive, focused and strategic. Our word of the year was "flexible" which allowed us to cope with numerous challenges. Everyone today is time short and want things curating and editing so we offer designers good, easy decorating solutions, like our virtual pattern books that feature hundreds of in-stock fabrics and wallpapers that can be accessed by customers managing projects on the go. We aim to continue being an invaluable resource for designers everywhere.' Ann Grafton, Managing and Creative Director
Brand Timeline 
1884
Brothers George Percival and James Baker buy Kent-based Swaisland printworks and its archive, dating back to 1750, and found GP & J Baker.
1893
GP & J Baker commissions leading Arts & Crafts artists, including architect and designer CFA Voysey, Lindsay Butterfi eld and Harry Napper.
1935
Famed interior designers become GP & J Baker's loyal customers, including Elsie De Woolfe who used the 'Ferns' design in many projects.
1982
GP & J Baker is awarded the Royal Warrant by Queen Elizabeth II, for services to the Royal Household.
1984
The V&A celebrates GP & J Baker's centenary with a comprehensive exhibition of its archival documents and textiles.
DID YOU KNOW? 
GP & J Baker's archive contains thousands of record samples as well as historical books and rare pieces of fabric including clothing, embroideries and original artwork. 

George Percival Baker was a keen horticulturist and an avid collector of rare irises and alpine plants. The 'Baker' iris was named in his honour. 

GP & J Baker's original 'Ferns' design, a record of plants growing within a ten-mile radius of London, was purchased in 1935. 

In 1924 GP & J Baker was commissioned to provide the fabrics and soft furnishings for London's first airport – now Heathrow. The first class lounge was in a tent. 

GP & J Baker enjoys a long history of supplying fabrics and wallpapers to many royal palaces, private residences and embassies, in the UK and around the world. 
GP & J BAKER
Design Centre East, Chelsea Harbour, London SW10 0XF
+44 (0)20 7351 7760