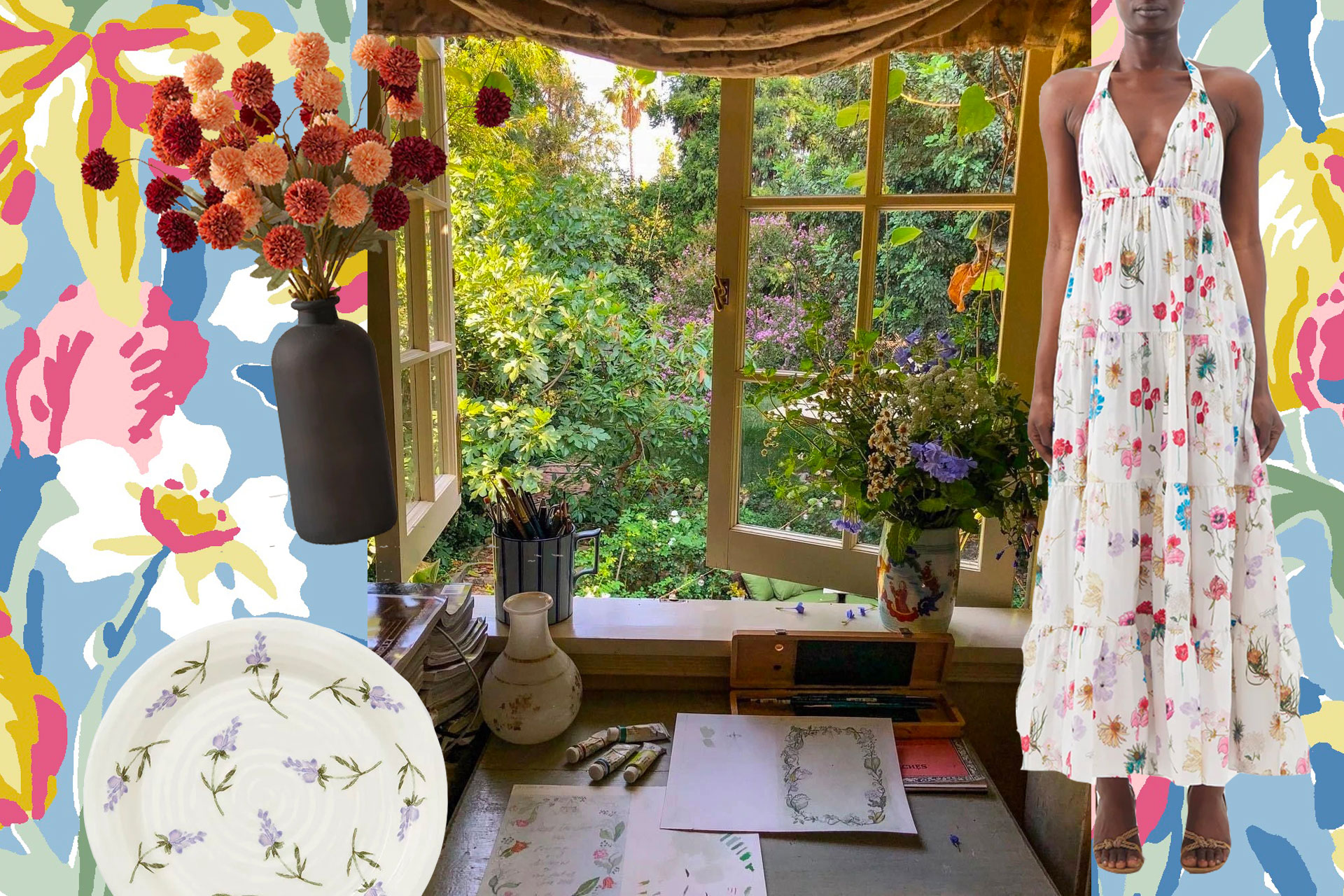 Bloomcore Is The Latest Botanical Trend You Need To Know
What is bloomcore and how can you style it?
Bloomcore (or flowercore) is an airy and botanical aesthetic that owes its huge rise to social media platforms like TikTok and Instagram. It's all about embracing a quieter, natural world – and, obviously, flowers. So, how did 'bloomcore' start, and how can you style it in your home and wardrobes? 
What Is Bloomcore & How Did It Start?
Are you on top of all your '-cores'? Do you even know what a '-core' trend is? Or does the entire Zillenial lexicon send you spiralling, a prescient warning of the inevitability of your disengagement from pop culture (aka you're becoming more and more like your mother every day)?
Bloomcore is the latest of these many, many '-cores'. With 2.5 million TikTok views under this hashtag, so still fairly niche, but that's not to say it isn't significant. It's definitely been around longer than you might think – but, until now, no name has been slapped onto it. And it holds potential to be another trend that will make you feel like you're not quite on top of, well, culture. 
The informal sibling to the Cottagecore trend, Bloomcore is clearly here to stay. Here's everything you need to know about this floral trend. 
The History Of 'Core' Aesthetics
Picture the scene: it's 2020 and, as summer approaches, most of us are observing the outside world through our screens. TikTok is beginning to influence our social media habits, and we all get really, really into baking bread. The term 'Cottagecore' springs up – the product of 2018 Tumblr, and a sort of love letter to being cosied up in nature. It's charming English cottage gardens, twirling in billowy skirts in meadows, or picnicking barefoot in long wild grass while chowing down on sourdough topped with honey and figs. 
And from there, it spirals. 
The suffix '-core' is now applied pretty widely to general aesthetic trends – which, in turn, may represent lifestyles that individuals embody, be it online or offline. There's 'angelcore' (inspired by angels and 18th century Rococo art), 'babycore' (super pastel and childlike imagery), 'normcore' (the aesthetic of fitting in) and even 'corecore' (a post-2020 criticism of an internet, core-obsessed and fundamentally broken society).
Bloomcore is another iteration of this seemingly endless list of 'core' aesthetics. 
What Is Bloomcore?
Bloomcore (also known as Flowercore) is a digital trend which celebrates quiet village living, nature and all things floral. According to Aesthetics Wiki, a volunteer-run compendium of visual identity), it's visually defined by images of berries, fields, flowers, fruit trees and tiny white flowers. Think fairy circles, meadows, cottagecore – gentle white, light roses budding in busy bushes in the transitional period between spring and summer. A kaleidoscope of hydrangea heads. In fact, what Cottagecore started, Bloomcore continues. 
How Can We Try Out Bloomcore?
According to Helen Ashmore, head of design at Laura Ashley, 'Bloomcore is a led by a naturalistic colour palette, and draws inspiration from blooming flowers, and the beauty of nature.'
So, the key to engaging in this trend is playing fully into the available imagery. Choose prints that are full of ditsy florals, headscarves with natural imagery, and fabrics that use the colours of the countryside.
'Fruits, flowers and woodland creatures particularly come to the fore with this trend,' concurs Rebecca Craig, lead designer from Sanderson. 'For interior schemes, you can layer flora upon flora to exude Bloomcore sentiment, whether papering alcoves and surrounding lop-sided doorways of quaint cottages – or boldly upholstering sofas and framing windows.'
Bloomin' Lovely: Flowercore Pieces We Love