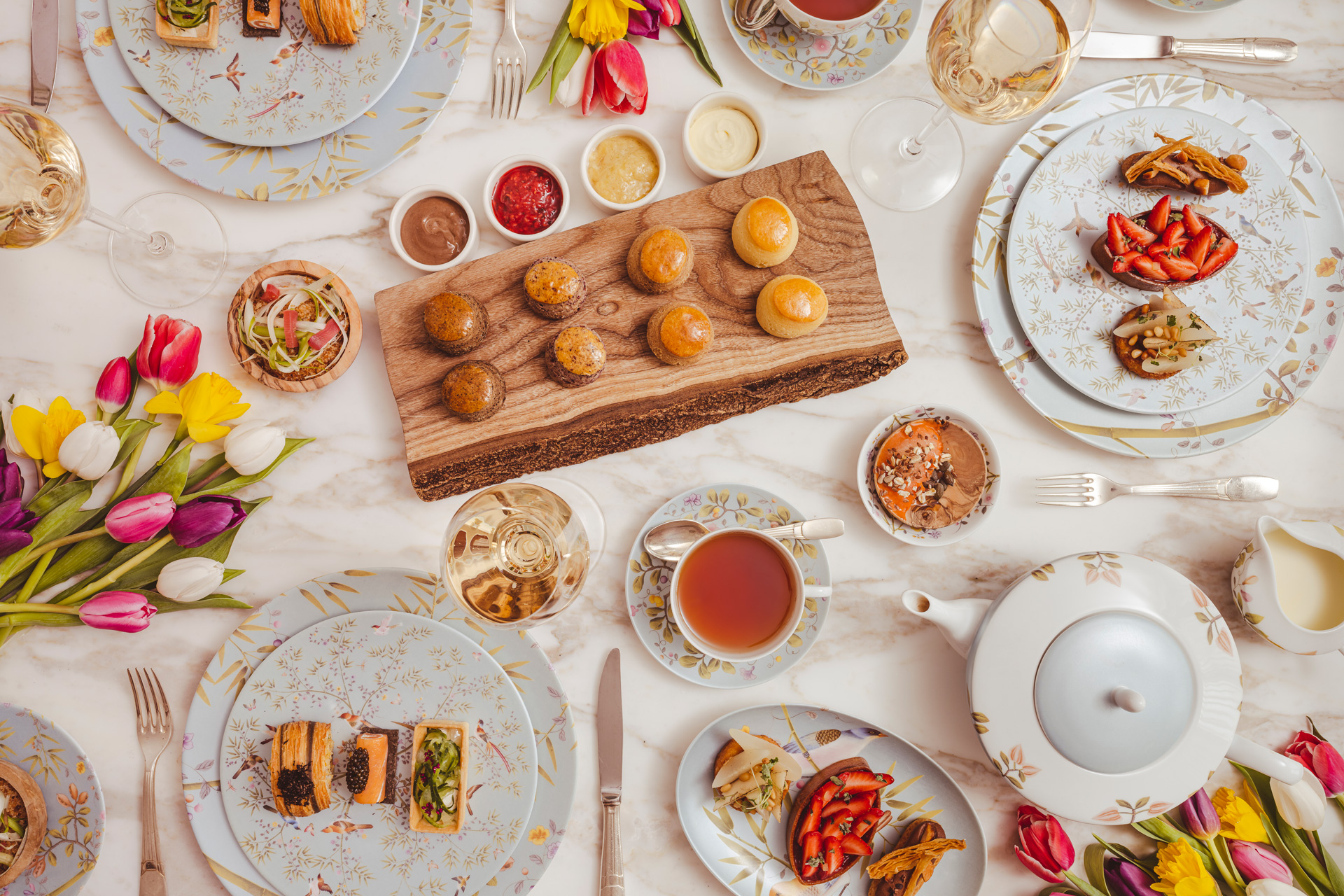 The Best Coronation Afternoon Teas in London
Royal themed teas are popping up across the capital
It doesn't get much more quintessentially British than afternoon tea – so what better way to toast to the new King than with some cake and a cuppa? Ahead of the coronation, some of London's finest hotels and restaurants are shaking up their traditional afternoon tea offerings with royally-inspired additions. Think sandwiches filled with King Charles' favourite flavours, pastries adorned with the CRIII insignia, English fizz and of course an array of different teas. Read on to discover London's best coronation afternoon teas.
The Best Coronation Afternoon Teas in London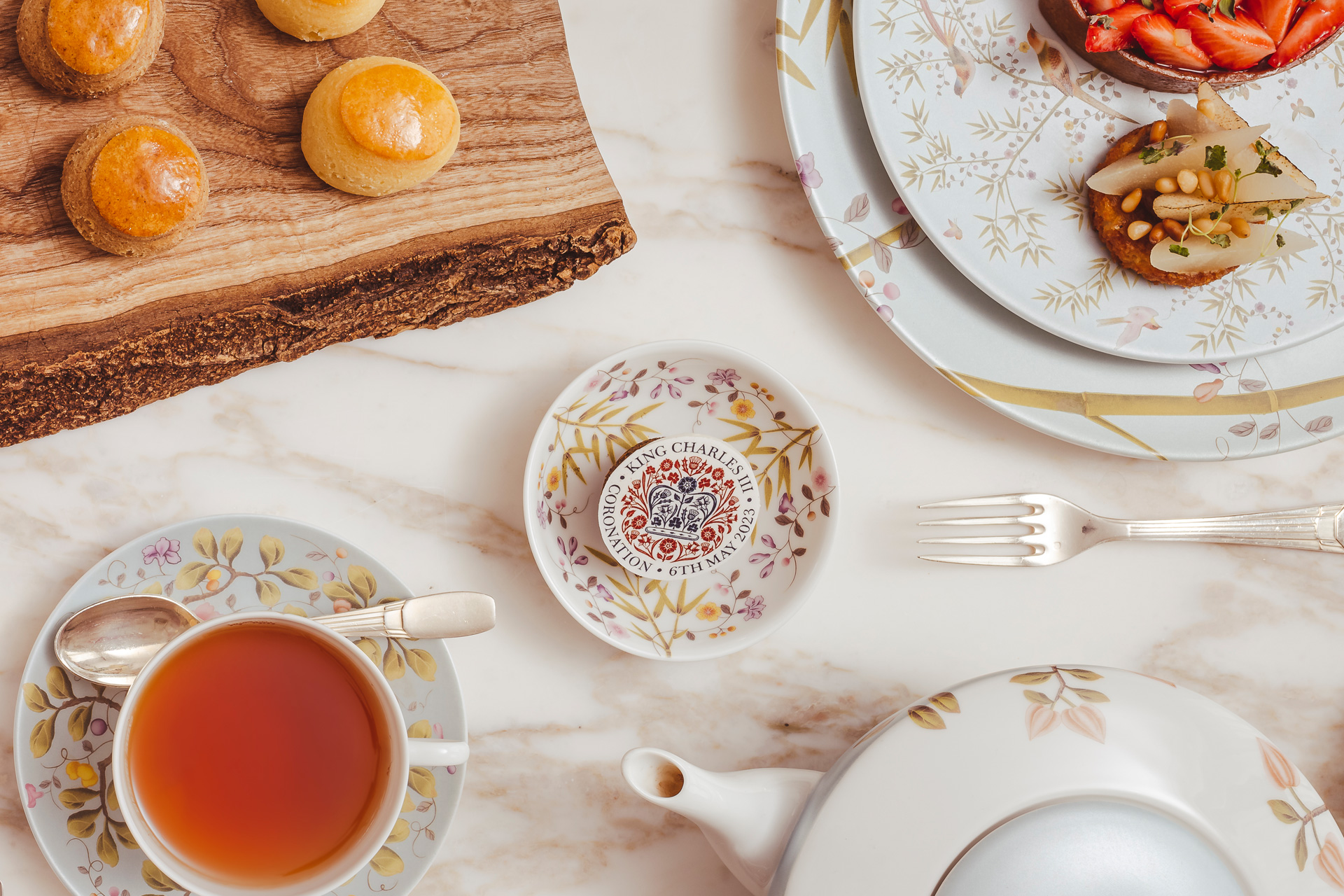 The Carlton Tower Jumeirah
The Carlton Tower Jumeirah in Knightsbridge is a suitably glamorous spot to toast to the new King, with an extra special afternoon tea on offer this May, created by esteemed pastry chef Jessica Préalpato. The tea is called A Tribute to Nature, inspired by King Charles' love for flowers and gardening. True to her signature Desseralité style (a mix of the words dessert and naturalité), Jessica preserves the entirety of fruits by adding a carefully selected layer of flavours – without compromising the key ingredient. Enjoy sandwiches such as savoury truffle croissant with duck egg and black truffle, ahead of a variety of scones flavoured with ingredients like dried hibiscus flower and Colombian coffee. Exquisite pastries, meanwhile, include a chocolate and macadamia eclair, strawberry tart with bergamot, and pear and pine tart. There's an extensive tea menu too, alongside champagne.
From £75pp, 24 April – 14 May 2023. jumeirah.com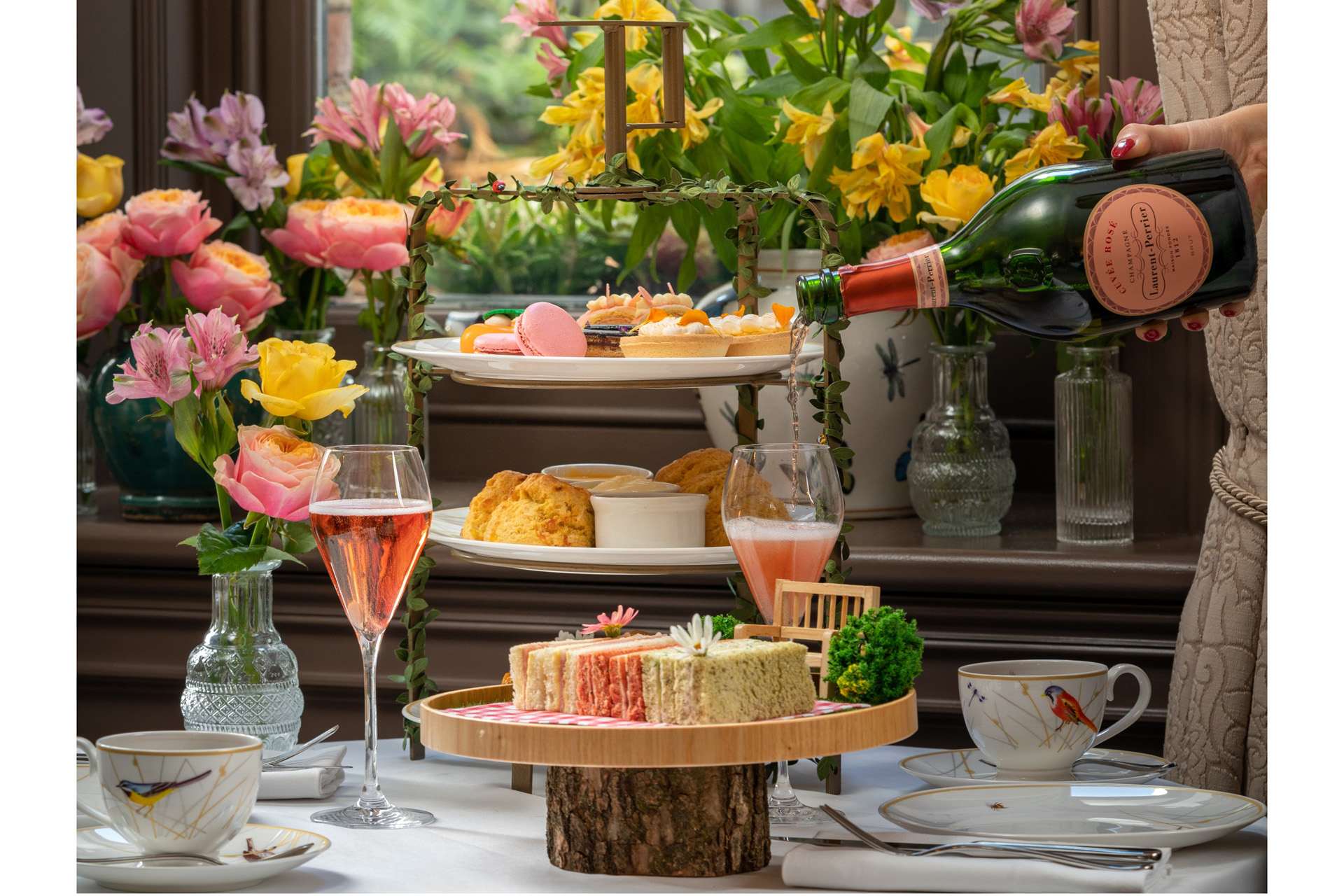 The Chelsea Garden Afternoon Tea at 11 Cadogan Gardens 
The patisserie chefs at 11 Cadogan Gardens have been busy in the kitchen creating a fitting royal culinary celebration for the Coronation. Paying tribute to Chelsea's beautiful gardens, each intricate pastry, sweet treat and homemade savoury is designed to evoke the flavours and aromas of the garden. Naturally, guests can expect fluffy scones and a refreshing glass of Laurent-Perrier Champagne, too. 
From £49 per person, 1–7 May 2023, 2–6pm. 11cadogangardens.com 
Harvey Nichols
After a spot of afternoon shopping, settle down to an elegant afternoon tea on the fifth floor of Harvey Nichols, running in partnership with Chapel Down. Enjoy savoury classics like quiche, coronation chicken and finger sandwiches ahead of sweet treats including lemon posset with butter biscuit, and honey cake with fresh raspberries. There will also be fresh scones served with rhubarb jam and Cornish clotted cream, all paired with a refreshing glass of Chapel Down Three Graces.
£45pp, 6 – 8 May 2023. harveynichols.com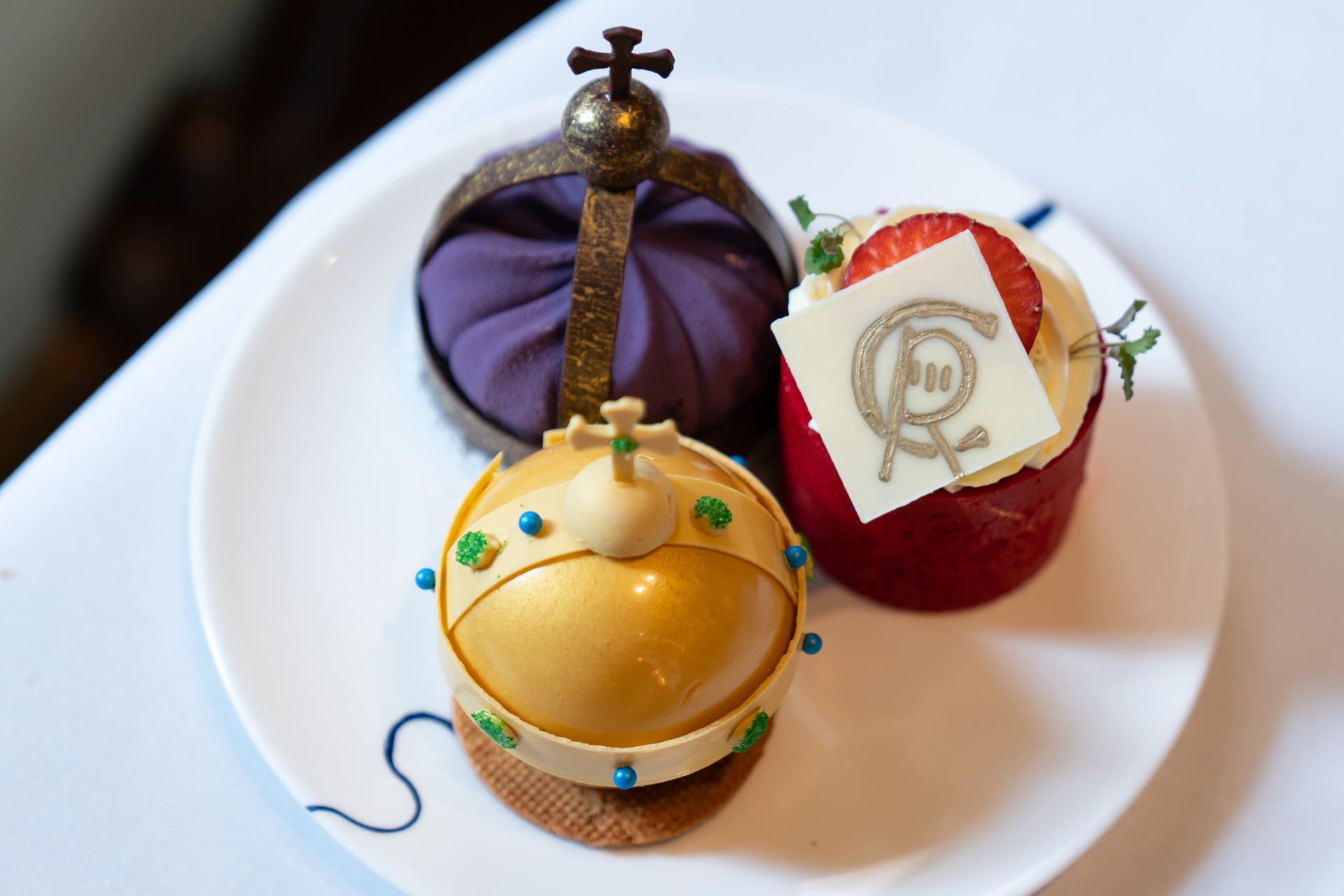 Great Scotland Yard Hotel
The five-star Great Scotland Yard Hotel, housed inside the former Metropolitan Police HQ, has fittingly teamed up with Royal Warrant holder Floris London on a special coronation afternoon tea. Available in The Parlour, a room inspired by Britain's Victorian explorers, the multi-sensory experience draws upon Floris' fragrance, Elite. Guests can enjoy finger sandwiches like chicken coronation on brown bread, and smoked salmon with horseradish and dill, alongside pastries including King Charles III's lemon and strawberry charlotte.
From £59pp, 1 May – 1 July 2023. hyatt.com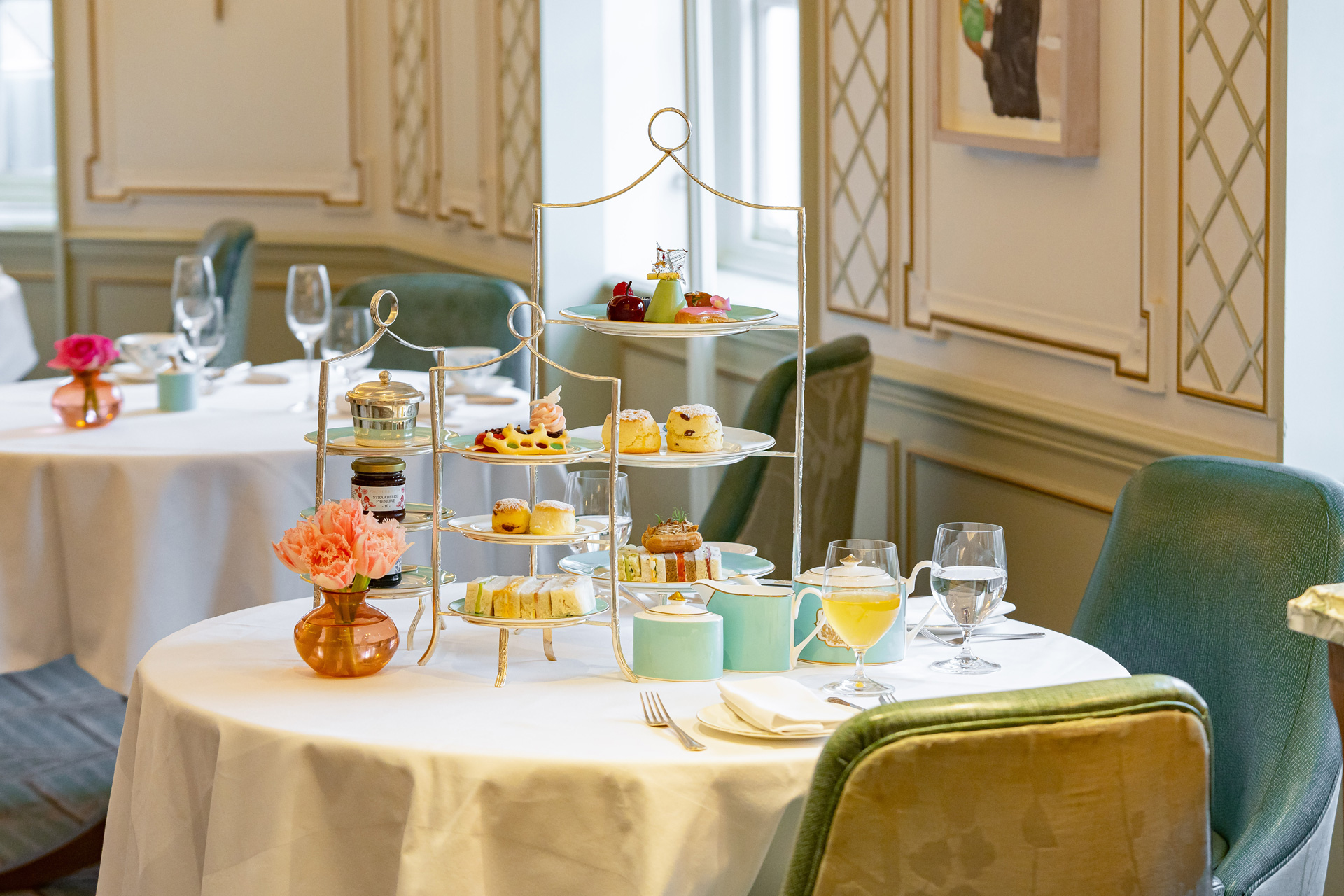 Fortnum & Mason
Fortnum & Mason has had a long-standing relationship with the royals – and indeed King Charles himself granted the brand with a Royal Warrant when he was Prince of Wales. Its coronation afternoon tea will be served in the Diamond Jubilee Tea Salon, celebrating some of the King's favourite ingredients and his passion for the planet. The experience will begin with finger sandwiches of Cotswold egg mayonnaise and cucumber, salt beef with kohlrabi and tarragon, and trout with preserved lemon, alongside savoury dishes like Welsh lamb scotch egg with wild herb aioli and coronation lobster. On the sweet side, guests can expect some exquisite pastries crafted by executive pastry chef Roger Pizey and his team, such as a royal vanilla mousse lollipop, and a chocolate and strawberry cupcake. Enjoy alongside a cup of Fortnum's Coronation Darjeeling Tea, an extra special blend to mark the occasion, or a glass of Blancs de Blancs Grand Cru Coronation Champagne. 
From early April 2023. fortnumandmason.com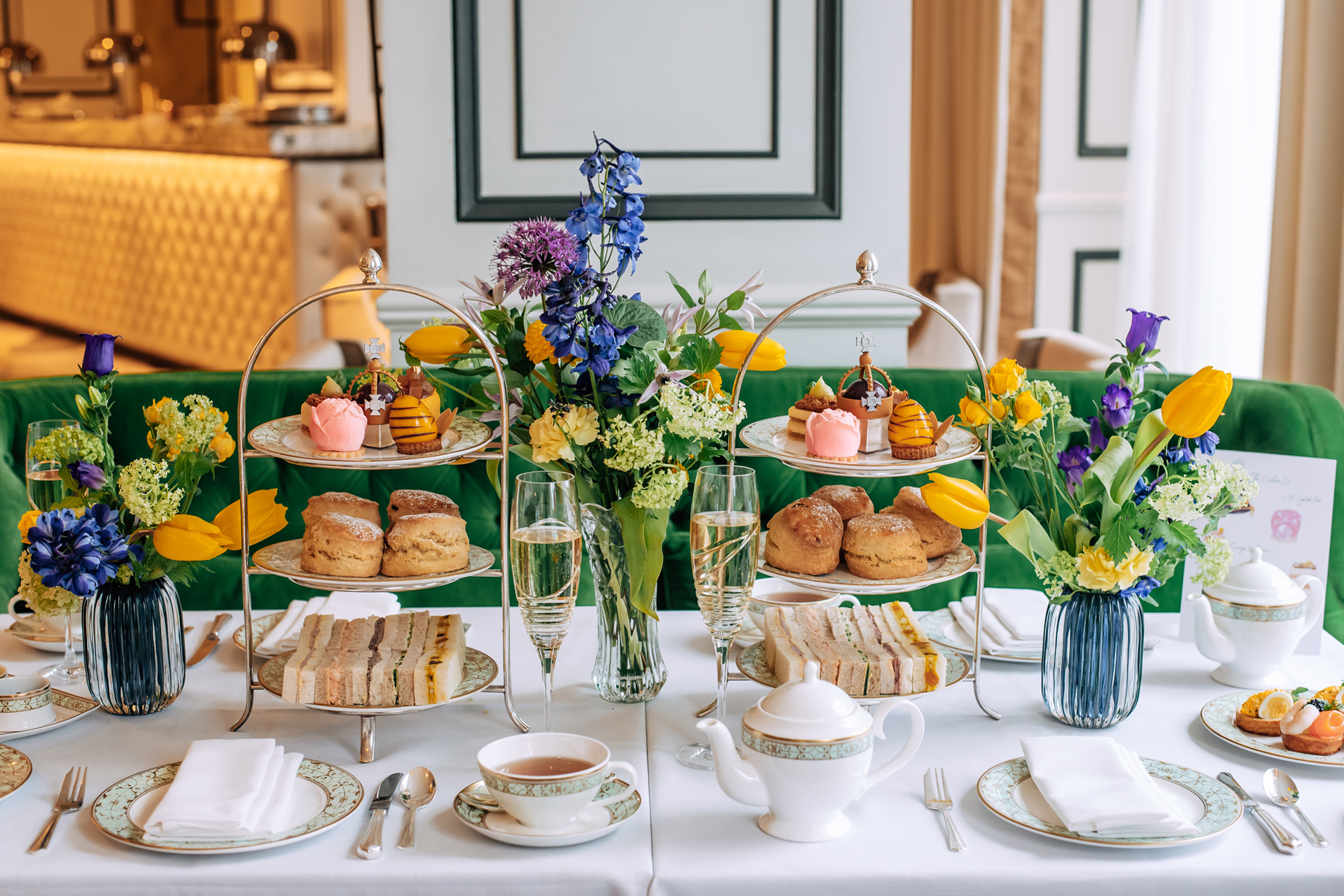 Grosvenor House
Another royal favourite, Grosvenor House on Park Lane hosted a celebratory Coronation Ball for King George VI in 1937, as well as the Coronation Year Ladies' Night for Queen Elizabeth II in 1953. To mark King Charles' Coronation, the hotel has launched an afternoon tea complete with five limited-edition pastries crafted by head pastry chef Anthony Hurst – each representing the countries that make up the UK. 'Journey to the Highlands', for instance, is a mousse with organic honey extracted from foraged heather in the Scottish Highlands, while 'English Rose' is a twist on the strawberries and cream Wimbledon staple. Alongside this, guests can enjoy finger sandwiches such as coronation chicken, and Aberdeen Angus roast beef with cucumber and mint, plus Ridgeview English Sparkling Wine and Newby teas.
From £62.50pp, 4 April – 10 May 2023. parkroom.co.uk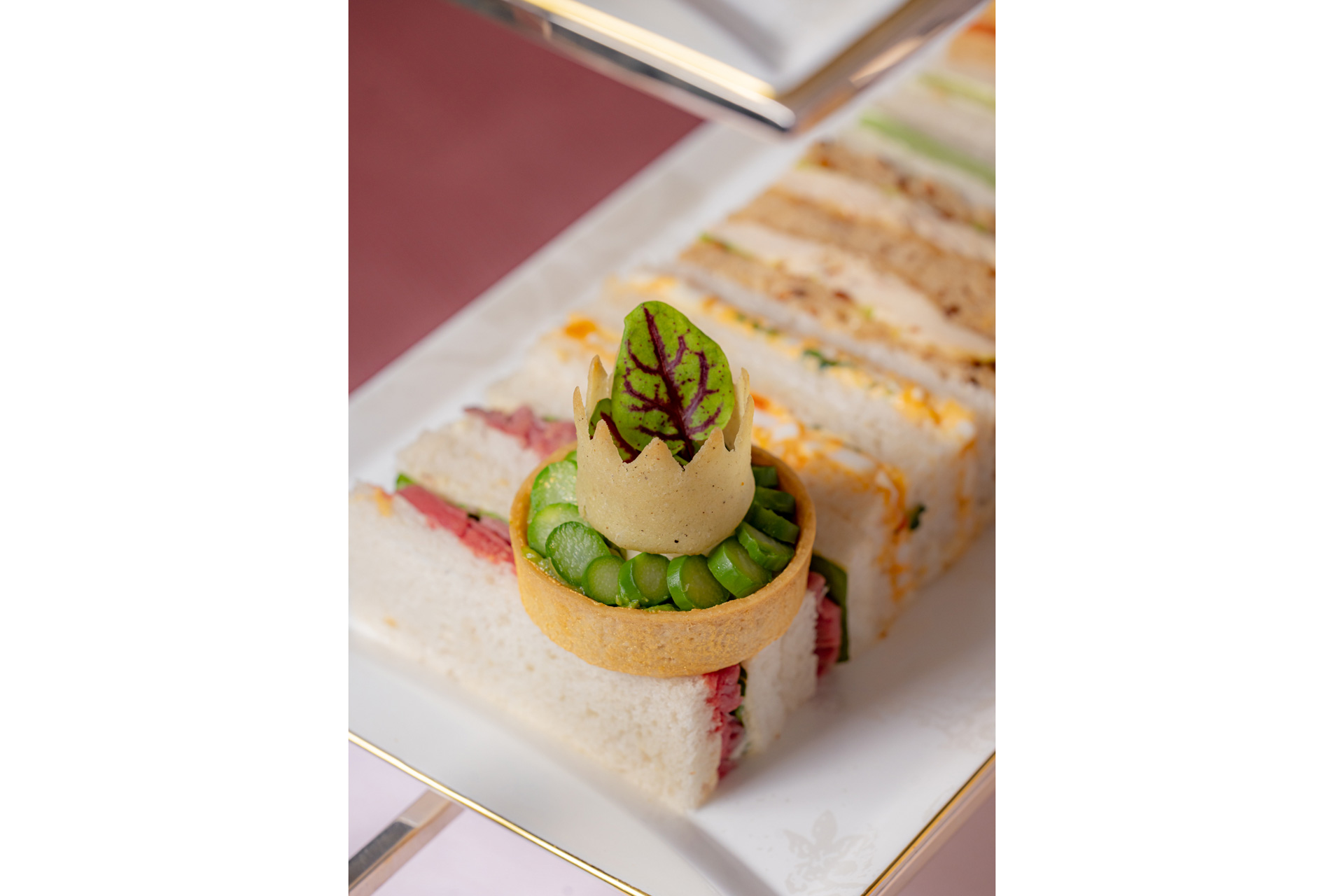 The Dorchester
Back in 1953, British stage set designer Oliver Messel designed the decorations for the coronation of Queen Elizabeth II – and now these are being recreated for the crowning of her son. Inside the hotel, guests can enjoy a special afternoon tea within The Promenade – which is looking prettier than ever thanks to a recent refurb. Executive pastry chef Michael Kwan has created a selection of themed cakes and sandwiches, which guests can enjoy alongside a glass of champagne.
£125pp, 5 – 8 May 2023. dorchestercollection.com
The Rubens at The Palace
Where better to enjoy a royal afternoon tea than at The Rubens at The Palace, the long-standing hotel which overlooks Buckingham Palace. A coronation-themed twist on its traditional tea is on offer from May to August, featuring an array of sweet and savoury treats, including a crown made from Opaly white chocolate, a cherry chocolate brownie and classic finger sandwiches.
1 May – 1 August 2023. rubenshotel.com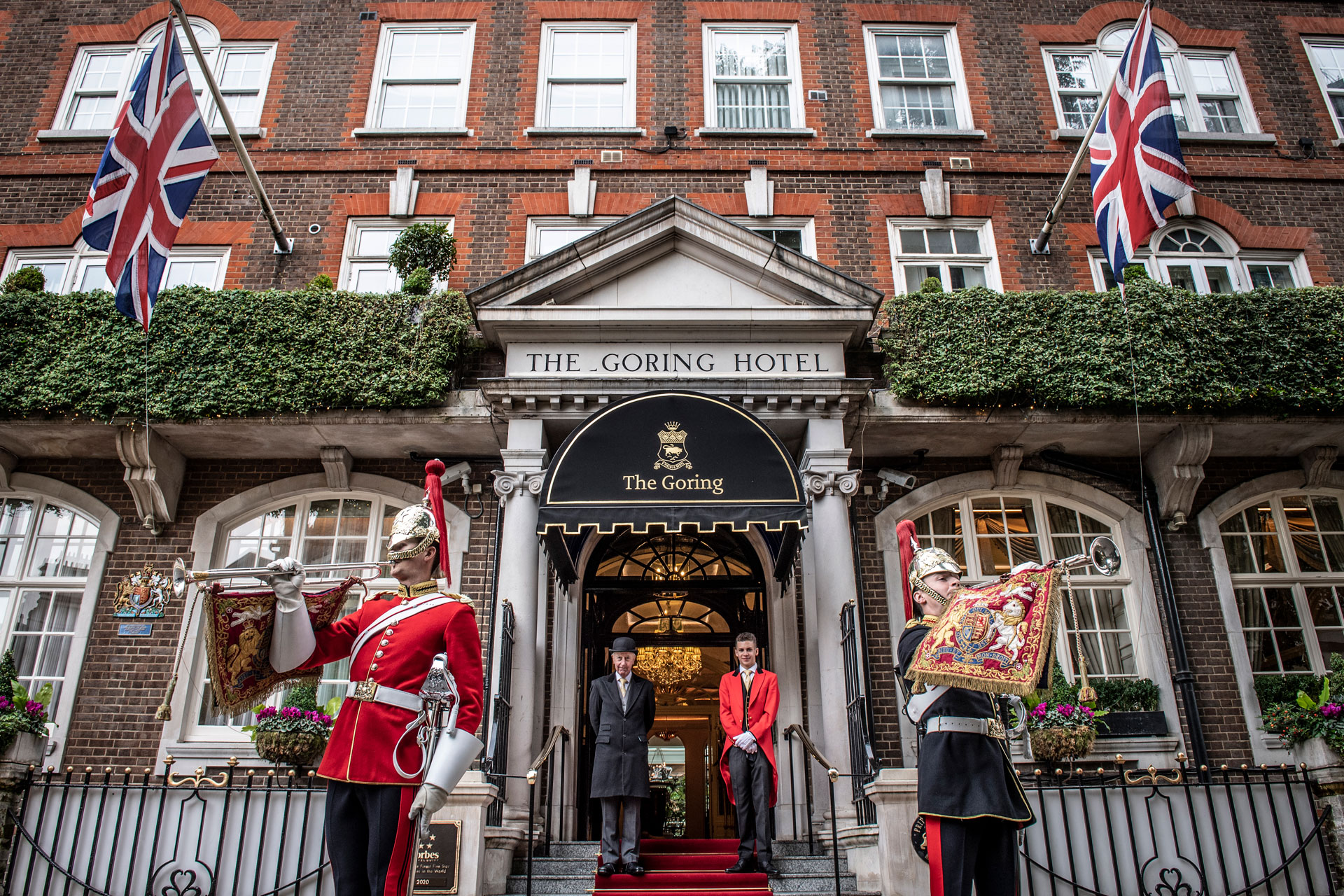 The Goring
Located just round the corner from Buckingham Palace, The Goring has a strong connection with the Royal Family. It hosted royalty during the coronations of both George VI and Queen Elizbeth II, and in 2013 the hotel received a Royal Warrant, making it the only hotel to have been granted one for hospitality services. Of course, then, it has a coronation afternoon tea. This will be served on the veranda overlooking The Goring Garden, featuring King Charles' favourite cakes and sandwiches, with sweet treats adorned with the CRIII insignia, carriages and crowns.
£75pp. thegoring.com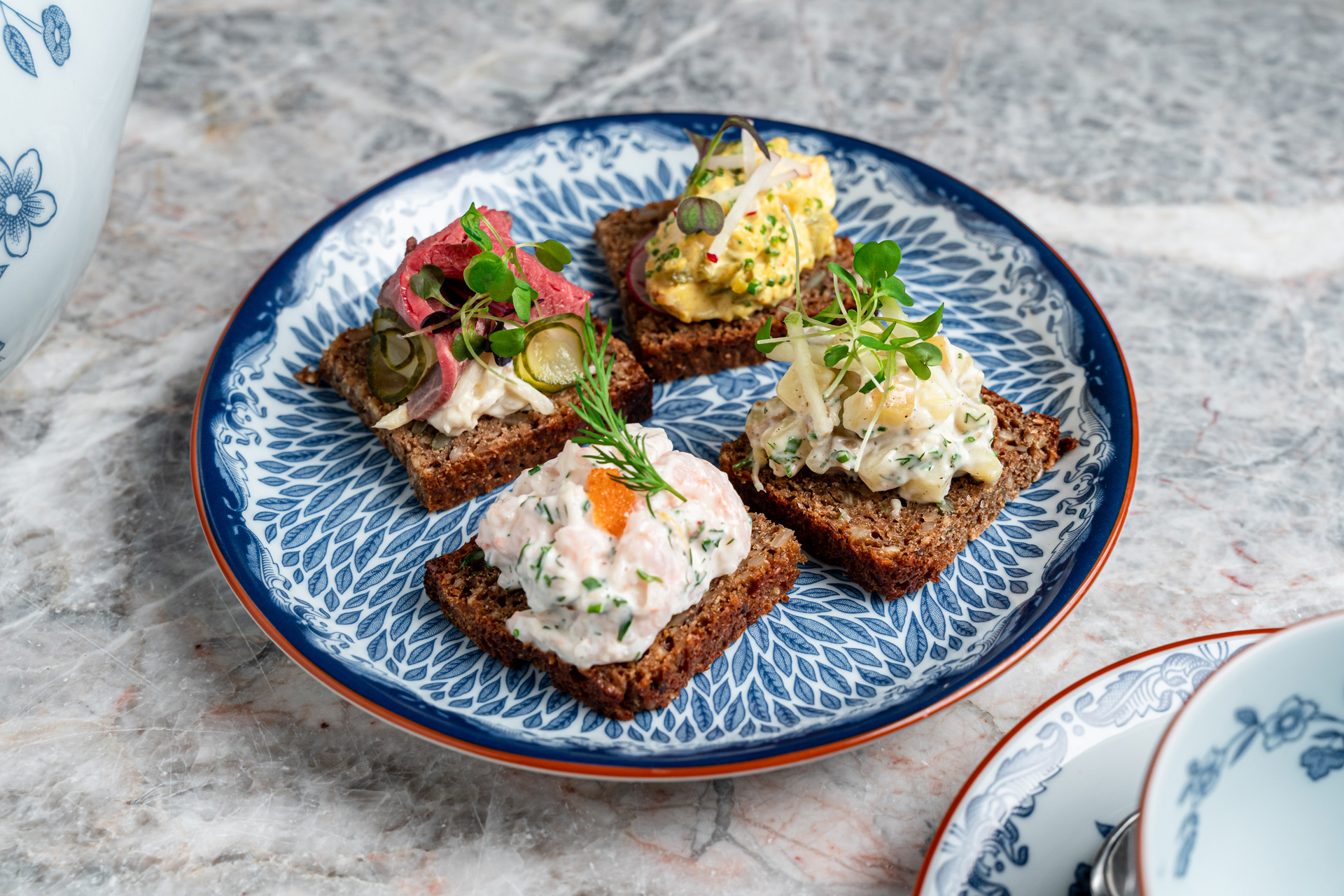 Aquavit London
For something a bit different, head to Aquavit London, where you can enjoy a Nordic twist on afternoon tea. Inspired by the Swedish tradition of 'Fika' – enjoying coffee and a sweet treat with friends – the offering includes open rye bread sandwiches with Scandi flavours, like creamed potato salad, Atlantic shrimp with dill mayonnaise, and roast beef with horseradish. Sweet treats, meanwhile, include Swedish delicacies like the Semla, a cardamom bun filled with almond paste and topped with vanilla cream. Enjoy alongside a choice of English Breakfast, Earl Grey or fresh mint tea.
£45pp, 2 – 6 May 2023. aquavitrestaurants.com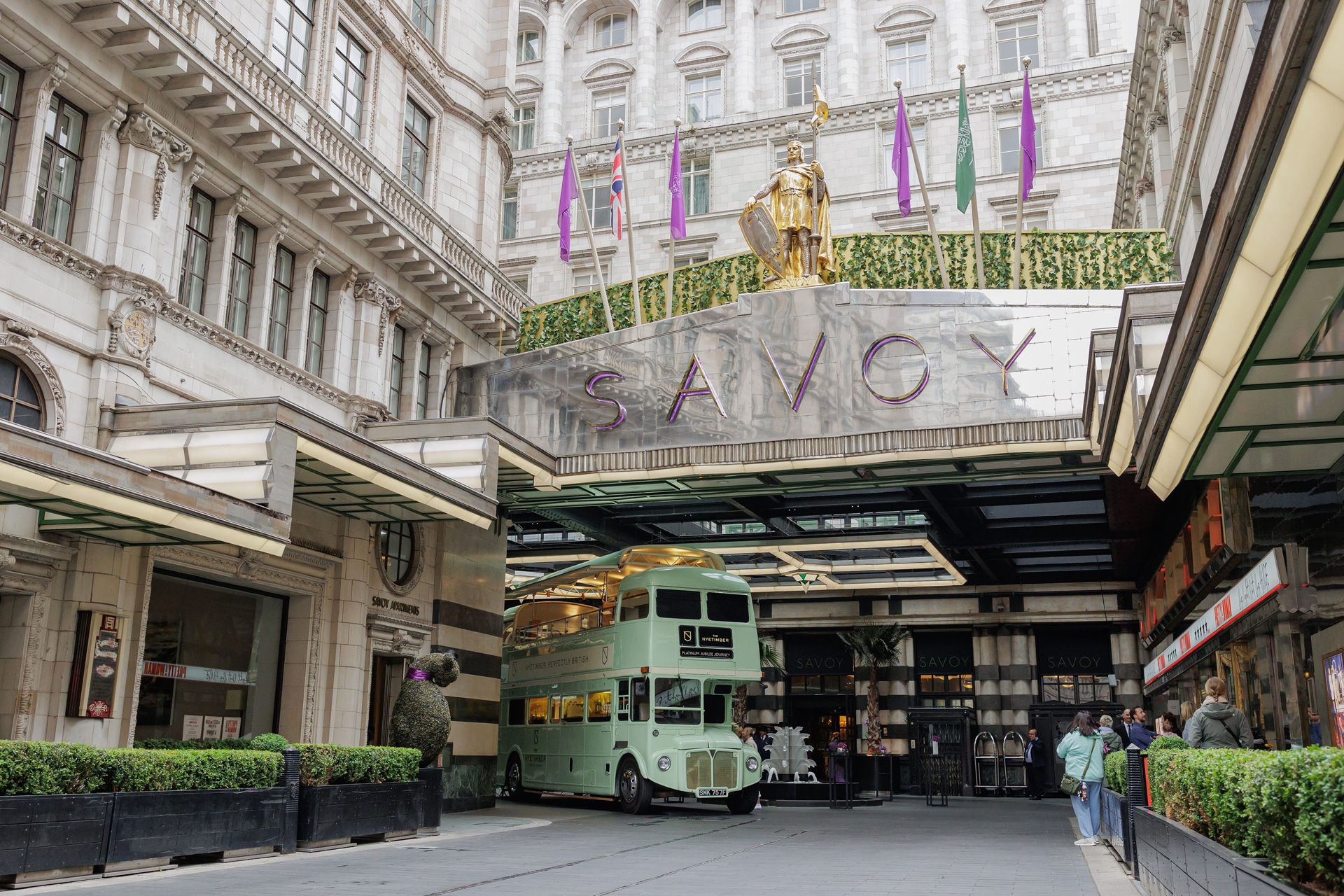 The Savoy
It doesn't get much more iconic than The Savoy, one of the capital's most historic hotels dating back to 1889. The venue is celebrating King Charles' crowning in true Savoy style, with a dedicated Nyetimber Bus, a street party and of course an afternoon tea. It will be served in the beautiful Thames Foyer, which is being adorned with wisteria (King Charles' favourite flower), featuring finger sandwiches and traditional British cakes. Think British rhubarb and vanilla custard tartlet, lemon drizzle cake and Victoria sponge, paired with Nyetimber's Classic Cuvee MV and Rosé MV, as well as JING Pearls Sparkling Tea.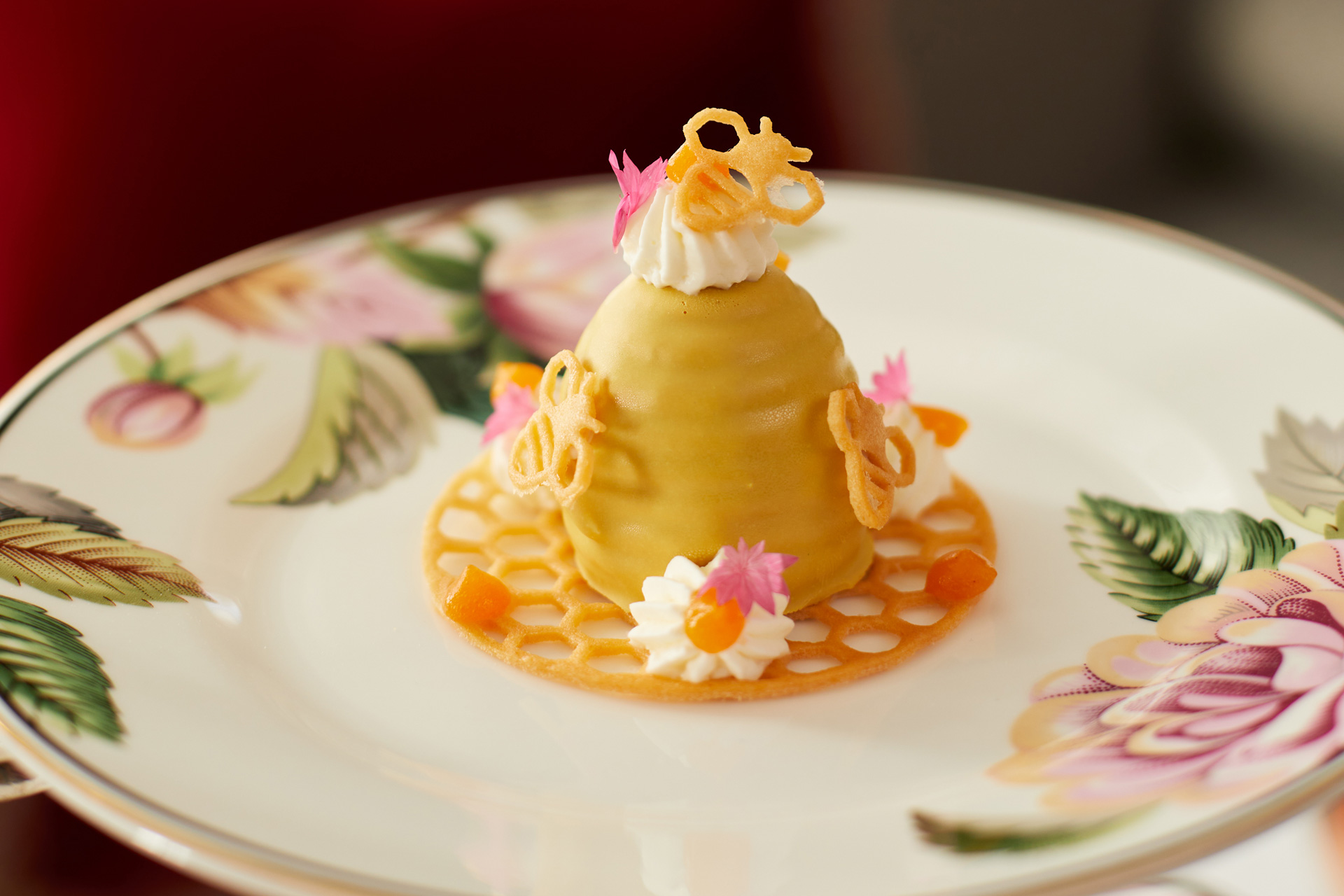 Brown's Hotel 
Mayfair's Brown's Hotel has partnered with jeweller Boodles on its English Garden Afternoon Tea, a celebration of Britain's bountiful summer produce. A nod to the King's passion for gardening, as well as Boodles' Secret Garden and Woodland collections, the experience includes finger sandwiches and cakes decorated with fresh flowers. Beekeeping is a long-standing tradition in the Royal Family, so the cake stand is topped with a cake in the shape of a beehive, which will be drizzled with Highgrove Honey. All guests will receive hand-painted postcards which they can use to write and congratulate the King while enjoying their tea – and then post in the pink Boodles postbox.
£75pp, 1 March – 31 August 2023. roccofortehotels.com
Featured image: The Carlton Tower Jumeirah