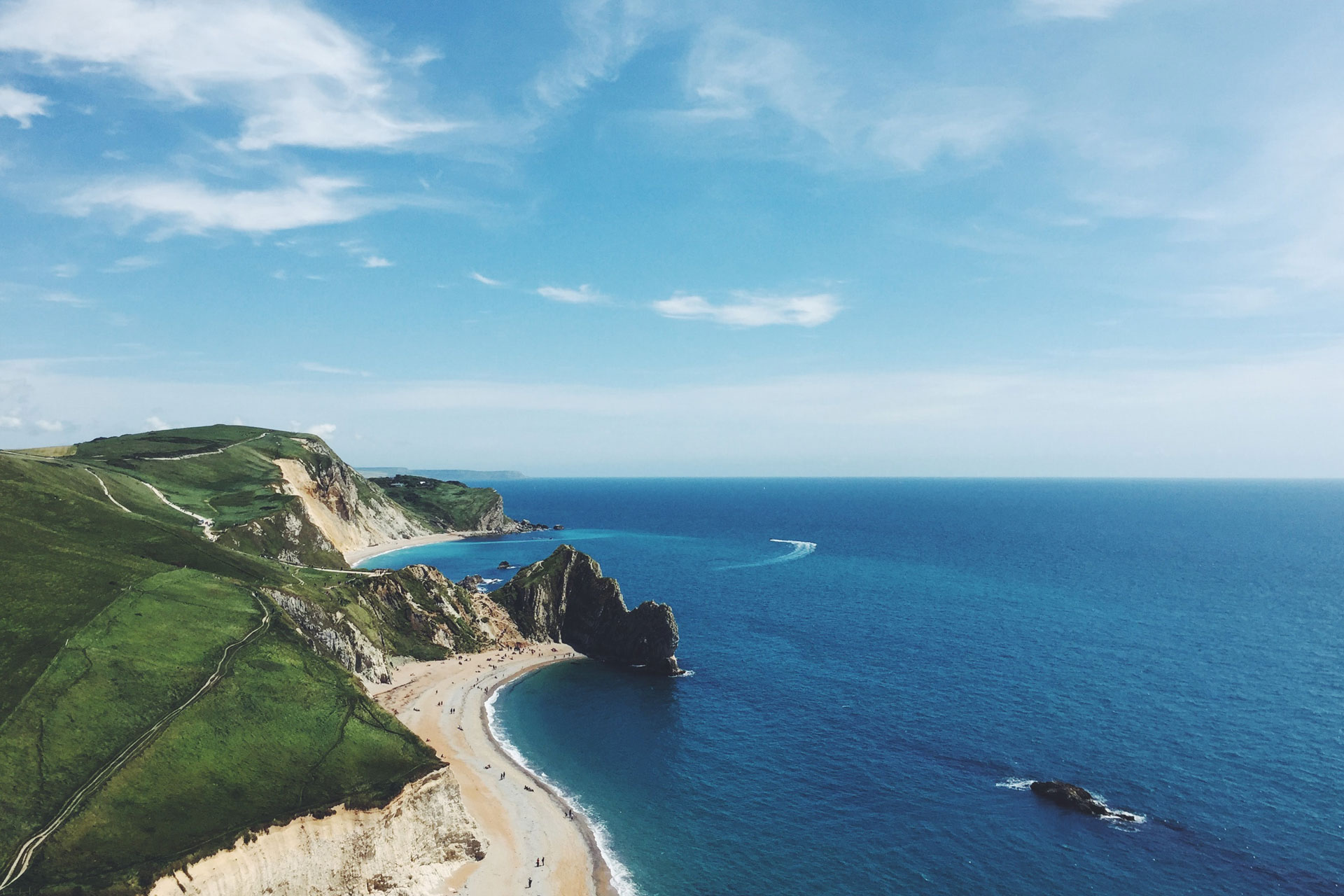 The Best Seaside Campsites In The UK
Pitch your tent with a view over the beautiful British coast
How does camping near the coast sound for a 2023 adventure? As an island nation, the UK is crammed with picturesque beaches and dramatic coastlines, all waiting to be explored on your next staycation. Here are the best seaside campsites to book this summer.
Read the C&TH Guide to Responsible Tourism
The Best Campsites By The Sea
Troytown Farm Campsite – St Agnes, Isles of Scilly 
Where is it? Twenty-five miles off the southwestern tip of Cornwall lies the Isles of Scilly – a cluster of tiny picturesque islands, of which five are inhabited. Troytown Farm campsite is perched above the beach on the island of St Agnes, and offers breathtaking views over the surrounding Atlantic Ocean. The on-site farm is the only daily farm on the isles, producing milk, cream, butter and ice cream that you can eat there and then.
What are the facilities? Troytown is camping only (although you can hire an already-assembled bell tent) with toilets, hot showers, washing machine and dryer, and washing up facilities. There's also an on-site shop selling farm produce and camping gas, plus hire-out mats, chairs and stoves. Kayaks and paddle boards are available to rent on the beach.
Things to do? Island life is low-key and of a slower pace: as well as sunbathing on the golden beaches, rockpooling and swimming in the sea, there's also boat trips for seal and bird watching and star gazing at night. Watersports are also great here: snorkelling, diving, fishing and kayaking.
Best for? People looking to escape the rat race for a real back-to-nature experience.
BOOK: From £10.25 per night plus tent charges. troytown.co.uk
Sustainable Things To Do in Cornwall
Shortlake Farm – Weymouth, Dorset
Where is it? Only open in the month of August, Shortlake Farm is a family campsite close to Weymouth on Dorset's Jurassic Coast. It's situated a quick, ten-minute walk from the beach, which is a quiet, shingly cove running out to a rocky headland.
What are the facilities? Shortlake Farm is part of Eweleaze Farm, which is a short walk away and offers a farm shop and a bakery, as well as hot food, ice cream and coffee. There's also a pizza van, charcoal grill, crepe bar and barn restaurant. On the Shortlake site, there's compost toilets, hot showers and washing-up facilities.
Things to do? There's tame goats, pigs, ponies, alpacas and cows on Eweleaze Farm, plus plenty of play areas. For adults who need a break from all that, there's a spa and massage treatments available. Down on the beach there's boat trips available along the coast, plus a swimming raft and fossil hunting. 
Best for? Families and extended groups with lots of kids in tow.
BOOK: From £6.50 a night, plus vehicle fees. eweleaze.co.uk
Treheli Farm Caravan & Campsite – Porth Neigwl, Wales
Where is it? Perched on the cliffs overlooking beautiful Porth Neigwl (Hell's Mouth in English) in north Wales, Treheli Farm campsite is a brilliantly calm and low-key choice. There's no set pitches; on arrival you simply choose your spot and set up your tent there.
What are the facilities? There's a toilet and shower block and a washing up facility, as well as bell tents to rent if you don't fancy putting your own one up.
Things to do? Porth Neigwl is a favourite with surfers and kayakers for its large waves and golden sand at low tide. There's also some great walks for hikers nearby. You come here for the view, and the days spent on the beach at the foot of your campsite.
Best for? Surfers and other adrenaline seekers who are looking for fun, not frills. 
BOOK: From £20 a night. trehelifarm.com
Glenbrittle Campsite – Loch Brittle, Isle of Skye
Where is it? Voted campsite of the year 2019 at the Great Outdoors Magazine Awards, Glenbrittle Campsite is located on the rugged west coast of the picturesque Isle of Skye in Scotland. One of the best best seaside campsites in Scotland, it's framed by the Cuillin mountains and Loch Brittle beach.
What are the facilities? With 120 tent pitches spread across the land's natural pockets overlooking the beach and loch, Glenbrittle has an on-site shop and café with speciality coffee from the Cuillin Coffee Co.
Things to do? Walkers and climbers will be in paradise here, with two peaks to conquer. Black Cuillin is the UK's most challenging mountain range: 11 kilometres in length, over 3,000 feet in places and with 11 munros. The gentler Red Cuillin is popular with hillwalkers, the highest point being Glamaig at 2,543 feet.
Best for? Campers looking for an active holiday.
BOOK: From £11.00 plus other fees. dunvegancastle.com
Coastal Stay – Pembrokeshire, Wales
Where is it? Set back in the lush green fields above Abereiddy Bay, Coastal Stay really is one of the best seaside campsites in the UK, offering unbeatable views of the Pembrokeshire Coast National Park in south west Wales.
What are the facilities? There's only 28 pitches, so things are kept pretty quiet and personal here. There's also hot showers and toilets, plus a pizza oven, on-site café for breakfast and afternoon tea, a herb garden open for guests to use, and every pitch has its own fire pit. 
Things to do? Abereiddy Bay is a small, sheltered, pebbly beach that's popular with swimmers; there's also rock pools to explore at low tide. Around the corner there's the famous Blue Lagoon, a former slate quarry that's home to the Red Bull Cliff Diving World Series. It's also a popular spot for coasteering and kayaking – but be warned, the water is very cold. Nearby, there's St David's to visit; the smallest city in Britain, it's famous for its beautiful medieval cathedral.
Best for? Those looking for a little luxury, without forgetting you're camping in nature.
BOOK: From £8. coastalstay.co.uk
Ocean Pitch – Croyde, Devon
Where is it? Overlooking one of Devon's best surfing beaches, Croyde Bay, Ocean Pitch is a mere two-minute walk from the waves. Croyde village, meanwhile, is only a ten-minute stroll away. It's so close, you can check out the swell (and the competition) from the front door of your tent.
What are the facilities? As well as hot showers, toilets, fridges and freezers, and phone charging points, Ocean Point offers a free wifi point and its own café, Biffen's Kitchen. For those that come unprepared, you can also hire surfboards, wetsuits, body boards and stand-up paddle boards. And if you fancy a real bed instead of a blow-up, there's always its luxury pod glamping option.
Things to do? Surfing, obviously. If you're not already an expert, Ocean Pitch has partnered up with local surf school Surfing Croyde Bay to offer lessons, as well as exciting coasteering excursions. For walkers, the South West Coast Path is only a few steps away.
Best for? Beach bums looking for a cool, comfy place to stay. 
BOOK: £15 per person per night plus fees. oceanpitch.co.uk