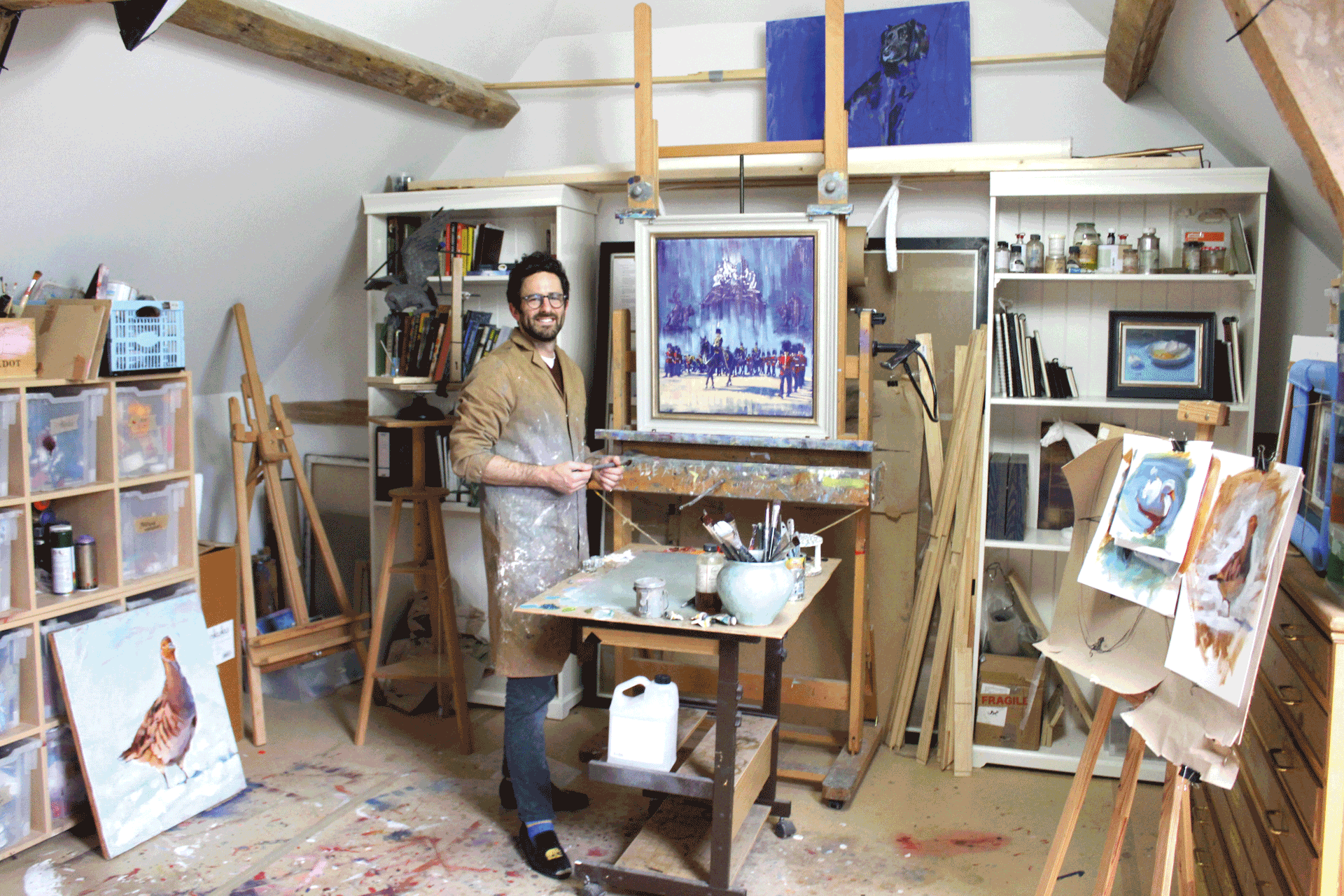 Inside The Studio Of Freddy Paske, Queen Elizabeth II's Artist In Residence
Freddy Paske recounts his experiences in this royal role
From Sandhurst to sketching the Platinum Jubilee Parade, Freddy Paske talks to Caiti Grove about his role as Queen Elizabeth II's Artist in Residence.
An Interview With Freddy Paske, Queen Elizabeth II's Artist in Residence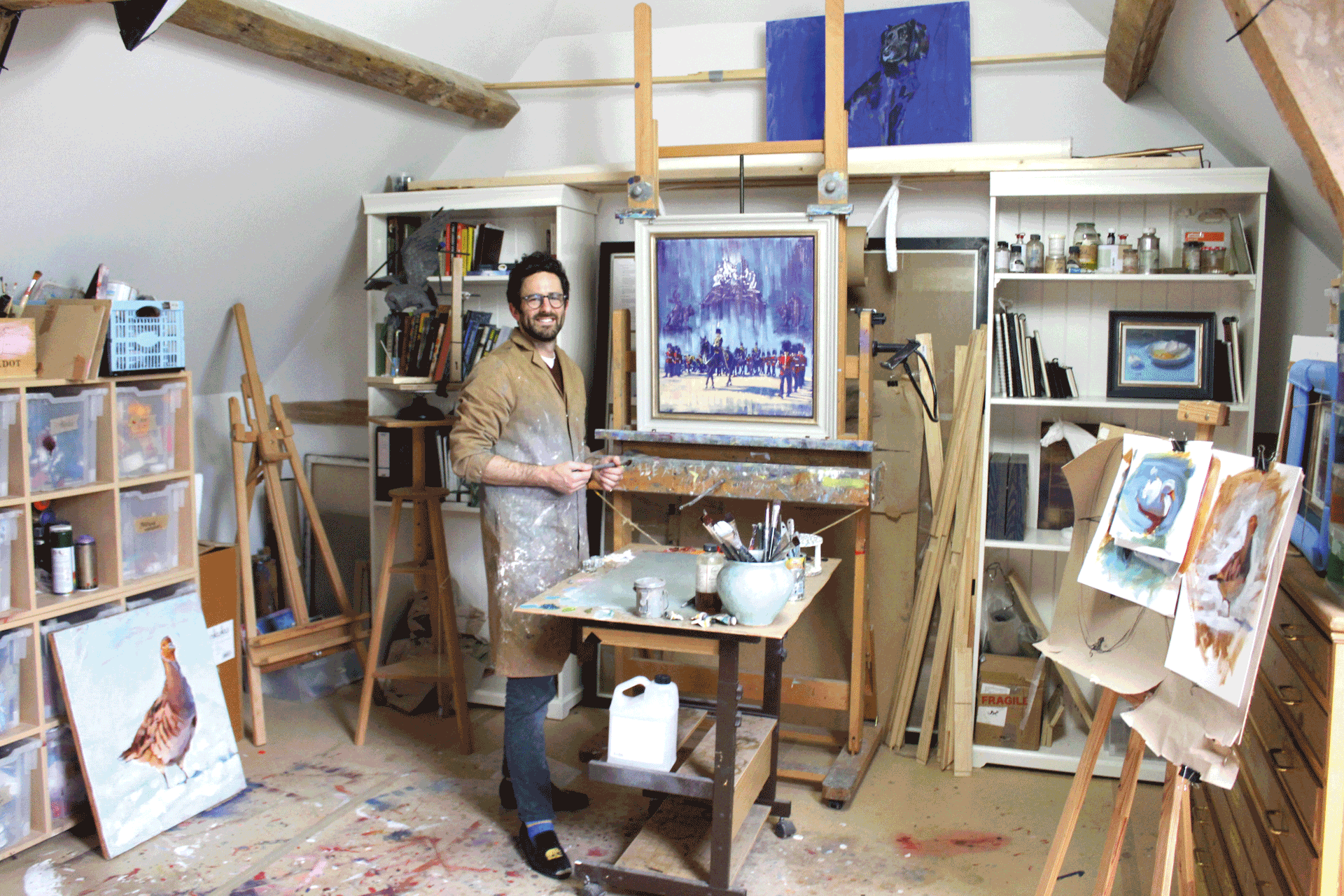 In 2017, Freddy Paske became artist in residence for the Household Cavalry. 'I reckon they thought, "ex-army, we'll help our own,"' he says candidly. Fast forward to the Jubilee year, and Freddy was asked back. While planning how to paint the regiment, he suggested doing the same for the Royal Mews, who pull the royal carriages and work with the royal footmen. 'The Crown Equerry sat me down and went, "Freddy, I love the idea. But it's not my decision to make, it needs to go in front of the Queen."' A scramble to put together a portfolio ensued: 'I was calling my printers and pleading, "I need work tomorrow!" but I managed to get it to the Equerry in time. He called me and announced "Freddy, you'll be delighted to know the Queen has approved your role. When can you start?"' 
Freddy was given the title of Artist in Residence for the Queen's Platinum Jubilee and with it, attended parades and rehearsals, and even flew to watch the Royal Cavalry of Oman before they performed at Windsor Castle. He also got to visit the French Garde Républicaine: 'they have beautiful stables in Paris with gendarmes in silver helmets adorned with horse tails that flowed down their backs – I was so spoilt,' he sighs wistfully.
In the parade, Freddie walked behind the state carriage with crowds ten deep either side. Sporting a suit and bowler hat, he sketched while a cameraman captured the momentous occasion to use as reference for paintings. 'It was a surreal moment. I had a few frosty conversations with policemen who wondered who on earth I was,' he recalls, laughing. In his home studio in the Cotswolds, Freddy muses on his childhood passions: art and the army. 'Dad used to buy huge reams of photocopier paper – I had a massive penchant for drawing helicopters and tanks.' Both interests have been lifelong – he joined the army at 16 and went on to study Art History at Leeds University. 
After graduation, he started at Sandhurst. Days began at 5.30am with the national anthem and a mandatory litre of water. If a sheet was tucked with a wrinkle, a sergeant would unceremoniously chuck the bed out of the window. Afterwards, he joined the Light Dragoons, stationed in Norfolk and then Afghanistan. 'In a light tank, you have amazing thermal sites and firepower behind you – you can call in helicopters and jets, you are perfectly placed to support infantry on ground operations.'
In his studio, a clay barn owl swoops ominously, 'I might add a mouse, but maybe that's a bit morbid.' A drawing board holds a canvas of horses on The Mall during the Jubilee. 'I had a great teacher, Mr Page, he'd say, "Push the boundaries of that colouring, that brush strength, go even broader". The painting shows grand ceremony, Union Jacks hang down over soldiers in red jackets, but also an intimacy with the horse and its serious role. 'It started off as an abstract, red painting. On top of that, I painted the highlights very specifically in oil paint, and that's where you get the image coming together.'
An artist with experience of the darkness of the human condition and an understanding of nature's power is surely an artist for our time. Expect to see a lot more of Freddy Paske.